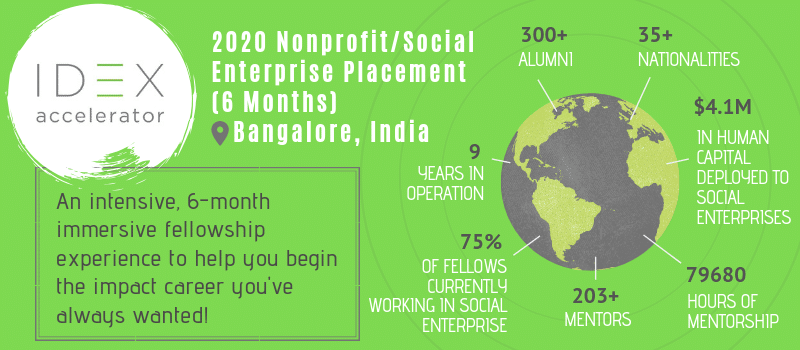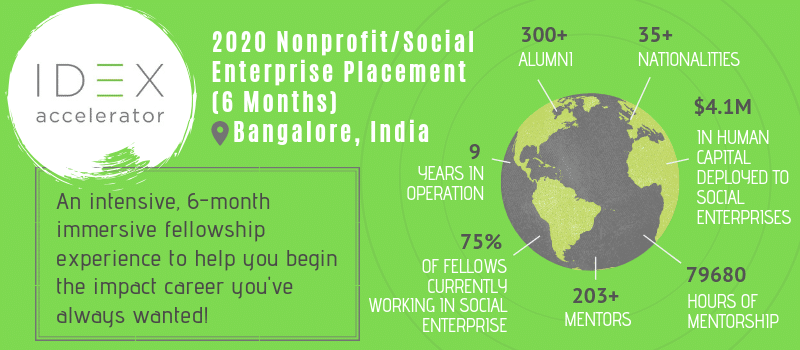 Sponsored by IDEX Accelerator
IDEX is developing the next wave of "social intrapreneurs" (employees who innovate from within existing organizations) who will support, lead and advance the work of socially-focused enterprises around the world!
In 2010, Gray Matters Capital launched the IDEX Accelerator, a professional, tuition-based fellowship program for those aspiring to work in social enterprise. We have since transformed from a pilot project of 10 fellows to a global initiative with 300+ alumni.
We have had the privilege of hosting some of the most influential fellows devoted to social enterprise and have come to better understand how to bridge the talent gap in this rapidly evolving development sector. Now, we're searching all corners of the world for individuals who are committed and passionate about having a high-impact career and advancing the social impact space.
PROGRAM DETAILS
3 Week Virtual Orientation + 1 Week Field Orientation to induct you into India's social sector and prepare you for the next six-month field experience
24 Weeks Social Enterprise Placement in India where your professional growth will be matched by personal growth while equipping you with the right tools to accelerate your career
Relevant, creative, and progressive curriculum covering Social Innovation, Communications & Outreach, Resource Mobilization and Impact Assessment
Capacity Building Workshops & Meetings led by Subject Matter Experts and Mentors-in-Residence who are seasoned professionals and thought leaders in their respective fields.
FELLOW BENEFITS
Professional development and personal support from a dedicated program manager
An advising program that pairs fellows with local mentors
Monthly capacity building workshops
Networking opportunities
Internationally recognized professional certification in Social Enterprise
Housing in Bangalore for 1st month of fellowship term
Monthly Transportation Stipend of $125 (appx. 8500 Indian Rupees) for the 6 months
Post-fellowship support
IDEAL CANDIDATE
We are seeking young professionals (ages 21-35) who have a proven track record of leadership and are seeking to use their education and skills to address social and economic challenges for under-served populations. Ideal candidates will possess:
Bachelors or Masters degree
Minimum of 1 to 3 years work experience
Proven track record of leadership responsibilities
A passion and desire to work in emerging markets and use social enterprise principles to solve global issues
An ability to quickly adapt and work in resource-constrained environments
Desire to engage in an intense professional development experience while applying creative solutions to deepen impact
APPLICATION PROCESS
Early Bird Application Deadline: August 31, 2019
Regular Application Deadline: September 30, 2019
The 2020 IDEX Accelerator Fellowship begins January 6, 2020 and ends June 26, 2020.
Learn more


SCHOLARSHIP OPPORTUNITIES
IDEX is a tuition-based fellowship program, however, through funding from generous sponsors, IDEX is able to offer a limited number of partial scholarships to select candidates for use towards program tuition.
With each succeeding cycle, we've been reviewing many more applications. We follow a first-come-first-considered approach when reviewing applications. This means that your chances of acceptance and a greater scholarship award for the fellowship program are higher the sooner you apply and can avail preferred payment plans.
We actively encourage you to ensure you apply for our generous scholarship awards as applies to you, the IDEX Scholarship (Men and Women) and InvestWISE Scholarship (Women only).