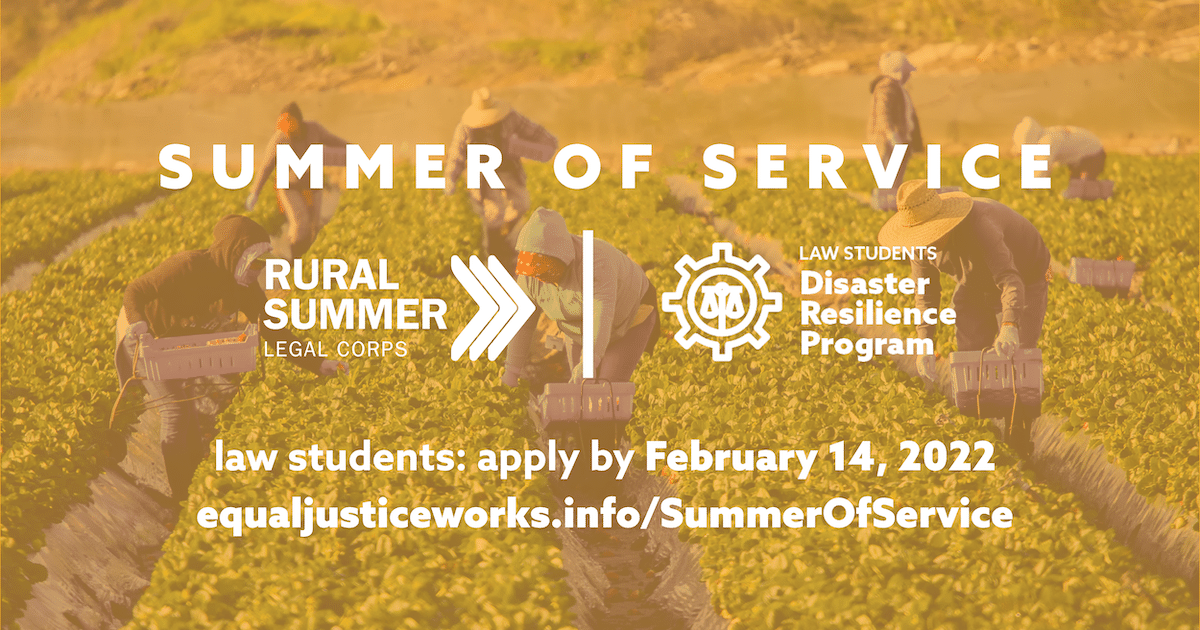 Sponsored by Equal Justice Works 
Looking to make an impact in the community this summer? If you're a first or second-year law school student, explore the world of public interest law with Equal Justice Works, the nation's largest facilitator of opportunities in public interest law. 
Equal Justice Works is currently offering these exciting law student opportunities:
Rural Summer Legal Corps

—a partnership

between Equal Justice Works and Legal Services Corporation (LSC)—supports law students in serving rural and isolated communities. Student Fellows take on

challenging projects through

LSC-funded legal aid organizations,

addressing myriad legal issues such as affordable housing, farmworkers' rights, and family law matters.
 

Disaster Resilience Program

mobilizes law students to work alongside Equal Justice Works Fellows as they provide free civil legal aid to disaster-prone areas in California, Louisiana, and New Mexico. Student Fellows play a critical role in improving disaster preparedness and recovery for communities prone to natural disasters such as hurricanes, flooding, and wildfires. 
"My Equal Justice Works Student Fellowship introduced me to the expansive reach of civil legal aid. I not only have a renewed energy towards providing equitable access to justice and legal aid, but see a future for myself as a civil legal attorney," said Brooke Trottier, a third- year law student at the University of St. Thomas School of Law and a 2021 Student Fellow in the Rural Summer Legal Corps. 
TERM & AWARD
Both programs operate from May

–

August 2022

Accepted participants must complete 300 hours of service to receive a $5,000 stipend
ELIGIBILITY
Complete their first or second year of law school by the start of their summer placement

For some host sites, possess a valid driver's license and/or access to adequate transportation or have proficiency in a second language during summer placement

Be a U.S. citizen, U.S. national or lawful permanent resident (e.g., green card) (only a requirement for Rural Summer Legal Corps applicants)
BENEFITS 
Provide direct legal services such as client and witness interviews, legal research, and writing 

Engage in community outreach, education, and advocacy efforts 

Build capacity at their host organization through resource development and training sessions 
DEADLINES
Applications for these programs are being accepted until 11:59 p.m. ET on February 14, 2022.
QUESTIONS? 
Program details, full eligibility requirements, and the online applications can be found here. If you have any questions about these programs please reach out to [email protected].
About Equal Justice Works
Equal Justice Works is the nation's largest facilitator of opportunities in public interest law. We bring together an extensive network of law students, lawyers, legal services organizations, and supporters to promote a lifelong commitment to public service and equal justice. Following their Fellowships, more than 85% of our Fellows remain in public service positions, continuing to pursue equal justice for underserved communities across the country. Visit www.equaljusticeworks.org for more information. 
Not ready to apply this year? Bookmark the Equal Justice Works Student Summer Fellowship to your ProFellow account.
© Victoria Johnson / ProFellow, LLC 2022, all rights reserved