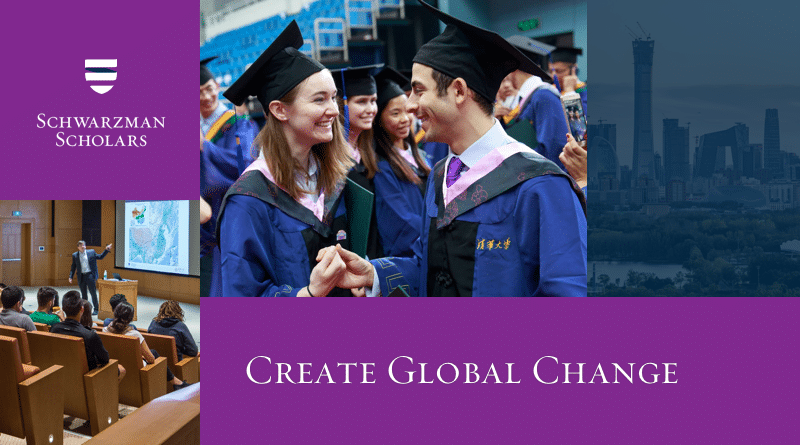 Sponsored by Schwarzman Scholars
In a time of unprecedented global uncertainty, we are developing the next generation of leaders. 
Join our one-year, fully-funded Master of Global Affairs in Beijing, where future leaders build stronger links between China and a rapidly changing world.
Designed by the world's top universities, our first-of-its-kind Master of Global Affairs program offers a front-row seat to global crisis leadership and lifelong access to a powerful career network. Gain the critical global perspective all 21st-century leaders need to accelerate their career at the prestigious Tsinghua University. 
The next generation of leaders starts with you.
THE BEIJING ADVANTAGE
By 2030, China will have one-sixth of the world's population, so its impact on culture, foreign policy, and economics is essential for tomorrow's leaders to understand. This is your chance to live, learn, and experience China for a year.
A GLOBAL NETWORK FOR LIFE
In a time of rapid global change, you can rely on our powerful network of alumni leaders to accelerate your career. From finance and consulting to public policy and politics, our alumni are in high demand all over the world.
WORLD-CLASS CURRICULUM
Created in response to the geopolitical landscape of the 21st century, our curriculum bridges the academic and professional divide to educate future leaders about China's expanding role in the world. Learn from sought-after global leaders ranging from CEOs to heads of state in a uniquely immersive experience.
Eligibility
Undergraduate degree or first degree from an accredited college or university or its equivalent

At least 18 but not yet 29 years of age as of August 1, 2021

Proficiency in the English language

No GPA minimum
No-fee applications for the Class of 2021-2022 are open until September 22, 2020


---
Not ready to apply right now? Bookmark the Schwarzman Scholars program to your ProFellow account!