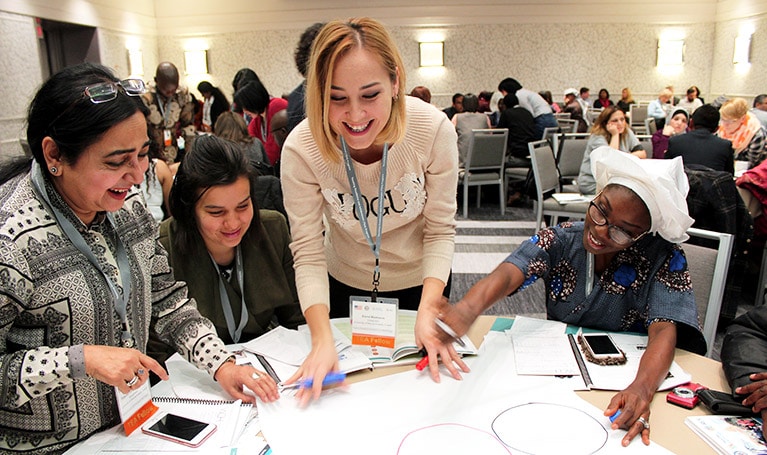 Have you heard about the Impact Fellowships Summit?  In less than two months, IREX will convene 150 fellowship program managers, leaders, and funders in Washington DC to share ideas and innovative tools to improve the management and content of fellowship programs and build a stronger network of fellowship program managers.
There are still spots remaining to register for the Summit, so please read more about the Summit below and if your interest is sparked make sure to register soon to be part of this exciting community of  fellowship program innovators!
The 2019 Impact Fellowships Summit will be hosted at the Eaton Hotel in Washington, D.C. on April 25-26, 2019, featuring the theme, Dynamic Leadership for a Changing World. The event will include three technical tracks to frame the discussions, which include:
Connections Matter: Fostering community and networks among fellows during and after programming, and within and across fellowship programs
The Diversity Dividend: Building programs and leaders that prioritize and promote equity and inclusivity
Answering the "So What?": Adapting and modeling a learning mindset within programs for greater effectiveness and impact
The Summit will feature an array of engaging sessions aligned with these tracks, led by institutions including the W.K. Kellogg Foundation, World Learning, Mobility International USA, the Schusterman Foundation, IIE, MIT,  National Compadres Network, and ProFellow, among others.
Take a look at the IFS2019 Summit Agenda to learn more about these sessions and others that will be featured at the Summit.
If you would like to participate in this exciting mix of conversations and engage with a diverse network of fellowship implementers and funders, make sure to register here to confirm your spot soon.
If you have any questions about IFS2019 please email [email protected] and to stay up-to-date on what is happening with the Summit, please join the IFS Facebook Group!