Sponsored by ProInspire
What would you do if you could change the world?
At ProInspire, we develop leaders at all levels for organizations addressing the world's greatest challenges. Our goal is to help individuals and organizations achieve their potential for social impact. We believe that expanding talent pipelines, developing professionals, and increasing diversity will catalyze social sector performance. We have been operating in the Washington DC region since 2009 and in the San Francisco Bay Area since 2012. ProInspire partners with nonprofit, public, and social enterprise organizations addressing the most important social issues of our time – access to education, employment, family wellness, health, housing, and youth development. We work with organizations across impact areas – local, national, international – because the needs in this world are great and impact has no boundaries. We were named by the Chronicle of Philanthropy as one of 7 Nonprofits to Watch in 2015.
We are currently recruiting top professionals with 2-5 years of business experience to be a part of our flagship program, the ProInspire Fellowship. This highly competitive program offers targeted positions with leading organizations, monthly trainings with a cohort of peers, a coach, and a network to support career growth. Fellows spend one year working in a role focused on analysis, finance, fundraising, marketing, operations, or strategy.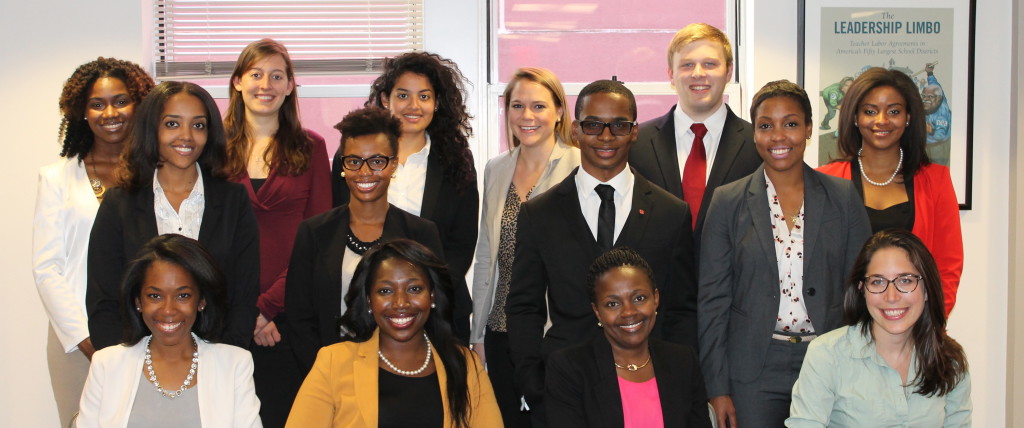 About ProInspire Fellows
ProInspire Fellows bring strong skills and experience to their hiring organization, and a desire to learn through on-the-job experience and professional development.
Previous ProInspire Fellows come from across the U.S. with experience in consulting (e.g. Accenture, Bain, PwC), finance & accounting (e.g. Deloitte, Ernst & Young, KPMG), investing (e.g. Goldman Sachs, JPMorgan, The Carlyle Group), marketing & communications (e.g. Cone, dunnhumby, Zenith Media), corporations (e.g. General Mills, Google, McMaster-Carr), and non-traditional backgrounds (e.g. entrepreneurs, military, nonprofit).
After the Fellowship, Fellows can pursue multiple paths, including staying at their organization (typically more than 70% of Fellows stay), attending graduate school (alumni are now at Chicago Booth, HBS, Kellogg, NYU Wagner, Stanford GSB, and other top programs), and pursuing other opportunities (alumni have gone on to jobs with Bain, IDEO, Parthenon Group, the World Bank, and more).

Program Overview
The Fellowship program runs for 12 months, with start classes in April, August, and October. Fellows work full-time for a ProInspire partner, and participate in our industry leading professional development program. ProInspire's professional development includes orientation, Fellows retreat, monthly workshops, coaching, and leadership development projects. Fellows also receive career/graduate school support.
Annual compensation and health benefits are provided by the hiring organization. Compensation is $46,500 in Washington, DC and $49,000 in San Francisco Bay Area.
Roles for past ProInspire Fellows include:
ACCION International: Impact Investing Fellow
FHI 360: Strategy Fellow
Global Giving: Operations Fellow
Cesar Chavez Public Charter Schools for Public Policy: Marketing Fellow
Meals on Wheels: Finance Fellow
Share Our Strength: HR Fellow
San Francisco Child Abuse Prevention Center: Data Fellow
Year Up Bay Area: Communications Fellow
Selection Criteria
Successful candidates will have:
A minimum of two years of business or fundraising experience by June 2016
Passion for using their business skills to have a positive impact on society
Resilience to navigate new and ambiguous situations
Humility and eagerness to learn
Demonstrated initiative, self-direction and a "can-do" attitude
Adaptability in ambiguous situations and demonstrated ability to learn quickly
Strong functional skills in one or more of the following areas: analysis, communications, fundraising, finance, marketing, operations, project management, strategy, or technology
Willingness to live in the SF Bay Area or Washington D.C. for the program
Learn More
To Apply
Apply online at http://www.proinspire.org/fellows/apply/.
Round 1 applications are due January 18, Round 2 on February 2, Round 3 on April 3, and Round 4 on June 4. Candidates will be considered for placement dates and locations based on their application preferences. Applications will be reviewed on a rolling basis through September 1st.
Review details and further information regarding the application and selection process.