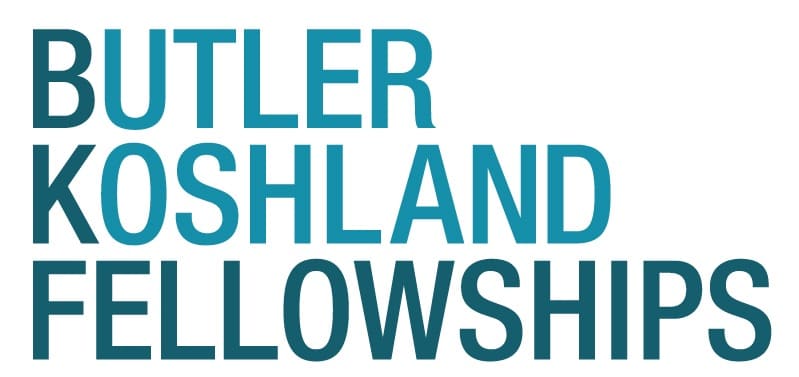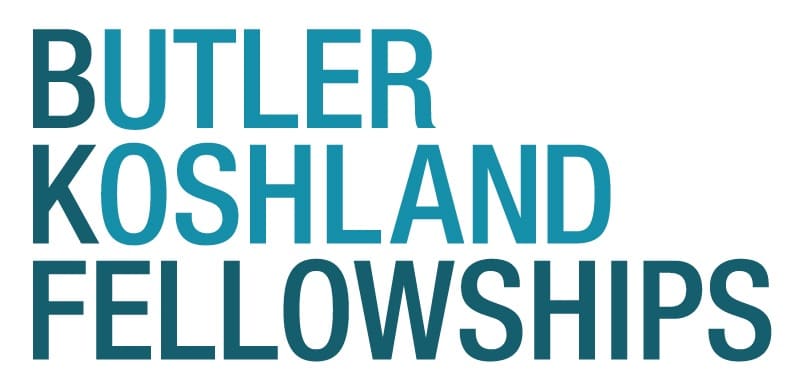 Sponsored by Butler Koshland Fellowships
Butler Koshland Fellowships is seeking an emerging leader to serve as a Fellow to James Bell, Founder and President, The W. Haywood Burns Institute (BI), for a year-long, full-time fellowship in Oakland, CA.
The purpose of this fellowship is to create a meaningful intergenerational exchange between Mr. Bell, who has been recognized for his lifetime commitment to creating systems change for youth of color, and an emerging leader who is passionate about the movement for racial equity and driven to one day lead an institution dedicated to this cause.
Mr. Bell and his Fellow will work together on a series of significant projects focused on the key question that is at the core of this fellowship:
"How can we do justice totally differently?"
We are looking for a Fellow who would be energized by the opportunity to radically re-envision what is possible for youth of color and the systems that serve them. This work will require boldness and imagination, but will also demand intellectual rigor, as Mr. Bell and his Fellow will be working together to explicate the concepts/structures that undergird our current youth justice system from both a cultural/historical and analytic/ data-driven perspective while also generating a proposal for a new justice framework centered on equitable and restorative solutions.
Please see the FELLOWSHIP DESCRIPTION section for details and instructions on how to apply.
About Butler Koshland Fellowships
The mission of Butler Koshland Fellowships is to identify and mentor the next generation of public service leaders. Our model is simple and personal—we ask extraordinary leaders to mentor an emerging leader. Each mentor and fellow pair works closely together on a project for one year, during which time we fund the fellow's salary. By directly investing in the individuals who have the greatest potential to influence others, we are accelerating the pace of positive social change.
Intergenerational collaboration is essential to strengthen the social sector during this time of profound cultural and technological transformation. Bringing a rich array of experiences and expertise to their partnership, mentors and fellows challenge one another, combining their knowledge to make new kinds of thinking possible.
Our program is strengthened by the diversity of its participants. Mentors and fellows come from a variety of backgrounds—economic, educational, and ethnic—and work in many fields, including conservation, education, media, philanthropy, and public health. We are building a dynamic group of leaders and each new addition broadens our capacity for collaboration.
Mentors and fellows form a special community. During their service year and beyond, they gather regularly to offer mutual support, reinforcing their commitment to public service. It is our intention that these lifelong relationships will ultimately become the core of a powerful network committed to the common good. To learn more about BKF, please visit our website: www.bkfellowships.org
About the W. Haywood Burns Institute
Based in Oakland, CA, The W. Haywood Burns Institute (BI) was founded in January 2003 as a 501(c)(3) organization that exists to advance the well-being of all children and adults. The Burns Institute works to eliminate racial and ethnic disparities by building a community-centered response to misbehavior that is equitable and restorative. Though many areas of the delivery of human services deserve reform efforts, the BI focuses on racial and ethnic disparities because people of color are the most impacted by our justice system. By improving outcomes for the people most impacted, we improve outcomes for all people. 
The BI offers a unique combination of direct consulting services for local jurisdictions and thought leadership and policy advocacy to philanthropies investing in the justice improvement space. Our ideas are developed from on the ground experience engaging justice practitioners, system-involved people, and community leaders. In that regard, we have worked in over 200 jurisdictions throughout the country to improve their justice processes in order to reduce racial and ethnic disparities and achieve more equitable results. 
Through the BI's 140-member national network, the Community Justice Network for Youth (CJNY), it supports organizations that provide alternatives to detention and arms local organizations with the tools and staff to strengthen their programs and engage in policy work.
Throughout the nation, people of color are disproportionately impacted by the justice system. By focusing our efforts on improving the outcomes for those most impacted, the BI believes it can create a justice system that does better for everyone. They engage in work to build the capacity of families and organizations to redirect resources to community-based interventions and thereby reduce system involvement. Looking to the future, the BI firmly believes in local stakeholders' ability to implement successful and sustainable strategies that improve outcomes for those communities living in concentrated poverty that most interact with the justice system and other human services sectors. To learn more about the BI, please visit their website: www.burnsinstitute.org
About James Bell
James Bell is the Founder and President of the W. Haywood Burns Institute (BI) and a leader in the field of youth justice reform.
Having worked as an attorney representing incarcerated youth in the Bay Area for over 20 years, Mr. Bell founded the BI in 2003 in Oakland, CA in order to address the systemic racism impacting his former clients.  Since then, he has dedicated his career to reducing disproportionate impact on children of color, training and addressing thousands of human services professionals and community members on a vision of well-being as the preferred and most effective way to achieve community safety.
Mr. Bell has appeared on numerous national television shows, conducted several radio interviews and written blogs for the Huffington Post. He has authored sections of published anthologies on school discipline, youth justice history, and health.
In addition to his work in the United States, Mr. Bell has extensive experience in the international justice arena: he assisted the African National Congress in the administration of the youth justice system in South Africa and consulted with the Nelson Mandela Children's Fund. He has worked with government officials and activists on the human rights of children and restorative justice in Cambodia, Kenya, Brazil, New Zealand and China.
He attended California State Polytechnic University and Hastings College of Law.
PROJECT BACKGROUND
Grassroots to Grasstops
The BI has demonstrated that data is key to understanding the complexities of racial inequity within the youth justice system. While it is a necessary first step to collect and aggregate accurate data, in that it allows one to clearly make the case that structural racism impacts youth incarceration rates, demonstrating the problem in scientific terms is only the beginning of the process towards actually creating equity in any youth-facing system. It has been proven that the youth justice system is racist. Now what? Genuine and lasting solutions for systems change require deep and broad cultural work that is unique to each affected community. It is this space of beyond data that the BI has a unique role to play and an engaging vision to share. Bringing a cultural competency that allows it to identify and encourage synergies between multiple stakeholders, the BI employs a collaborative grassroots to grasstops strategy to engage police, courts, and most importantly systems-involved youth and their communities, in creating equitable, restorative solutions.
Leadership Transition
Having had success in leading its grassroots to grasstops strategy in over 14 years, the BI has grown rapidly and has been stretched as it rushed to meet the demand for its services. And while well-known within the field of Criminal Justice Reform, the BI and its work has had little exposure to non-expert audiences. In order to further increase the use and knowledge of the BI's important work, its board and staff have worked together to restructure the organization in such a way that the BI can now focus on broadening its reach in terms of audience and influence. In order to support this, the BI has reconfigured its leadership team, with James Bell stepping aside as Executive Director and adopting the role of President. Former Deputy Director Tshaka Barrows is taking on the role as Executive Director. This transition will allow the BI to adopt a forward-thinking orientation, to begin building the next portion of its agenda to create systems change.
A New Period of Expansion
Taking the lessons learned from this work, the BI and Mr. Bell will be entering into a new period of creative activity, an "R&D for social justice," as he calls it that will be centered around the question: "How can we do justice totally differently?" This will be a new period of exploration, experimentation, coalition-building for the BI as an organization and an opportunity to further develop Mr. Bell as a thought leader, both in the youth justice reform field and also for a more general audience.
Having created the space to have the freedom for intellectual inquiry, Mr. Bell and his team will be focusing on a series of core concerns that Mr. Bell has identified as being the most important obstacles/opportunities for systems change—both at the institutional and cultural levels: 
Can structural racism be dismantled within a system of "blind justice" that perceives racism to be the result of anomalous individual actors and not the result of systemic/endemic injustice?
What would it take to motivate the justice system to improve and why does it continue as is despite such poor outcomes? What kinds of financial incentives and public accountability measures would need to be in place in order to propel change? 
What kind of innovations would be possible if the bureaucratic structure as it is now were not in place? What would need to change in order for innovation to be possible within an institutional justice structure?
How can power be equitably shared between multiple stakeholders with seemingly competing interests? What would partnerships between the police, courts, systems-involved individuals and their communities deliberated designed for power-sharing look like?
What deeply embedded beliefs would be threatened if we moved beyond a narrative of custody and control ("public safety") and towards a restorative justice ("well-being") framework? How could those attendant anxieties be addressed?

   
What kind of barriers between the work of government, nonprofits, and philanthropy would need to be removed in order to create a comprehensive youth-serving system that was centered around the concept of well-being? What traditions would need to change? What new frameworks would need to be created?
FELLOWSHIP DESCRIPTION
Beginning in late Spring of 2018, the fellow would work under the direction and guidance of Mr. Bell as a Butler Koshland Fellow full-time for the period of one year. In this role, the Fellow will support the executive-level goals of BI working closely with Mr. Bell as well as the team at the BI, especially its Executive Director, Tshaka Barrows.
The Fellow will experience the array of duties and responsibilities required to successfully lead a social justice organization in today's world and the Fellow will benefit from Bell's and Barrow's mentorship in areas relevant to leading an effective nonprofit institution—for example, governance, fundraising, strategic planning—and will have the opportunity to travel to conferences, participate in donor engagement, attend key BI events, observe and participate in strategy sessions and board meetings.
While the duties of the Fellow are somewhat flexible given individual talents, interests, and shifting priorities at the BI, the Fellow's work will be focused around the above-mentioned key questions (see PROJECT BACKGROUND section) and roughly be divided around the following projects:
Book Project [60%] The Fellow will be responsible for supporting Mr. Bell in researching, outlining, testing related white papers, and creating a detailed proposal for a book project. The book will contain roughly three movements: a history of criminal justice in the United States and its racialization; the summation of Mr. Bell's work at the BI, explicating the BI's signature strategies and drawing conclusions from past years of data collection and analysis; an imaginative, forward-looking plan that proposes a series of radical interventions to push the field of criminal justice reform into a new framework where an emphasis on Bell's concept of "well-being" is central to innovative systems that deliver justice that is equitable and restorative.
Pilot Sites [20%] The BI has identified three potential sites (San Jose, CA; St. Paul, MN; Toledo, OH) where some of the above-mentioned "well-being" centered strategies could be best piloted and studied. With the BI's senior team, the Fellow will work to help study and then select, one of these sites where the pilot will launch. This team will then collect and disseminate the appropriate data, turning their findings into a report, which in turn will help inform the Book Project and its recommendations. 
Funders Briefing [20%] A detailed report tailored to philanthropic interests in the field of Criminal Justice Reform acknowledging funding priorities to date, sharing case studies that demonstrate successes and failures, and explicating opportunities for new directions.
In addition to these projects, the Fellow will help the BI team improve its communications and outreach by supplying the BI with well-written, thoroughly-researched, and vetted text that can be incorporated into its website, grant applications, annual report, and other publications.
Qualifications
The successful candidate will be engaged with the BI's mission of racial equity and already be contributing in some way to the movement for social justice. They will also have a demonstrated commitment to a career public service and an interest in actively participating in BKF's leadership community, which is made up of our Mentors and Fellows, past and present.
This individual will have a high degree of comfort working in a highly-collaborative, entrepreneurial and visionary organization where needs and priorities can shift quickly. The ability to work both independently and in a team is a must. Our ideal candidate is a self-starter who comes to the table brimming with ideas and initiative.
Candidates could come from any number of educational and work backgrounds, such as law, public policy, public affairs, journalism, social work, or community organizing, but should have at least three years of directly relevant experience. 
We also welcome candidates whose lived experience gives them expertise in this area, including formerly incarcerated individuals or those who have otherwise experienced system involvement.
Because the duties of the Fellow involve strong communication and strategic skills, this position requires someone with a diverse set of abilities and personality traits, including: intellectual agility, ambition, the ability to interface with diplomacy and friendliness while facing multiple deadlines, excellent writing abilities, strong presentation and verbal communication skills, acumen for research, sense of humor, and cultural sensitivity. Applicants also must be adept at organizing their own work and the work of others, have practical experience in making things happen, and know when to be appropriately discreet with confidential information.
TO APPLY
Applications will be reviewed on a rolling basis with a final deadline to apply of May 9, 2018. Interviews will be held in Oakland, CA on May 23, 2018.
To apply please submit a cover letter and resume addressing your qualifications and interest in this fellowship along with a 1-3 page writing sample. Please be sure to list any technical skills you may have. We encourage applicants to also include relevant, short samples of their previous work—written reports, links to web-based publications, podcasts, ad copy, pitch letters, press releases, videos, and any other materials demonstrating communication skills are welcome.
Please send all application materials via email to the attention of BKF's Executive Director, Kate Brumage, at apply@bkfellowships.org with the subject line "Bell Fellowship." Only those chosen to interview will be contacted. Do not contact James Bell or the BI directly. The Fellow will be based in BI's office in Oakland, CA.
The Fellow will be an employee of BI. This is an exempt position with a salary of $52,000 per year plus employer-provided health and other employment-related benefits. At the BI, full-time staff are eligible for a benefits package that includes: paid health, dental, vision, and life insurance; a health savings account; four weeks paid vacation; 12 sick days; and 12 paid holidays per year.
The Fellow will work a standard 40- hour work-week and should be available to travel and attend evening programs as needed.
Candidates must have the legal right to work in the United States or have United States citizenship and upon hire, proof of identity and the legal right to work in the United States must be presented.
Butler Koshland Fellowships is strengthened by the diversity of its participants. We encourage all qualified applicants to apply.


---
Not ready to apply right now? Bookmark the Butler Koshland Fellowship to your ProFellow account.