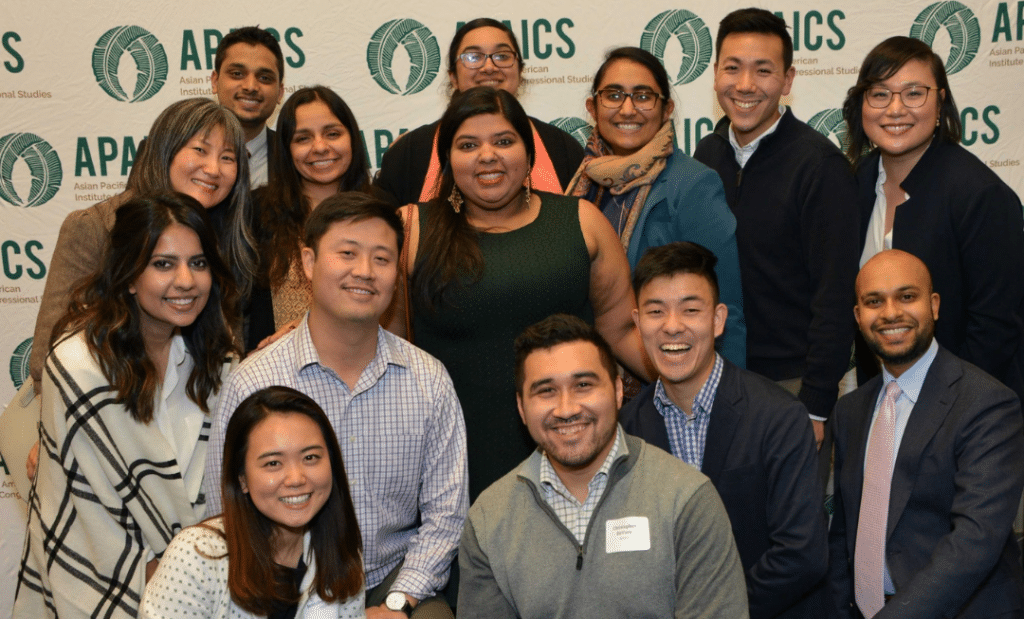 Sponsored by Asian Pacific American Institute for Congressional Studies (APAICS)
Program Overview
The APAICS Congressional Fellowship is designed for young AAPI professionals looking to increase their experience in public policy and service. The full-time, paid, 9-month program, places fellows in congressional offices to gain policy experience serving as part of the legislative team. The program provides fellows with opportunities to build their leadership skills, encourages political engagement, and fosters interest in a public service career.
2021-2022 Fellowship Program Dates: September 7, 2021 – June 4, 2022
Application Deadline: January 31, 2021 at 11:59 PM EST


See our website for more information: https://apaics.org/programs/fellowship/
Questions? Email programs@apaics.org
---
2021-2022 Fellowship Tracks
APAICS Fellows are placed across House and Senate offices, committees, and leadership offices. General Congressional Fellows work on a variety of policy issues depending on their interest, expertise, and the placement office's needs. Issue area-specific tracks are designed for applicants with interest/experience in the policy area. Applicants for an issue-specific track will also be considered for any general congressional fellowship opening as well. Previous issue area-specific fellowship tracks include general legislative fellows, education fellows, STEM fellows, and financial services fellows.
The 2021-2022 issue area tracks currently include: 
1) General Congressional Fellowship: For applicants wishing to gain congressional work experience on a range of legislative issues. General congressional fellows  work with their placement offices to establish a legislative issue portfolio responsive to the applicant's interest/experience and the office's needs.
2) Comcast Tech & Telecom Fellowship: For applicants with a specific interest in pursuing tech and telecom policy while in Congress and in their future pursuits. The Tech & Telecom Fellow's responsibilities may include other legislative issue areas and is not solely restricted to this issue-area track. We encourage any applicant with experience or an interest in increasing their experience in tech & telecom issues to apply for this track.
Specific tracks beyond general congressional fellowship (i.e. Tech & Telecom Fellowship) will require an additional short essay response during the application process.
Program Details
Program Benefits
APAICS Congressional Fellows Receive:
Professional work experience in Washington, DC

Benefits:

A grant of $27,000 for the duration of the nine-month Fellowship (equivalent to a $36,000 annual salary)

Domestic round-trip transportation to Washington, D.C.

Professional Development Funds

Health insurance reimbursement up to $200 a month 

Professional development program, networking, access to APAICS alumni network, and more
Program Requirements
Work 40 hours a week at placement site

Attend a one-day orientation 

Participate in all APAICS-sponsored activities

Develop and execute a policy briefing to promote public policy issues of importance to AAPIs

Complete quarterly reports

Submit a mid-program and end of program evaluation

Comply with APAICS policies regarding work performance and personal conduct
Eligibility Requirements
Have completed their undergraduate or graduate degree and/or have at least five years of public service experience prior to the program start date.

Be U.S. citizens, lawful permanent residents, or individuals who are legally authorized to work full-time without restriction for any U.S. employer and who possess lawful evidence of employment authorization. 

Note:

Individuals who are seeking consideration under the "Deferred Action for Childhood Arrival" (DACA) policy must possess an Employment Authorization Document at the time of application that is valid throughout the program.

Family members of the APAICS Board of Directors or National Advisory Council are prohibited from participating in any APAICS programs.
Application Guidelines
Required Documents: the following items are required as part of the application. No exceptions will be made for incomplete applications after the deadline.
Resume

Essay Responses

Two Letters of Recommendation

Academic Transcript(s) (official or unofficial, if applicable)


---
Not ready to apply this year? Bookmark the Asian Pacific American Institute for Congressional Studies (APAICS) Fellowship to your ProFellow account.