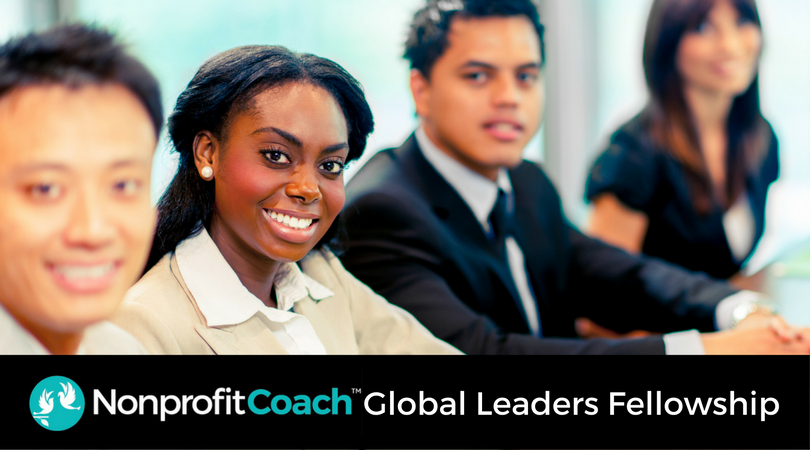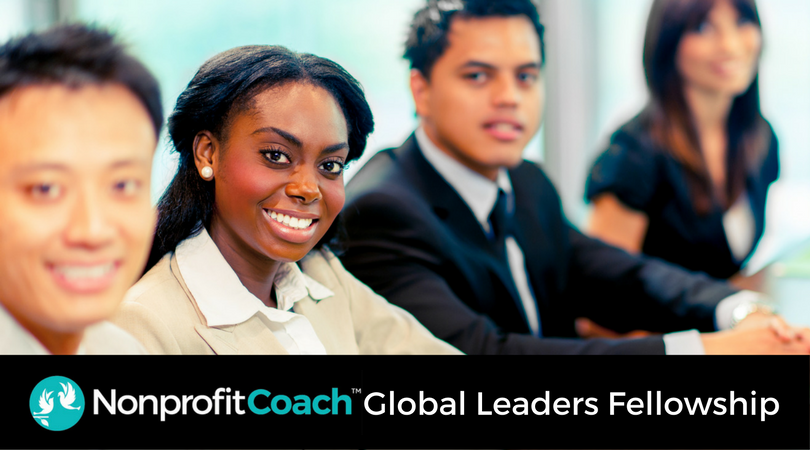 Sponsored by NonprofitCoachTM
Dare to become the nonprofit leader you know you're meant to be.
Introducing the NonprofitCoachTM Global Leaders Fellowship. Apply today to be just one of ten newly-appointed or emerging nonprofit executives, age 25-35, invited to join the 2018 inaugural class.
It's tough. But transformational. The Global Leaders Fellowship is a rigorous, six-month leadership development program that blends monthly one-on-one coaching for each fellow with monthly group coaching for the entire class. This means you'll benefit from both a highly-customized program addressing your unique leadership challenges as well as the opportunity to engage in coach-facilitated development activities with an amazing group of peers from around the world.
It's global. It's free. And there are no travel or residency requirements. Meetings take place virtually, via phone and video conference, twice a month—allowing you to develop within the context of your current organization and role.
Here's what you'll gain:
Sharpened self-awareness and self-confidence as a leader.
Renewed passion and clarity of vision.
More time to focus on your biggest goals and challenges.
Strengthened ability to plan, prioritize and execute.
Increased capacity to inspire and unlock the potential of your team.
Greater courage to lead with backbone as well as heart.
Heightened performance and a shared sense of accomplishment.
Lasting ties to a global fellowship of like-minded peers.
Eligibility
New or Emerging Nonprofit Executive: This is a mid-to-senior level professional program intended for new and emerging nonprofit and NGO executives, between 25 and 35 years of age, who have already established a solid record of accomplishment within their communities, careers and organizations. Preference will be given to: a) new nonprofit/NGO executives (founder, chief executive officer, president, executive director, etc.) with less than two years in current role and 2) aspiring nonprofit/NGO leaders with at least three years of management experience.
English Proficiency: To be able to participate fully in this program, fellows must demonstrate during the application and interview process that they are fully conversant in English.
Diversity: This program is designed to create a global fellowship of nonprofit/NGO leaders. Each class is intended to include leaders whose work addresses a range of organizational and social aims (education, economic development, humanitarian aid, conservation, etc.), to have no more than one recipient from any country, and to represent diversity in race, gender, etc.
Participation: Group interaction and accountability are important elements of the fellowship program. Recipients must be able to participate fully in all components—joining scheduled individual and group calls, completing an individual leadership development plan, being accountable for working towards self-initiated development priorities, etc. An interest in ongoing engagement and networking with other fellowship recipients is also expected.
Merit: Award decisions will be based primarily on merit. Successful applicants must demonstrate through past accomplishment, educational and career advancement, professional references, and the interview process that they are committed to their own leadership transformation, to a career in social sector leadership, and to making their dreams for a better world come true.
Financial Need: Award decisions will also be based on financial need. The fellowship is intended to serve young leaders representing nonprofit organizations without sufficient means or donor support to make significant investments in leadership development.
The Selection Process
Fellowship applicant completes online application
Professional references complete online recommendations
Semi-finalists submit self-guided video interview
Finalists participate in two-hour coaching conversation and interview via Skype
Fellowship recipients announced in December 2017
Program Duration
January – June 2018
Application Deadline
October 6, 2017


---
Not ready to apply this year? Bookmark the NonprofitCoachTM Global Leaders Fellowship to your ProFellow account.