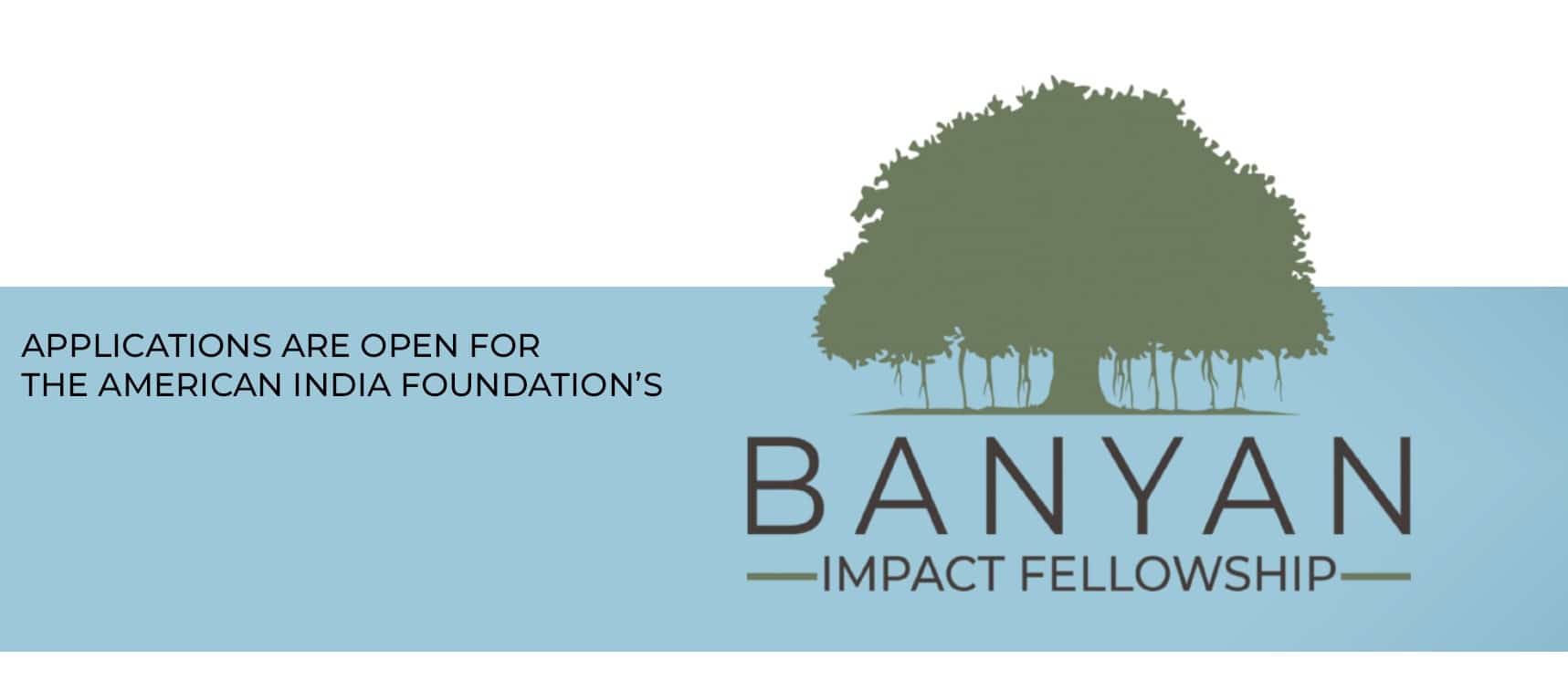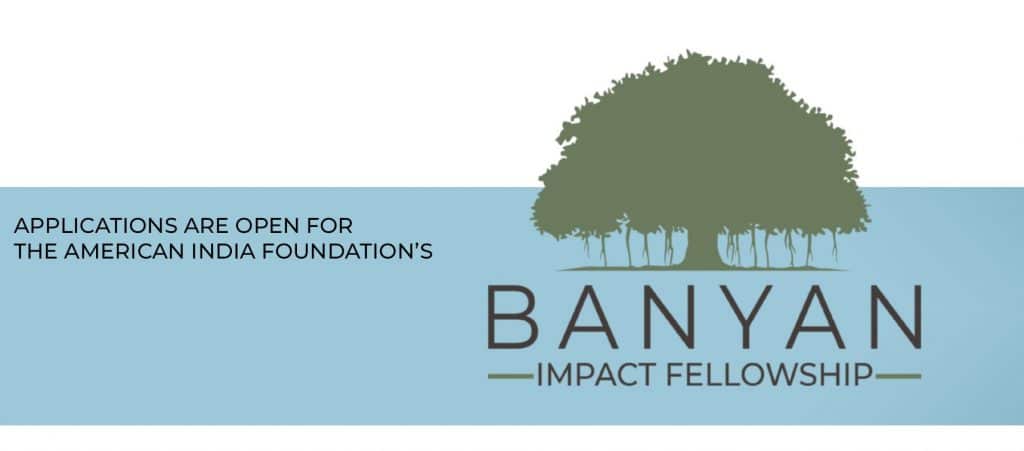 Sponsored by American India Foundation
AIF's William J. Clinton Fellowship for Service in India is now the AIF Banyan Impact Fellowship
For 20 years, AIF has been sending a cohort of dedicated young people on a journey of service for impact, building a "living bridge" between India and the US. At the cusp of the program's third decade, AIF is seizing the moment to rebrand the program to reflect the mission, vision, and values moving into the next decade of action. We are thrilled to announce that the AIF William J. Clinton Fellowship is now the AIF Banyan Impact Fellowship.
Affirming that we are the generation to end extreme poverty, combat climate change, and conquer injustice, the Banyan Impact Fellowship build upon the past 20 years and lead for the next 20 as a true catalyst for change. The Banyan Tree is a symbol of strength, resilience, and interconnectedness. We believe that it serves as a powerful metaphor for mobilizing a collective, cross-generational force towards sustainable impact. The process of the Banyan Tree spreading its roots, which over the course of time become trees of their own, is such a strong representation of how we want to see this program growing. Each step, each effort, and each individual becoming an agent of positive change, coming together as an ecosystem to support and amplify each other's impact.
The Banyan Impact Fellowship is an interdisciplinary experiential learning program that places young professionals from India and the U.S. in service with communities across India. Through collaboration and capacity-building, Fellows and local communities exchange knowledge and skills to steer projects that advance social and economic development. Fellows learn about grassroots development and inclusive leadership. We encourage young change makers who are passionate about social impact and ready to get to work to apply for this year's inaugural cohort.
Program Dates: 
November 1, 2021 – July 2, 2022.* 
*AIF is planning for the program to be hosted in person, however reserves the right to change it to a hybrid model (i.e., a mix of in-person and virtual) if the ongoing COVID-19 pandemic requires it.
Eligibility: 
U.S. citizen, Indian citizen, or U.S. permanent resident

Between 21-35 years old on November 1, 2021

Completed a Bachelor's degree (or higher) by November 1, 2021
Benefits: 
Professional growth through service, fieldwork, and conferences in a cohort model

Matching, training, mentoring, and professional development through AIF

Monthly living stipend; round-trip airfare; program-related travel in India

Health and accident insurance; 24/7 emergency, medical and travel support; access to certified Fellowship counselor

Visa support (for U.S. applicants)

Basic language training (if required)

Access to professional development resources during and after the program

Access to network of 500+ Alumni worldwide
Qualifications:
The scope of development sector work is vast and requires a diversity of skill sets, qualifications, and interests. This reality is reflected in the interdisciplinary Fellowship cohort AIF recruits. We seek applicants from a variety of backgrounds and fields. Whether you have a background in performing arts, biology, computer science, fundraising, engineering, medicine, teaching, communications, social work, finance, consulting or any other discipline and feel drawn to our mission, we strongly encourage you to apply! Whether you are a mid-level professional in a specialized field looking for on-the-ground exposure, whether you plan for a career change, whether you're eager to take a professional gap year to challenge yourself in new ways, or whether you have just graduated and are ready to "dive right in" – this program may be the right fit for you.
Ideal Candidates: 
Deep interest, passion, and commitment to social and economic development in India

Humility and eagerness to contribute and learn within a cross-cultural context that is challenging but rewarding

Strong professional skills, relevant volunteer or other practical experience, and applicable academic credentials or training

Demonstrated commitment to service; entrepreneurial, innovative, and creative in finding solutions in under-resourced organizational settings and geographic environments

Understand that they have as much to learn as they have to give, no matter their level of experience

Accept that no organization or community is perfect; ability to achieve impact despite imperfect systems
Application Deadline: May 31, 2021
About Us: 
The American India Foundation (AIF) is committed to catalyzing social and economic change in India, and building a lasting bridge between the United States and India through high-impact interventions in education, livelihoods, public health, and leadership development. Working closely with local communities, AIF partners with NGOs to develop and test innovative solutions and with governments to create and scale sustainable impact. AIF's programming seeks to achieve gender equity through developing inclusive models that focus on and empower girls and women. Founded in 2001 at the initiative of President Bill Clinton following a suggestion from Indian Prime Minister Vajpayee, AIF has impacted the lives of 6.7 million of India's poor. With offices in New York and California, twelve chapters across the U.S., and India operations headquartered in New Delhi, AIF is transforming lives across 26 states of India while addressing these issues on a regional, country, and international scale. Learn more at www.AIF.org
Not ready to apply? Bookmark the Banyan Impact Fellowship to your ProFellow account.
© Victoria Johnson / ProFellow, LLC 2021, all rights reserved