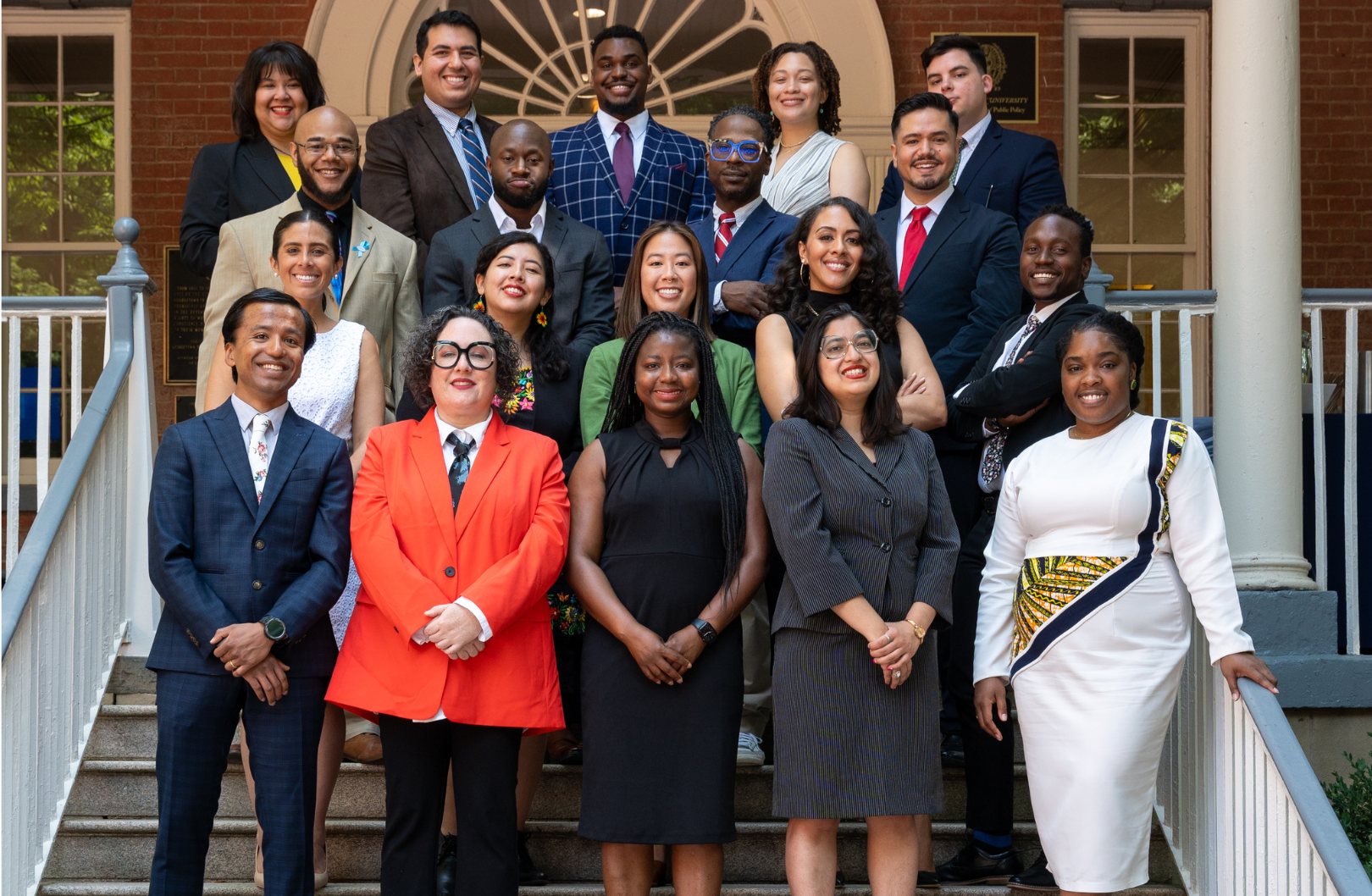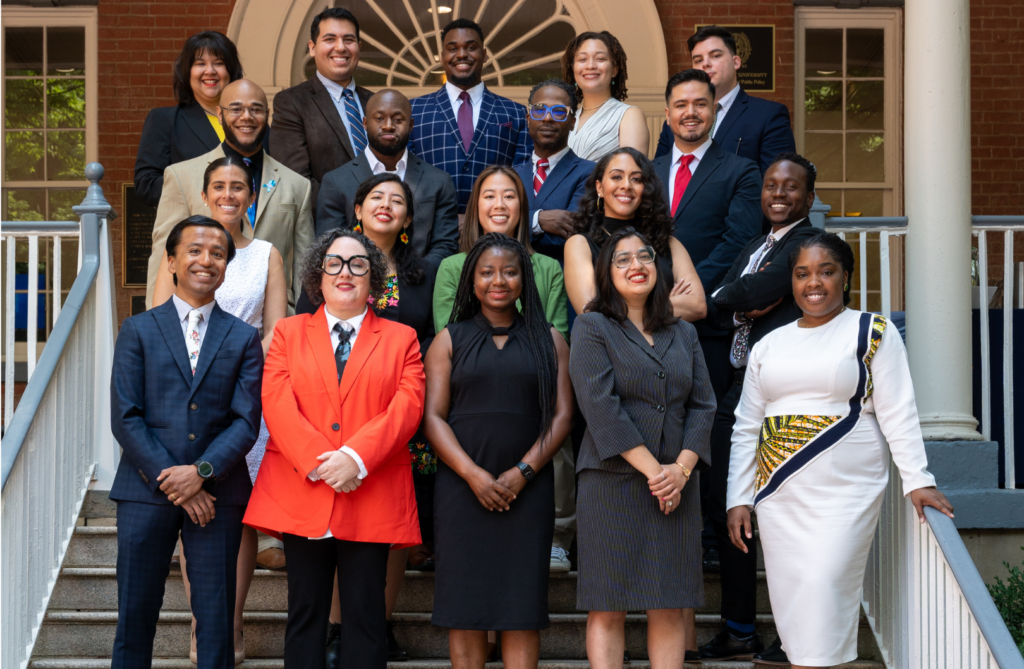 Sponsored by the National Urban Fellows Program

Accelerating professionals into social justice and equity leadership with the nation's most unique and inclusive program.
Apply Now to The 2024 National Urban Fellows Program!
Who we are
National Urban Fellows offers the premier leadership accelerator and talent pipeline for early to mid-career professionals, particularly people of color and women, committed to racial equity, public service, and social impact.
What we offer
FULLY FUNDED graduate education leading to the Master of Policy Management degree at Georgetown University's McCourt School of Public Policy
Meaningful professional experience at a premier public agency, nonprofit, foundation, or corporate social impact organization
Mentoring by a senior leader
Leadership development programming centering on racial equity
Community of Fellows to share this experience and an Alumni community of almost 2,000 leaders around the country
Financial Support to defray living expenses includes a $25K stipend, health insurance coverage, and other program-related expenses.
Who we are looking for
Early to mid-career professionals (5-10+ years) who are:
Self-aware and committed to personal growth
Passionate about advancing equity and social impact
Committed to excellence, integrity, and ethical decision-making
Adaptive and resilient
What is required
Bachelor's Degree from an accredited institution
U.S. Citizenship/Lawful Permanent Resident/DACA Recipient
Demonstrated leadership experience and desire to strengthen it
Demonstrated commitment to racial equity and social justice
Interest in advancing public policy and social impact
Ability to relocate for 14 months as required by the program
At least 5 years of professional work experience
How to Become a National Urban Fellow:
Early Consideration Application Deadline –

December 1st, 2023

Standard Application Deadline –

January 16, 2024

Early Consideration Semifinalists Selected –

Mid-January, 2024

Semifinalists Selected –

February, 2024

Semifinalist Interviews –

Early March, 2024

Fellow Acceptances –

April, 2024

Fellow Orientation –

May, 2024
Deadline: January 16, 2024
Application

Requirements
$75 Early Consideration  Application Fee until December 1, 2023
$150  Standard Consideration Application Fee between December 2nd and January 15, 2024
$500 program fee upon acceptance into the program
Application FAQ
What type of individual is National Urban Fellows seeking?
The National Urban Fellows' Academic & Leadership Development Program is designed for mid-career professionals who are committed to social impact careers in the Government, Non-Profit, Philanthropic, and Corporate sectors. Individuals best matched to fulfill the organization's mission will demonstrate leadership skills with the potential for further growth and a passion for advancing public policy, racial equity, and social impact. Fellows should embody NUF's guiding values: integrity, dignity, courage, solidarity, and racial equity. Successful candidates will also possess a strong work ethic, self-discipline, grit, and an openness to learning.
What is the expectation of a Fellow after graduation?
NUF Fellows are expected to apply their expertise and contribute their newly acquired leadership skills for the betterment of communities across the nation and around the world. Fellows are expected to return to their former or new occupations more experienced in public policy decision-making and management and better prepared to advance equity and social impact.
Program graduates join the NUF alumni network of over 1,700 social impact leaders and changemakers. Alumni stay connected and share opportunities through NUF social media channels, and give back through ongoing engagement and involvement, including annual giving, support for new Fellows, and promoting NUF to new audiences.
Can I have outside employment while in the Fellowship program?
The Fellowship program schedule is highly demanding, with academic coursework, mentorship assignments, and training expectations consuming the bulk of the Fellow's time. To successfully uphold attendance and performance requirements, outside employment is not advised.
Application and Eligibility
Is the GRE required for acceptance into the National Urban Fellows' Academic & Leadership Development Fellowship Program?
No, Graduate Record Exam scores are not required by Georgetown University nor the NUF Program.
Is there an age restriction for applying to the program?
There is no age restriction for applying to the program; however, the National Urban Fellows' Academic & Leadership Development Fellowship Program is designed for mid-career professionals with a minimum of 5 years of experience in public service, management, and/or leadership capacity.
Are applicants required to undergo a security and background investigation?
Upon acceptance into the National Urban Fellows program, some Fellows may expect to undergo a security and background check as required by the mentorship host organization they are assigned to.
What are the application prerequisites for the Program?
US Citizenship/Lawful Permanent Residency/DACA Recipient
A bachelor's degree from an accredited institution
At Least 5 years of professional experience by January 1st, 2024
Selection
How are Fellows selected?
The National Urban Fellows' Screening Committee reviews applications for outstanding candidates and makes recommendations to the Interviewing Committee. The Interviewing Committee selects based on submitted documents and personal/group assessment processes. The Interviewing Committee comprises Georgetown Faculty and staff, NUF Alumni, and National Urban Fellows' staff.
How are mentorships assigned?
Mentors are recruited each year for the incoming class; therefore, every class will have a different set of mentors. Mentors and Fellows undergo an interview process in order to identify potential matches for the mentorship assignment.  The perspectives of Mentors and Fellows are carefully assessed in order to create the best experience for both parties. Ultimately, the National Urban Fellows is responsible for making final determinations on mentorship assignments.
Is relocation required?
Relocation has been a core program expectation over NUF's 50-year history and has offered Fellows opportunities to learn, grow, and build networks in new locations they may not otherwise be exposed to. Beginning in 2021, NUF modified this requirement and made some virtual and hybrid placements available in order to address health and safety concerns related to COVID-19. We will continue to determine placement modalities based on the workplace expectations set by our mentorship host sites.
What expenses does NUF cover?
In addition to a fully-funded graduate education, Fellows gain ongoing personal and professional development. They also receive a $25,000 stipend distributed over the 14 months of the program, health insurance, a book stipend, and assistance with relocation to their mentorship sites. Fellows also receive travel and lodging at their mid-year retreat in January.
How are special needs – such as disabilities – for Fellows handled?
National Urban Fellows complies with all government guidelines and regulations as they apply to individuals with disabilities. Georgetown University provides assistance and accommodations as required by Federal law. Under the Americans with Disabilities Act (ADA) and Section 504 of the Rehabilitation Act of 1973, Georgetown University's Academic Resource Center assesses accommodations for students with disabilities based on documentation from a medical professional.
How are previously scheduled commitments – such as a vacation – handled during the Fellowship year?
Upon acceptance into the program, Fellows are required to adhere to NUF's program schedule and be able to fully participate in classes, meetings, training sessions, and other activities taking place throughout the 14 months.
Deadline: January 16, 2024.
---
Not ready to apply this year? Be sure to bookmark the National Urban Fellows to your ProFellow account!
© ProFellow, LLC 2023, all rights reserved