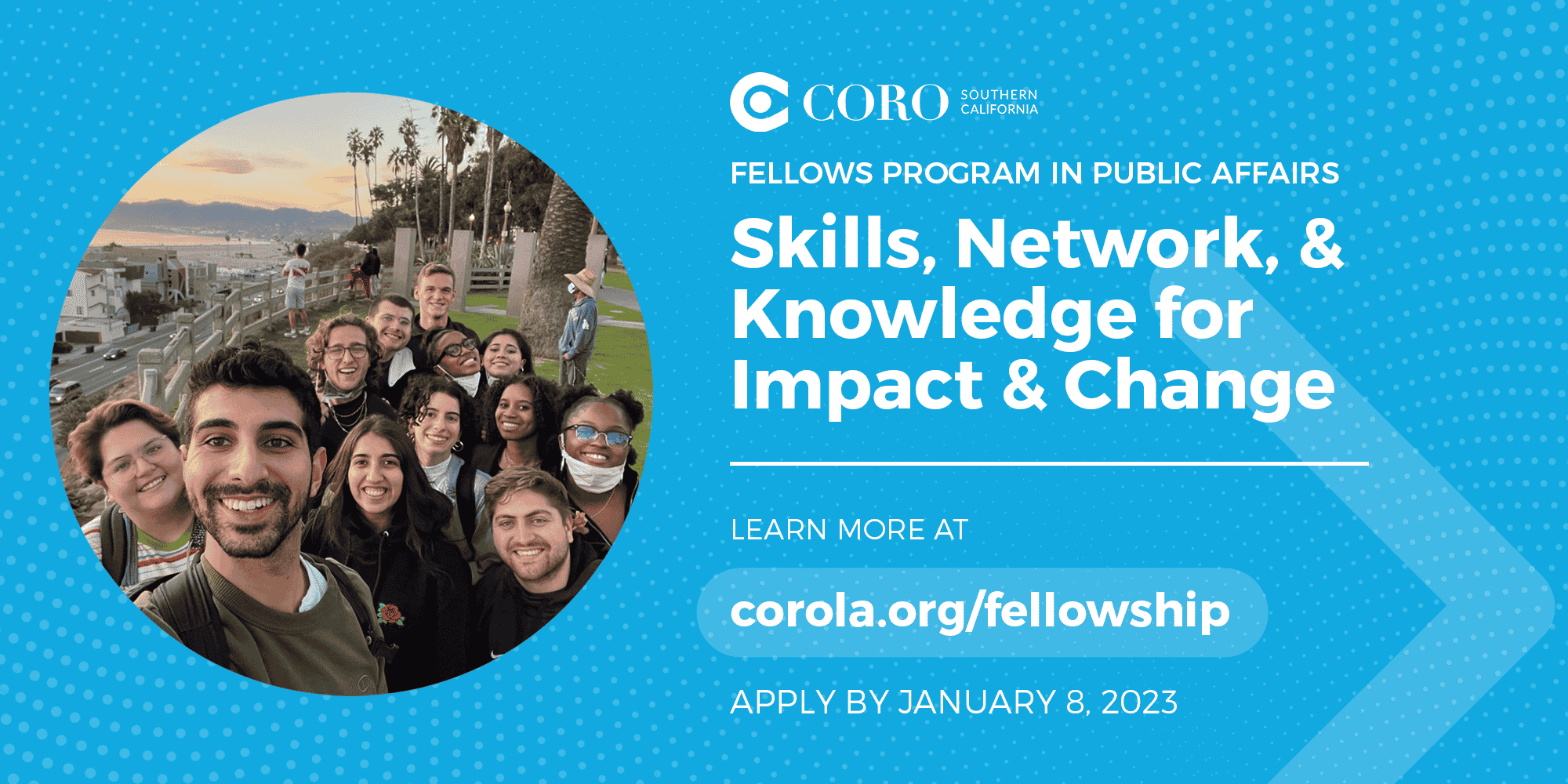 Sponsored by Coro Southern California
The Coro Fellows Program in Public Affairs equips recent college graduates and young professionals with the skills, networks, and knowledge they need to influence meaningful change. Considered one of the most competitive public affairs fellowships in the country, ten to twelve Fellows come together to use the Greater Los Angeles region as their classroom. Coro Fellows join an unparalleled community of engaged alumni – spanning the public, private, labor, and non-profit sectors – eager to support one another as they create impact and change. 
What You'll Do?
The Coro Fellows Program in Public Affairs is a full-time, nine-month experience-based fellowship. From September to May, Coro Fellows engage in four major programmatic components:
Placements allow Fellows to gain direct exposure to different sectors and industries enabling participants to build robust professional networks. Each Coro Fellow completes five multi-week professional placements: 
Government/Public Sector 

Electoral politics/Campaigns 

Organized Labor 

Business/Private Sector

Non-profit Sector
Placement hosts have high standards for Coro Fellows, tasking them with important projects and allowing them the opportunity to sit in on meetings with top organizational leaders.
Leadership Seminars serve as the civic leadership and professional development skills-building boot camp. Participants will work together through facilitated learning activities to gain self-awareness and self-management, inquiry and critical thinking, and system thinking skills. These seminars also include Leadership Interviews with influential regional, cross-sectoral leaders. These closed-door sessions provide Coro Fellows with the rare opportunity to explore the motivation, method, and logic of the individuals shaping our region's future.
Focus Weeks immerse Coro Fellows in the exploration of a single topic. These cohort-led, Coro-curated explorations enable participants to expand their professional networks, deepen their civic knowledge and understanding, and strengthen their leadership and professional development skills as they work together to better understand some of the region's most pressing challenges and ways to collaborate across differences toward action and impact.
Spring Projects serve as the culminating capstone of the Coro Fellows program. These participant-secured projects put to the final test all of the skills, knowledge, and networks the participants have acquired over the previous months, providing each with an opportunity to showcase their passions, abilities, and purpose as emerging leaders. 
What You'll Learn?
Coro Fellows gain immense skills, knowledge, and networks over the course of their experience. It is this reason that participants leave the program with employment opportunities that would normally take years to work toward and the reason so many top graduate and law school programs across the country seek out and recruit past participating Fellows. 
"Coro challenged me to find new strength in my voice and sharpen my decision-making skills. Perhaps most unique to Coro is its ability to lift the curtain behind a city and you a world of high-stakes decision making, where people are people and every voice has consequences. The fellowship provides unparalleled access to key layers in every sector, daring its participants to dream beyond themselves and equipping them with a skill set to achieve those dreams." 
~Adam Mohabbat, 2017 Coro Fellow and Policy Director, North America, Wallbox Chargers
"Coro gave me the power to think differently and create strategies around reclaiming and redefining my goals. I went into Coro having a vague understanding of where I wanted to go in my career; however, this program has challenged me to question my plans of action and make them better. I always thought of myself as a leader when called upon, but Coro gave me the confidence and skill set to embrace my power and fortify my leadership core." 
~ Jessica Hale, 2022 Coro Fellow and Program Analyst, Gateway Cities Council of Governments
What Can You Expect?
Coro's time-tested approach to leadership development pushes participants to understand themselves and their surroundings more effectively. Coro Fellows can expect three signature elements highlighted across all aspects of their fellowship[ experience. 
Multi-Perspective: You should be ready to engage productively with different perspectives and ready to engage in personal reflection. 
Intentional Ambiguity: A signature characteristic of Coro programming is generating intentional ambiguity, which works to highlight your defaults, ignite your learning, and support you to lead and manage through uncertainty. 
Learn by Doing: Coro views leadership as a practice; you should be ready to learn by doing with sessions as opportunities to lay the foundation; you will gain the most by taking the skills, tools, and frameworks and practicing/adapting them in your professional roles.
Eligibility:
Bachelor's degree conferred by August 2023
Recent college graduates or young professionals with 1 to 3 years of experience;
No citizenship requirements, but Coro Southern California cannot sponsor work visas
How Can You Learn More and Apply?
Coro Southern California offers need-based monthly stipends to ease the financial burden of participating in the fellowship. Stipends are based on financial need, and monthly payments typically range between $500 to $1,500. Beyond the stipend, Coro supports fellows by helping source affordable housing in Los Angeles through the alumni network. In addition, Coro also offers $80 a month as reimbursement for health insurance. As participants in an academic enrichment program, Coro Fellows qualify for loan deferral with certain types of student loans. Coro Fellows will have to initiate those conversations with their respective lenders.
Learn more about Coro and the Coro Fellows program. Complete the interest form to connect directly with a member of the Coro team. Register for one of the upcoming information sessions to hear directly from past Coro Fellows about their experiences.
Create your application portal profile and complete the online application here. Now accepting applications. Applications are due on Sunday, January 8, 2023. 32 finalists will be selected from the pool of applicants to participate in the Selection Day interviews on a Saturday in March 2023. More details will be provided to selected finalists.
Deadline: Sunday, January 8, 2023
Interested in applying? Bookmark the Coro Fellows Program in Public Affairs in Los Angeles to your ProFellow account.
© ProFellow, LLC 2022, all rights reserved.