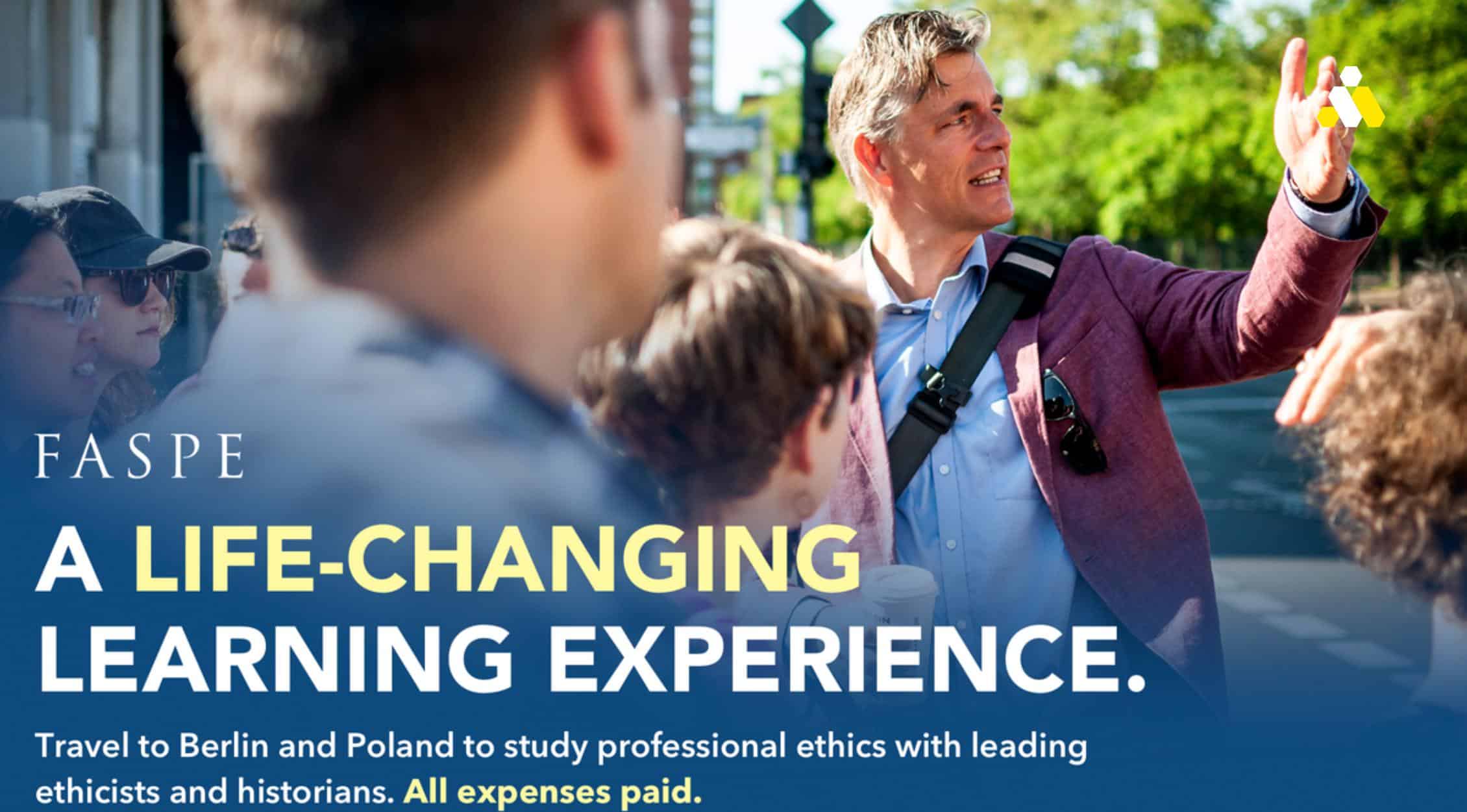 Sponsored by Fellowships at Auschwitz for the Study of Professional Ethics
Fellowships at Auschwitz for the Study of Professional Ethics (FASPE) is now accepting applications for our 2023 programs! We invite students and early career professionals in the fields of business, design & technology, journalism, law, medical, and seminary to apply for this transformative fellowship in ethical leadership.
About FASPE
FASPE is a fully funded, two-week fellowship program in professional ethics and ethical leadership that is centered on examining the actions and choices of German professionals in enabling Nazi policies.
FASPE uses Nazi Germany as a launching point and backdrop for an intensive study of contemporary ethics. The fellowship is predicated on the power of place; FASPE Fellows travel to Germany and Poland, where they will visit Auschwitz and key historical sites in Berlin and Krakow as they participate in rigorous seminars led by experts in their respective fields. FASPE combines academic rigor with many informal opportunities for creative exchange.
FASPE Fellows will be challenged to critically examine constructs, consider current developments and issues that raise ethical concerns in their professions in contemporary settings in which they work, and recognize their own responsibility to act as ethical leaders in their medical careers.
For a deeper look into each FASPE program, view our 2023 information sessions for Business, Design & Technology, Journalism, Law, Medical, and Seminary.
Why FASPE?
All expenses paid
FASPE Fellowships are fully funded so that financial ability does not affect participation.
Career development
FASPE Fellows often describe their fellowship experience as life-changing, citing how much it has impressed upon them the power of their professions and the need to pursue ethical practices. As they progress in their careers, they bring with them a heightened sensitivity and deep commitment to addressing the ethical issues in their fields. 
Friendships and connections
Meaningful friendships are often made during FASPE. Fellows enjoy time together sightseeing, at group meals, and much more throughout the two-week trip, leaving with an expanded social circle founded on their shared experience.
Each year, FASPE organizes an annual two-day Reunion and Symposium in New York City, centered around a particular topical theme within professional ethics. FASPE also arranges smaller, informal gatherings and parlor meetings for fellows throughout the year in various locations. Past gatherings have been held in Boston, Chicago, New Haven, New York, San Francisco and elsewhere.
Alumni resources
All FASPE Fellows are invited to join the FASPE Alumni Portal after program completion, which allows them to stay connected with each other, as well as access exclusive job postings, articles, photos, and events.
Testimonials
"Participating in this fellowship was probably one of the most important things I could have done at this stage in my career. The experience forced us as fellows to do the necessary but painful and gut-wrenching task of looking for ourselves and our communities not only among the victims but among the perpetrators of societal inequities." 
— Kristin Sharman, 2022 Law Fellow
"FASPE was an incredible and once-in-a-lifetime opportunity to think critically and discuss complex issues in the same historical locations where so much wrong took place. Surrounded by brilliant faculty and peers, I have never felt so vulnerable and simultaneously comfortable enough to analyze my own weakness, both personally and professionally. I left the two weeks feeling inspired to change my profession and the world, and fully committed to serving others and creating a more just society."
— Derek Soled, 2022 Business Fellow
"The concept, program, cohort, environment, education, discussion and experiences were life changing. It has challenged me to think about professional and personal ethics as well as history and its link to contemporary events differently. I will forever cherish my FASPE experience!"
— Johnny Efoko, 2022 Seminary Fellow
Eligibility
Each FASPE program has its own eligibility requirements:
Outside of these specific requirements, FASPE seeks Fellows who are about to embark on their career as professionals, are interested in engaging in discussions with their co-Fellows and faculty, and who have the intellectual and emotional maturity to unpack difficult and controversial issues responsibly and respectfully in small group settings. 
FASPE selects its Fellows on the basis of their academic background, personal and professional experiences, capacity for leadership and ability to contribute to the program and the alumni community. All applications are welcome and reviewed.
FASPE programs are non-denominational. Candidates of all nationalities, religions, and backgrounds are encouraged to apply.
2023 Program Dates
Medical, Seminary, and Journalism:  June 23, 2023 – July 7, 2023
Law, Business, and Design and Technology:  May 26, 2023 – June 9, 2023
More Information
All applications are due by January 3, 2023, at 11:59 P.M. EST
Not ready to apply now? Bookmark one of the following to your ProFellow account:
Fellowships at Auschwitz for the Study of Professional Ethics: Seminary Program
Fellowships at Auschwitz for the Study of Professional Ethics: Design and Technology Program
Fellowships at Auschwitz for the Study of Professional Ethics: Medical Program
Fellowships at Auschwitz for the Study of Professional Ethics: Law Program
Fellowships at Auschwitz for the Study of Professional Ethics: Journalism Program
ProFellow, LLC 2022, all rights reserved