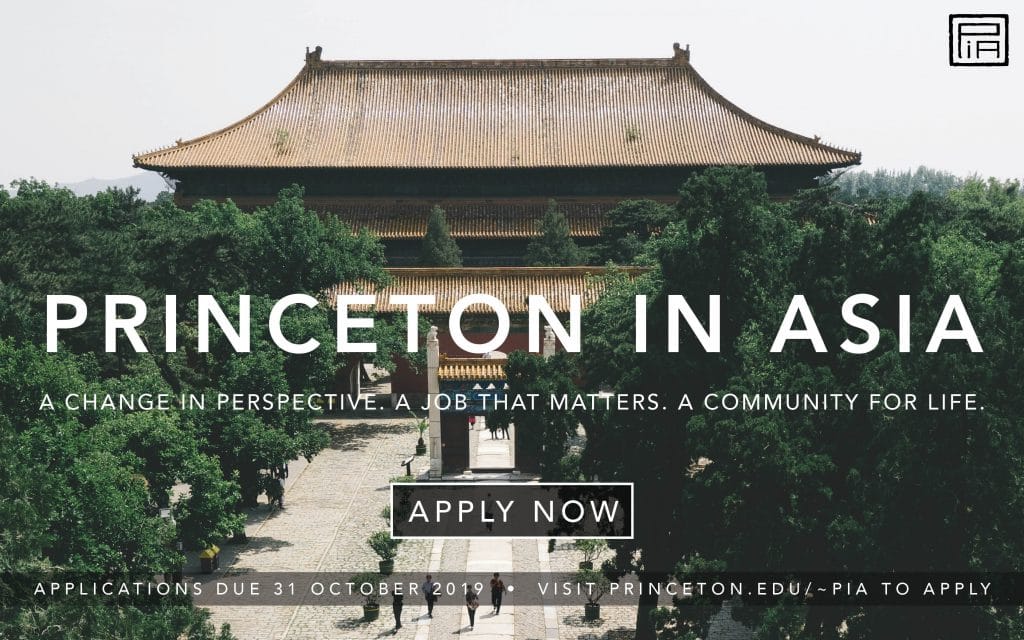 Sponsored by Princeton in Asia
Founded in 1898, Princeton in Asia (PiA) has been building bridges between the U.S. and Asia for over a century. The program has long been driven by a mission to foster mutual appreciation and cultural understanding by connecting service-minded graduates and partner organizations in Asia through immersive work experiences that transform perspectives, cultivate long-lasting relationships, and benefit local and global communities. PiA offers year-long fellowships in 20 countries and regions of Asia in the fields of education, public health, economic development, environmental sustainability, and peace, justice, and access to information. This year, PiA will offer approximately 145 fellowships. PiA Fellows teach English to university students in Kazakhstan, report for a daily newspaper in Vietnam, support the communications staff of a wildlife conservation NGO in Myanmar, work for a Buddhist art research academy in China, and more. Though each PiA fellowship is unique, all Fellows contribute to PiA's 121-year old mission of promoting goodwill and understanding and facilitating cultural exchange between the US and Asia.
PiA is open to graduates of all colleges and universities and does not require any previous Asia experience or language skills. Head on over to our website to begin your application today!
Deadline: October 31, 2019 at 12:00 PM EDT.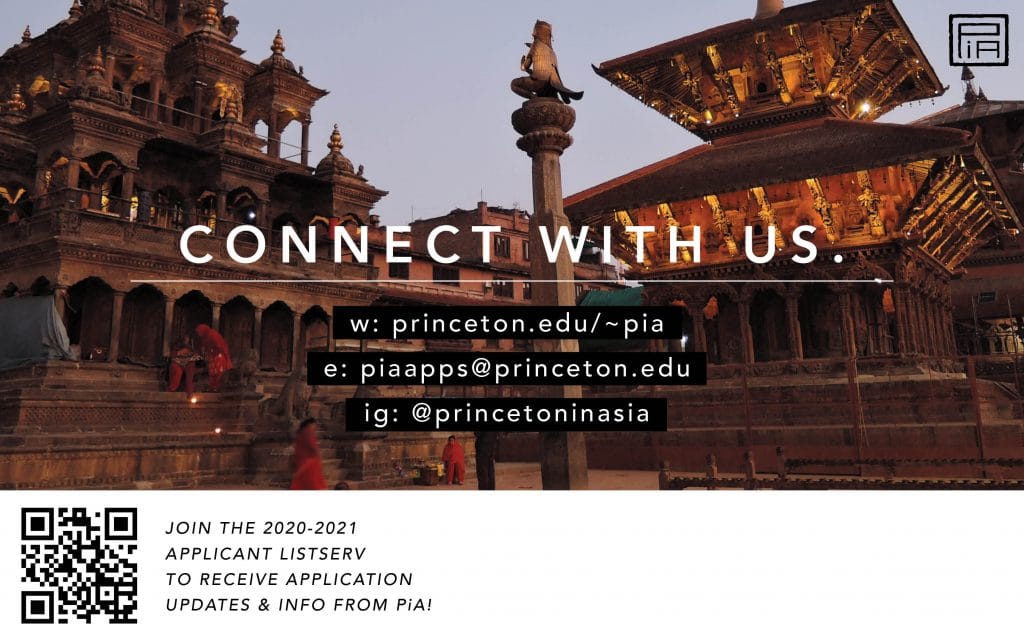 Applicant Webinar
Princeton in Asia staff will be holding an online information session this fall for prospective applicants to learn more about the program and application process. There will also be a number of in-person information sessions hosted by staff and alumni at universities across the US. Please check our website to learn more.
Tuesday, October 22
9:30 PM EDT
Register Now               
Learn More
To learn more about PiA, please visit our website, where you can read about our organization, fellowships, and application and placement processes. Please also join our applicant mailing list for the latest updates about the application cycle and our program. Be sure to follow us on Facebook/Twitter/Instagram (@princetoninasia), where we will post helpful application reminders as well as updates from the PiA Fellow and alumni community.
Applications are due on Thursday, October 31, 2019 at 12:00 PM EDT.