Sponsored by CivicSpark
Are you passionate about tackling the biggest environmental and social equity challenges facing communities today while launching your social purpose career? If so, CivicSpark, a Governor's Initiative AmeriCorps program, is right for you!
CivicSpark is dedicated to building capacity for local governments to address community resilience issues such as climate, water, housing, and mobility. During the 2020-21 service year, 90 CivicSpark Fellows will support over 100 cities, schools, and other public agencies to implement local sustainability projects on topics including sustainable transportation, energy efficiency, climate action planning, water conservation, drought response, equity and affordable housing. Fellows gain exceptional career experience, training to become future leaders in California's response to community resilience issues.

CivicSpark projects focus on supporting capacity in environmental and social equity resilience issues. Environmental projects focus on addressing widespread persistent environmental crises by facilitating effective solutions in areas such as energy efficiency, climate adaptation and mitigation, green infrastructure, and groundwater management. Social Equity projects focus on opportunities to relieve significant socioeconomic pressures that impact quality of life, public health, or economic opportunity in areas such as multi-modal transportation, affordable housing, and broadband access.
Fellows are spread regionally (Central Coast, Greater Los Angeles, Sacramento area, San Diego area, San Francisco Bay Area, San Joaquin Valley, and Sierra Nevada) throughout the state. Each region has a Regional Coordinator who oversees the various Fellows in their area, providing guidance, mentorship, and support for the Fellows' professional development goals. Site Supervisors are the Fellows' on-site contact, who works with Fellows on a day-to-day basis and oversees project work, and supporting the Fellows' professional growth in the workplace.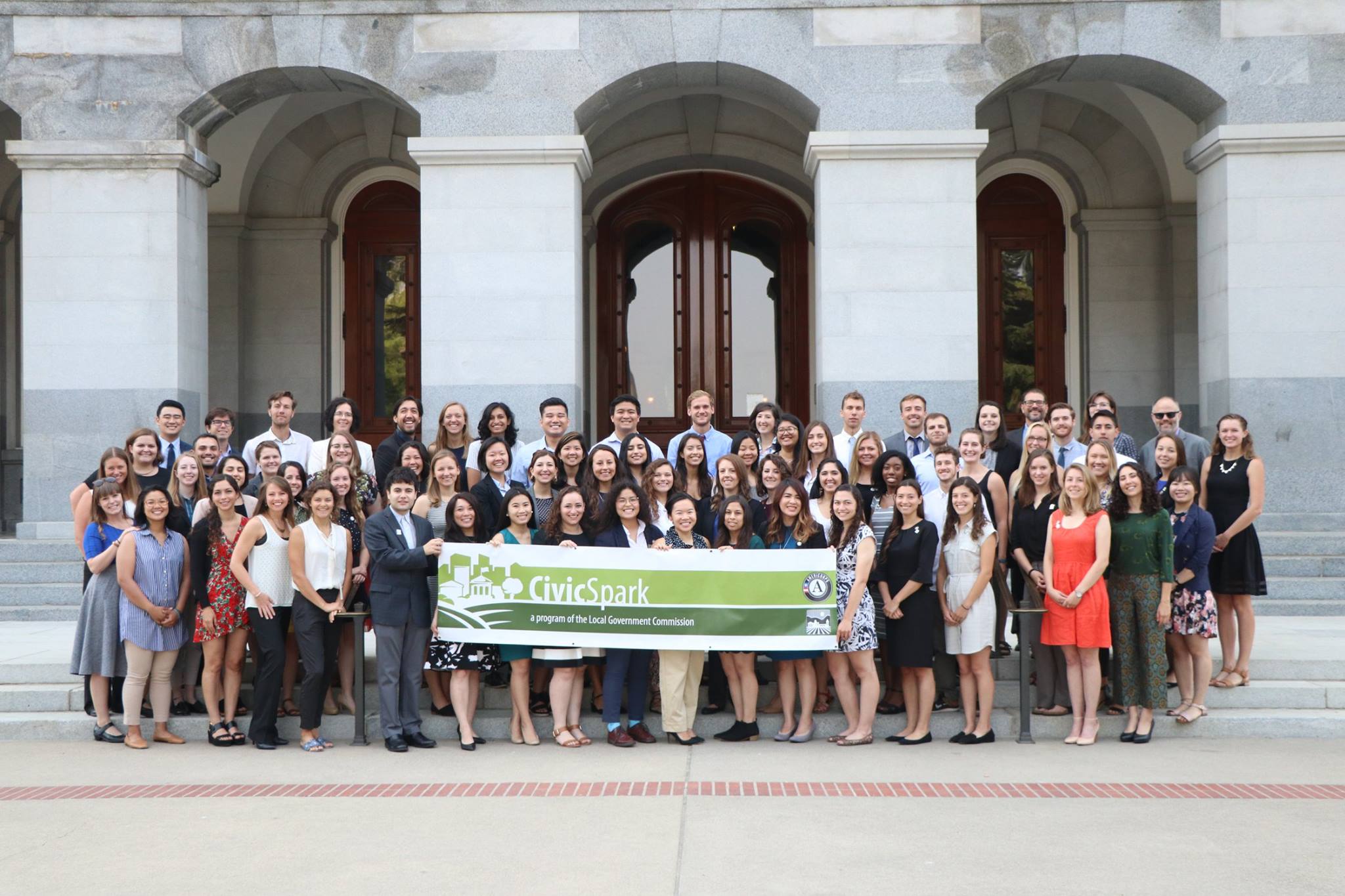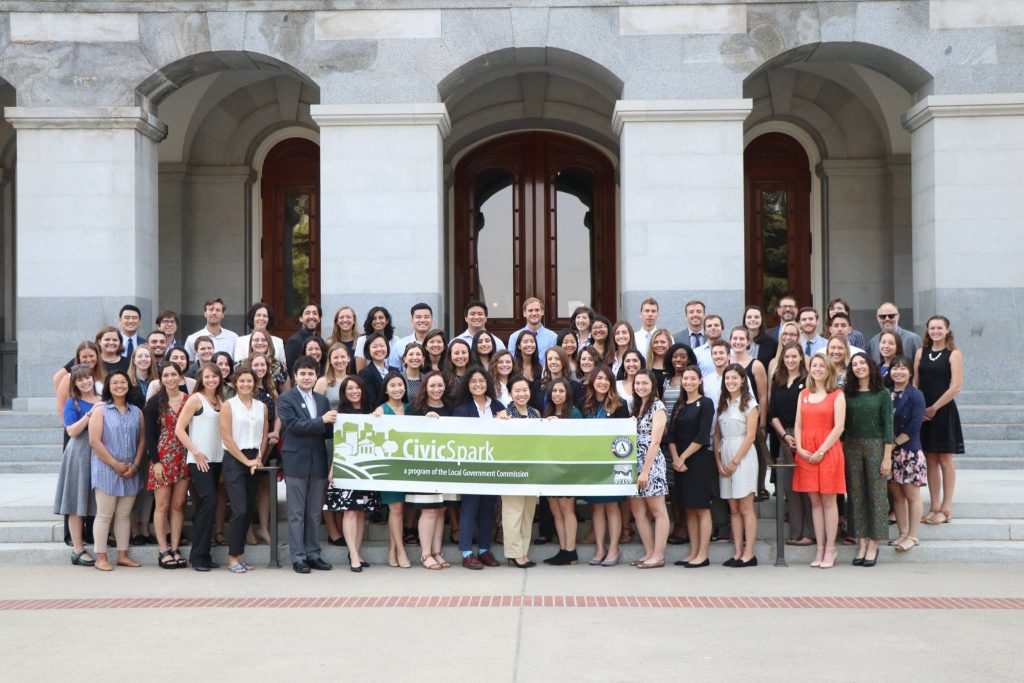 While projects vary, Fellows can expect to work on a range of tasks including meeting facilitation, community outreach, data collection and analysis, and report writing. Fellows will also have the opportunity to work on volunteer engagement projects, as well as attend regular trainings to build professional and technical skills. Fellows will complete their service year having a strong understanding of working with local governments as well as experience in using key sustainability and water management tools.
Learn more about the program by visiting our website at http://civicspark.lgc.org/. You can also check out our Fellow FAQ page (http://civicspark.lgc.org/fellow-faq/) if you have any questions. 
Benefits
AmeriCorps was created to address community needs through service. AmeriCorps members have the opportunity to make an impact in their community while gaining valuable career and life experience. In exchange for their service, each Fellow receives the following benefits:
A living allowance of approximately $20,000 (before taxes) spread evenly over 11 months

Segal Education Award

of $6,095

at the completion of service

Forbearance on existing qualifying student loans and payment of interest accrued during service

SNAP (CalFresh/Food Stamps) benefits to those who qualify

Health insurance

Childcare assistance to qualifying Fellows, paid to an eligible provider of your choice

Professional development training

Network development with regional and statewide contacts in the sustainability field

Experience in the sustainability field and the local government sector

Connection to a network of hundreds of CivicSpark alumni and hundreds of thousands of AmeriCorps Alums
Qualifications
Applicants must be a citizen, national, or lawful permanent resident alien of the U.S., and must complete Department of Justice (DOJ), FBI, State, and NSOPR background checks prior to service. Applicants must also have:
A 4-year undergraduate degree (i.e. Bachelor's) from an accredited college or university.

Commitment to the full term of service (11 months).

Strong communication (both verbal and written) and teamwork skills; some experience with outreach, facilitation, and/or grassroots organizing is preferred.

The capability to work in a professional office setting

up to 40 hours a week

.
This is an equal opportunity position and we prefer to place a candidate who already lives in the community being served.
Priority deadline: March 15, 2020
CivicSpark's first priority deadline is set for March 15, 2020. Candidates who apply by this time will be the first to be contacted and to go through the interview process if they fit CivicSpark's criteria. Early applicants will begin the 2nd round interview process in early April 2020, which is around the time we will open the regular application. This allows early applicants to go through the application process sooner and be able to be selected earlier on by project partners. Applications submitted after the deadline will be accepted on a rolling basis.

---
Not ready to apply this year? Bookmark the CivicSpark Fellowship to your ProFellow account!
© Victoria Johnson 2020, all rights reserved.