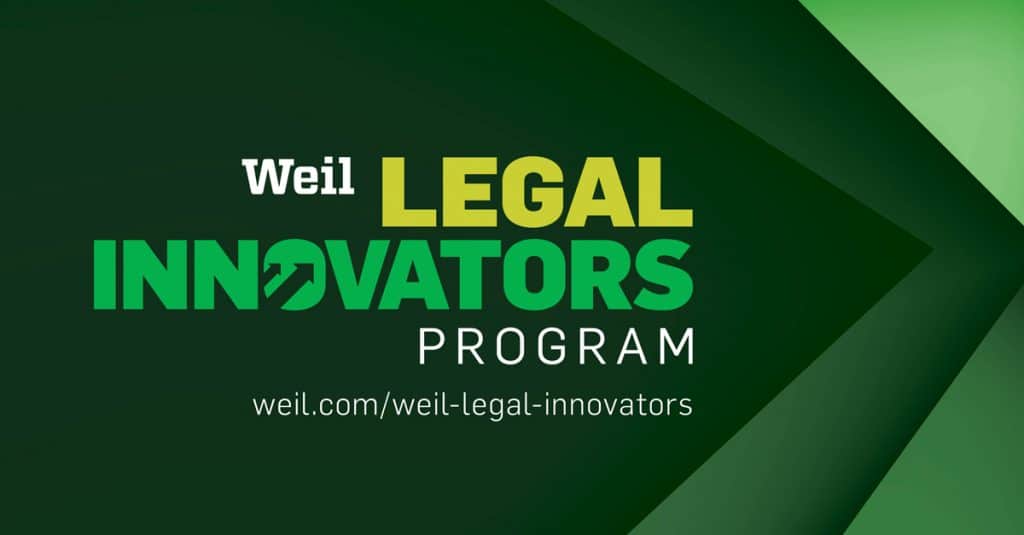 Sponsored by Weil Legal Innovators
The Weil Legal Innovators Program (WLI) engages incoming law school students in addressing some of the most pressing social and legal challenges in our communities today. Weil Legal Innovators is comprised of a class of up to 10 incoming law school students who plan to attend one of eight WLI Law School Partners. Innovators defer their first year of law school to work at a WLI partner nonprofit organization for a paid public service fellowship, executing a strategic initiative designed to leverage their business acumen and commitment to public service, while amplifying the impact of the nonprofits and their important missions.
FELLOWSHIP BENEFITS
$50,000 in compensation for the fellowship year, plus full health benefits coverage inclusive of medical, vision and dental
A one-time $10,000 law school scholarship awarded upon starting first year of law school at a WLI partner institution
All expenses paid for travel to and from New York City for WLI orientation in 2021 and closing reception in 2022 (subject to shift to virtual events due to COVID-19)
An opportunity to work at and learn from a leading national or international public service organization
A dedicated Weil Partner mentor for the duration of the program
The opportunity to interview for the Weil Summer Associate Program
2021-2022 NONPROFIT PARTNERS
Applicants will be able to identify their first and second choice Innovator opportunity at the following 15 leading national and international nonprofit organizations based across the United States:
ACLU of Texas
Ashoka
The Aspen Institute
Earthwatch
Human Rights Watch
Innocence Project
Met Council
Ms. Foundation
National Urban League
National Women's Law Center
Oxfam
Posse Foundation
Tahirih Justice Center
United Way of New York City
Youth INC
Remote work: Note that in light of the COVID-19 pandemic, many of our nonprofit partners are currently operating in a remote environment and will likely continue operating remotely by the commencement of the Innovator's working year (July 2021). Should you be selected to move forward in the WLI interview process, we will work with you and our nonprofit partners to clarify expectations around where work will take place.
ELIGIBILITY
All students who have been accepted to and intend to attend one of the eight WLI law school partners are eligible to apply to the program:
Berkeley Law
Columbia University Law School
Duke University School of Law
Georgetown University Law Center
Harvard Law School
New York University School of Law
University of Michigan Law School
University of Pennsylvania Law School
Eligibility is open to students with prior professional experience, as well as students applying directly to law school from an undergraduate institution. The WLI Steering Committee aims to identify a class of innovators for the WLI program that is diverse in many regards including demographic background, educational background, work experience, geographic representation, and diversity in thought.
APPLY BY MARCH 19, 2021


Questions? Please contact legalinnovators@weil.com
---
Not ready to apply? Bookmark the Weil Legal Innovators Program to your ProFellow account.