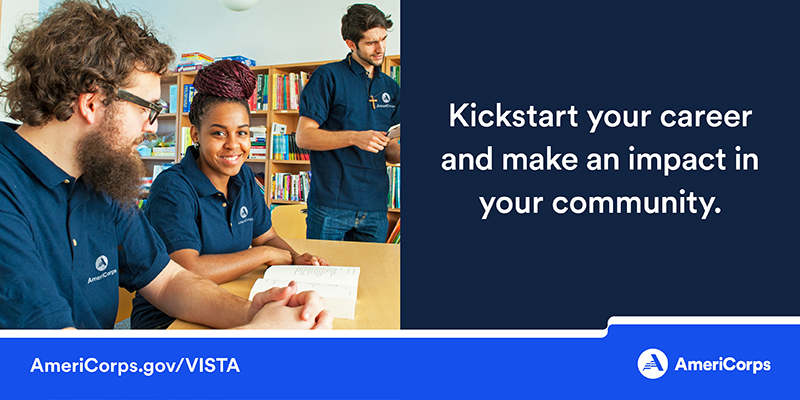 Sponsored by AmeriCorps VISTA
Join over 7,000 AmeriCorps members in the VISTA program who are united in our mission to alleviate poverty.
As an AmeriCorps member in the VISTA program, you will support an organization to make sustainable change in areas that affect poverty, including education, public health, climate, access to benefits, and more. Through activities such as fundraising, grant writing, research, and volunteer recruitment, you will gain professional experience and leadership skills. This opportunity prepares you for a life of service in the public, private, or nonprofit sector.
There are thousands of opportunities to serve in communities across the 50 US states and territories. Our projects focus on six key areas:
Disaster services
Education
Healthy Futures
Economic opportunity
Environmental Stewardship
Veterans and Military Families
Benefits
Living Allowance
You receive a modest bi-weekly living allowance to cover basic expenses.
Professional Development Training
You have the opportunity to attend in-person and virtual training to learn how to be a community development change agent.
Non-Competitive Eligibility
Once you've successfully completed service in AmeriCorps VISTA, you will receive one year of non-competitive eligibility for employment in the federal government. This special hiring status enables you to apply for federal jobs with the advantage of not having to go through the standard public competitive selection process. That means that you can be appointed to federal positions that may not be available to the general public. In addition, your application could be processed faster than others. NCE does not guarantee you a federal job, but it does provide a valuable opportunity!
End of Service Award
Members can choose between a Segal Education Award to pay for a range of education expenses or a cash stipend.
Eligibility Requirements
Be 18 years or older (no upper age limit)
AmeriCorps VISTA service is open to applicants who hold one of the following citizenship or legal residency statuses:

US citizen
US National
Lawful Permanent Resident (i.e. Green Card status)
Persons legally residing within a state. Examples may include those holding the following classifications: refugee, asylee, temporary protected status throughout VISTA service, and holding Deferred Action for Childhood Arrivals (DACA) status.
How to Apply
Create a profile, input the required information, and then get started on your application.
Search for opportunities. Go to my.americorps.gov and search for AmeriCorps VISTA opportunities that fit your interests.
Apply. Create an application that includes a motivational statement, skills, experience, and references. Apply to up to 10 service opportunities.
Submit. Complete your application, and then submit it to the specific opportunities you want to pursue.
Deadline
Application deadlines vary by project. There are thousands of opportunities to serve in all 50 US states and territories.
Questions?
Send questions to [email protected].
Join a webinar and learn more about serving in AmeriCorps VISTA.
Not ready to apply this year? Bookmark the AmeriCorps VISTA Program to your ProFellow account.
© ProFellow, LLC 2023, all rights reserved