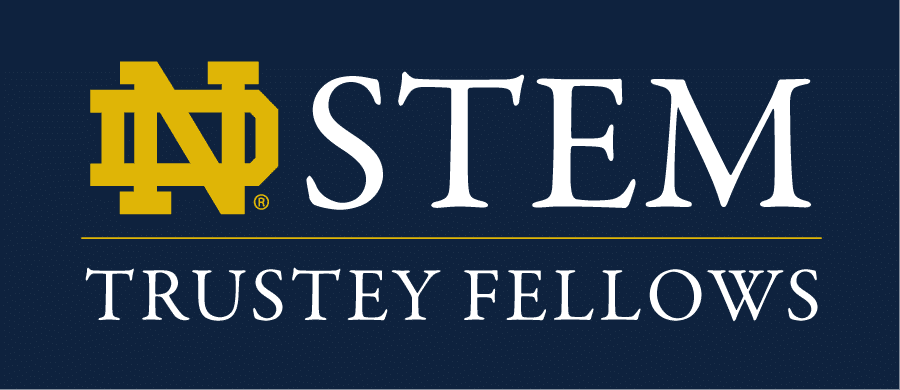 Sponsored by the University of Notre Dame
The University of Notre Dame Center for STEM Education believes students in our nation's schools deserve the highest quality STEM education we can offer. Science, technology, engineering, and mathematics provide students opportunities to explore, understand, and design solutions for the world around them. Our flagship program, the Trustey Family STEM Teaching Fellows is a unique, competitive, and formative program focused on increasing student interest and learning in STEM disciplines through the support and growth of high-quality STEM teachers.
We focus on forming teachers of the middle grades (5th-8th) because we believe this developmental level is key to fostering interest and engagement in STEM, especially for under-represented populations. Our Fellows work to increase access to quality STEM education in their schools, providing all students with rigorous and meaningful learning opportunities that are attentive to their existing and developing identities.
We invite teachers to apply as school-based teams ranging from 3-5 members, believing teams create a critical mass within schools to create effective STEM learning opportunities for all students. School teams imagine, plan, execute, and measure a school-specific STEM Blueprint to make changes on a school-wide level across the two and a half years of the fellowship.
Ultimately, we seek to form Fellows who believe STEM education can be a pathway to educational equity and a means for young people to define their own futures and be forces for good in the world!
If you are interested in learning more about the Trustey Family STEM Teaching fellows, visit our website.
Application Deadline: February 28, 2019


Who We Are Looking For
Teachers passionate about improving STEM education for all children, especially early career teachers
School-based teams of 3-5 teachers
Middle grade teachers (5th-8th) of the STEM disciplines
Learn more about our application criteria. 
The Trustey Experience
The Fellowship is driven by three Summer Institutes in which Fellows travel to the University of Notre Dame to participate in three modules:
1) STEM Integration; 2) Core Instructional Practices; and 3) STEM Blueprint.
Themes of equity, access, and leadership are woven throughout the Summer Institutes.
During the two school years in between, Fellows continue to work on their STEM Blueprints, collect video of their teaching performance, receive feedback from a content coach, and gather for mid-year summits in January.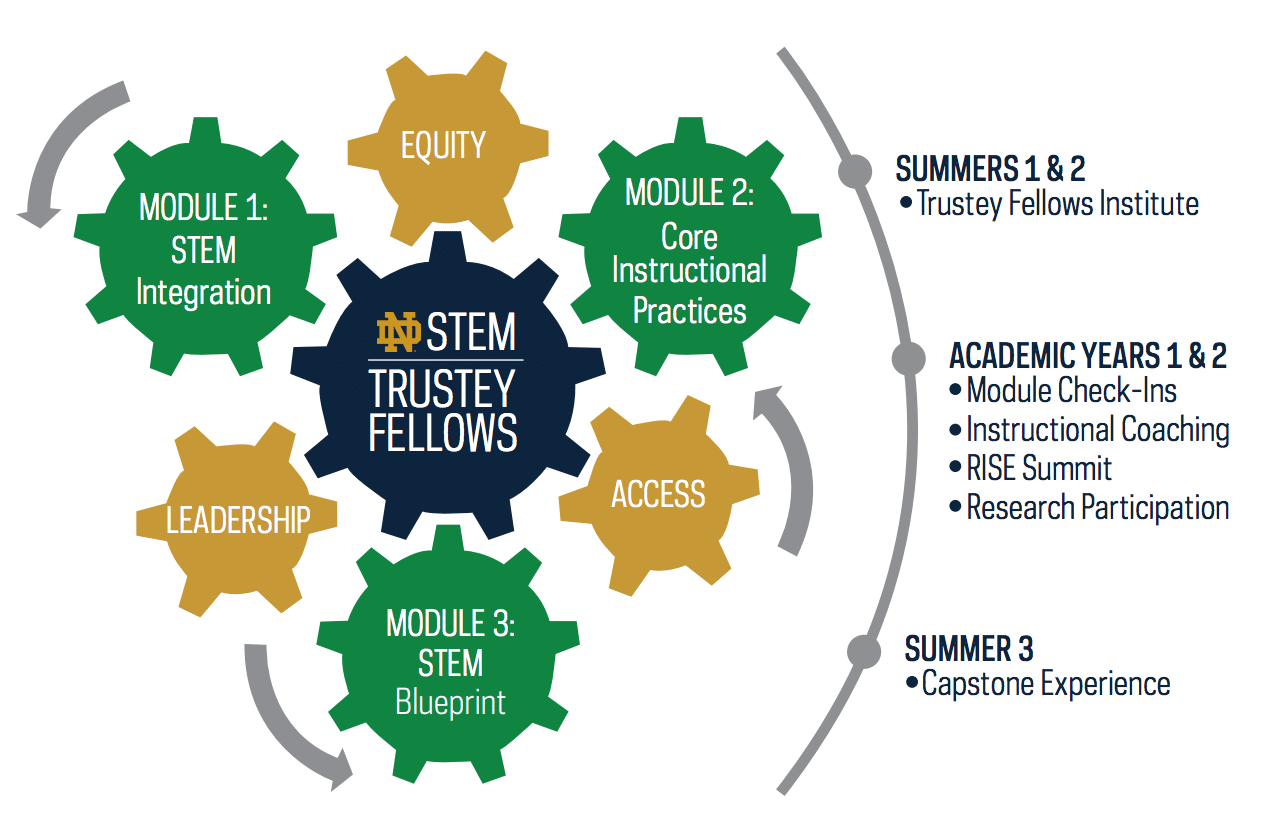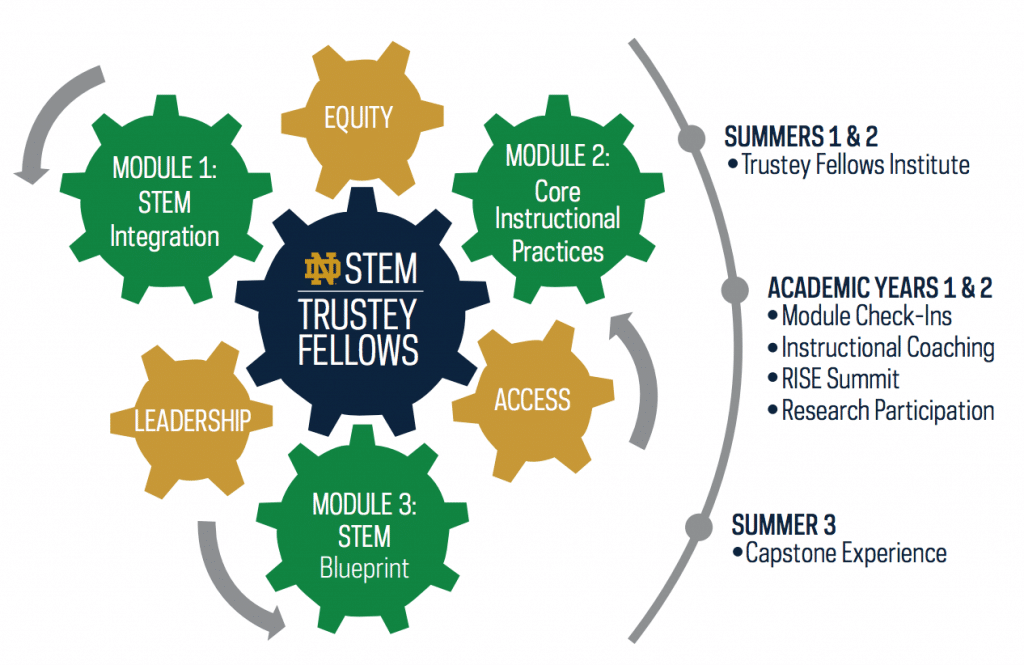 Benefits for Fellows
Extensive professional development in STEM integration, teaching practices, and leadership
A national community of STEM educators
Content-specific instructional coaching
100 hours/year of professional development that can be used for re-certification
FULLY FUNDED travel, lodging, and meal expenses for summer institutes and mid-year summits
$6,000 stipend across the duration of the program
Application Process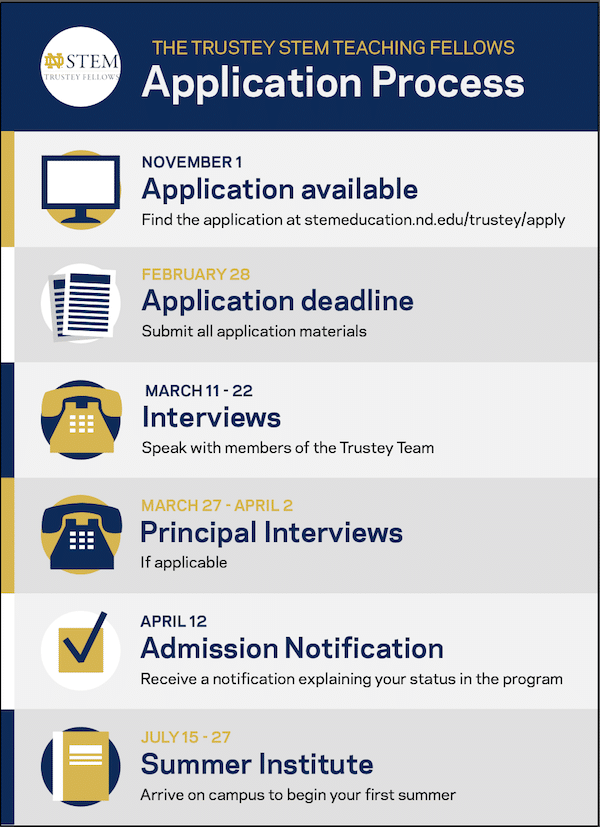 ---
Not ready to apply right now? Bookmark the Trustey Family STEM Teaching Fellows Program to your ProFellow account.