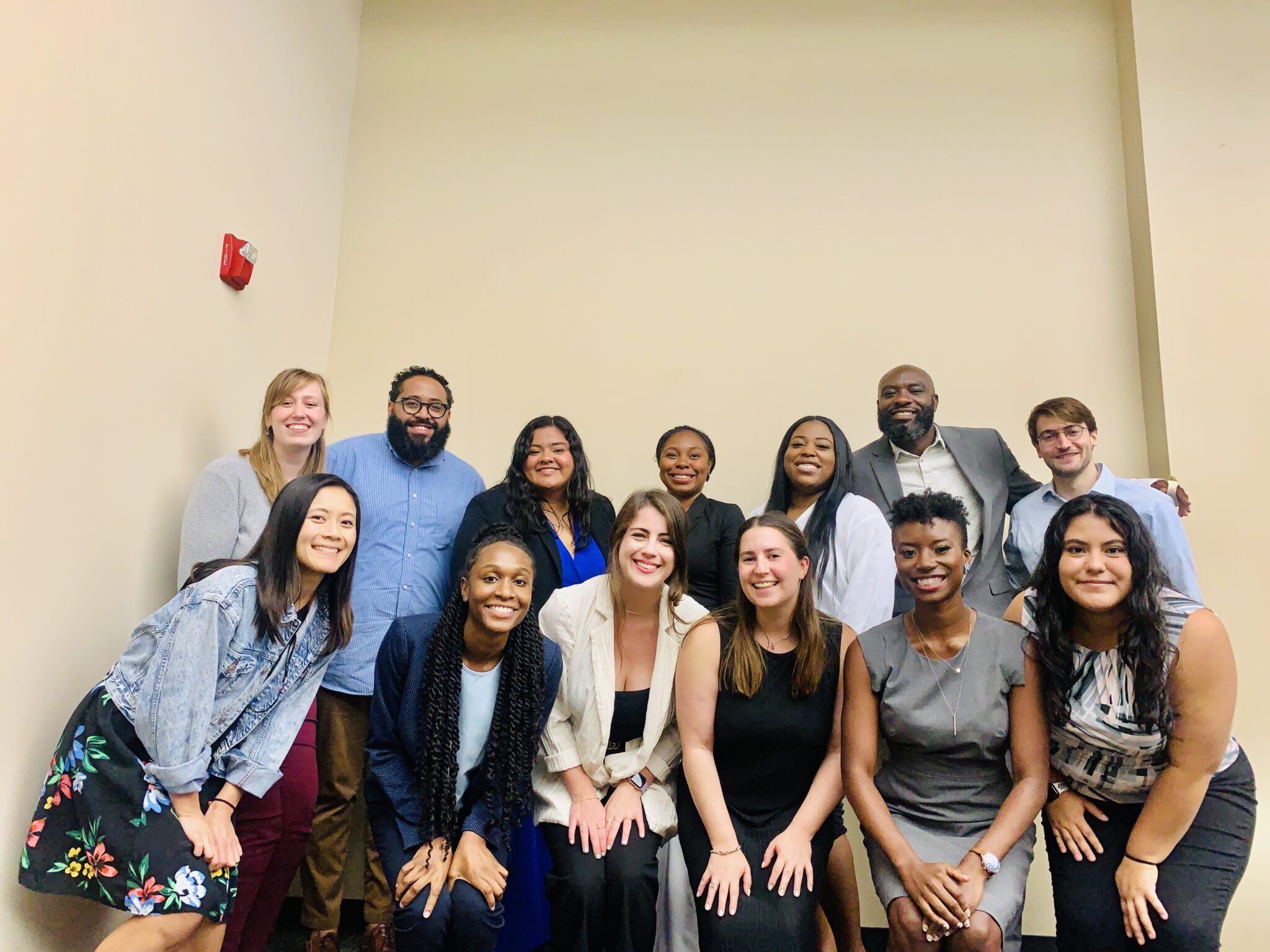 Apply Now to The Urban Leaders Fellowship: Building community-centered change through effective partnerships, equitable policy, and a network of change agents
The Urban Leaders Fellowship is a paid summer fellowship that recruits the best and brightest for an intensive, seven-week experience in ten premier cities: Atlanta, Dallas, Denver, Indianapolis, Kansas City, MO, Nashville, New Orleans, Oakland, Tulsa, and Washington D.C.
During the fellowship, our fellows spend half of their time researching and writing critical policy proposals for a partner elected official, supporting the elected official's development of high-quality legislation.  
To impact lasting change, smart policy is not enough, our fellows spend the other half of their time working with an innovative partner organization, from non-profits to tech startups, committed to social justice & community impact.
Developing future leaders is at the heart of ULF.  Throughout the fellowship, we will work with you to identify the right career path, connect you with leaders in the field, and provide leadership coaching, career coaching, and ongoing support even after the fellowship ends.
ABOUT THE URBAN LEADERS FELLOWSHIP
Fellows work on a range of issues from education and economic development, to budget decisions, criminal justice reform, and much more. Accepted fellows will spend seven consecutive weeks:
Working part-time (20 hours a week) as an Consultant for a regional partner organization (i.e., nonprofit, school district, company, or organization) on a mission critical project. 

Fellows will spend the other half of the fellowship (10-15 hours a week) in small policy teams of 2-4 fellows on one policy issue working alongside the elected/appointed official to draft a policy recommendation.

In addition to working independently and in small groups, each cohort is composed of 10-25 fellows who are based locally and nationally. Each cohort will receive professional, leadership, and policy development to help them better understand the policy landscape, the intersectionalities of race, priviledge, class, gender, and gain a better understanding of the change they

seek through introspection, prework, teamwork and leadership style analysis.
ELIGIBILITY REQUIREMENTS 
We look for applicants who are diverse, in every sense of the word.  We bring together a cohort of fellows in each region who come from different backgrounds, races, ethnicities, gender identity and sexual orientation, and have wide-ranging experiences in the topics they've studied, the places they've lived, and the work that they've done. We believe that diversity matters and will bring about better solutions. 
You don't need a specific background in legislative policy to join our fellowship, just a passion to learn about policy and how it can impact the lives of those in your community.
While the program is designed to assemble a unique and diverse cohort of individuals, ULF fellows most successful in the fellowship share certain characteristics:
Motivated, self-starter who takes initiative with experience driving and sustaining both short and long-term projects

Seeks collaboration to problem-solve and navigate ambiguity including the ability to govern work independently and manage up to accomplish outcomes

Actively seek perspectives that are different than their own operating with in a mindset of humility 

Professionals with

at least 2 years of professional experience and a bachelors degree OR 5 years of professional experience and no bachelors degree

with excellent written and oral communication skills

Committed to personal reflection and professional development with a desire to transform the community through partnerships 

Looking to accelerate their leadership through fellowship with a focus on policy and practice

Team player that can build relationships with a variety of stakeholders (i.e., cohort, elected official, partnering organization, community members, etc)

United States citizen

(as of July 2022, ULF no longer accepts international candidates)
COMPENSATION & BENEFITS
All fellows will receive ONE stipend at $3,000-4,000 for the entire 7 week fellowship. Fellows serve as independent contractors so we do not offer health benefits, transportation, housing arrangements or any other support to complete the fellowship. ULF does offer an additional small number of scholarships to help offset any other expenses. Accepted fellows are only eligible to apply for the scholarship in a separate process starting in March/April 2023. Additionally ULF will launch an inaugural mentor/mentee program during the fellowship for a small number of fellows seeking additional development in March. 
Application Deadline: March 7, 2023 

Below you'll find a Summer Report on each of the 10 ULF regions. Each Report is a deeper dive into the Policies and Partner Organizations from 2020-2022. Additionally, we have broken down each region's level of government focus HERE.
Atlanta| Dallas | Denver | Indianapolis | Kansas City Missouri | Nashville | New Orleans | Oakland | Tulsa | Washington DC
Application Opens: December 16, 2022  |  Application Deadline: March 7, 2023 
Applicant Webinars:  December 14, 2022 | February 15, 2023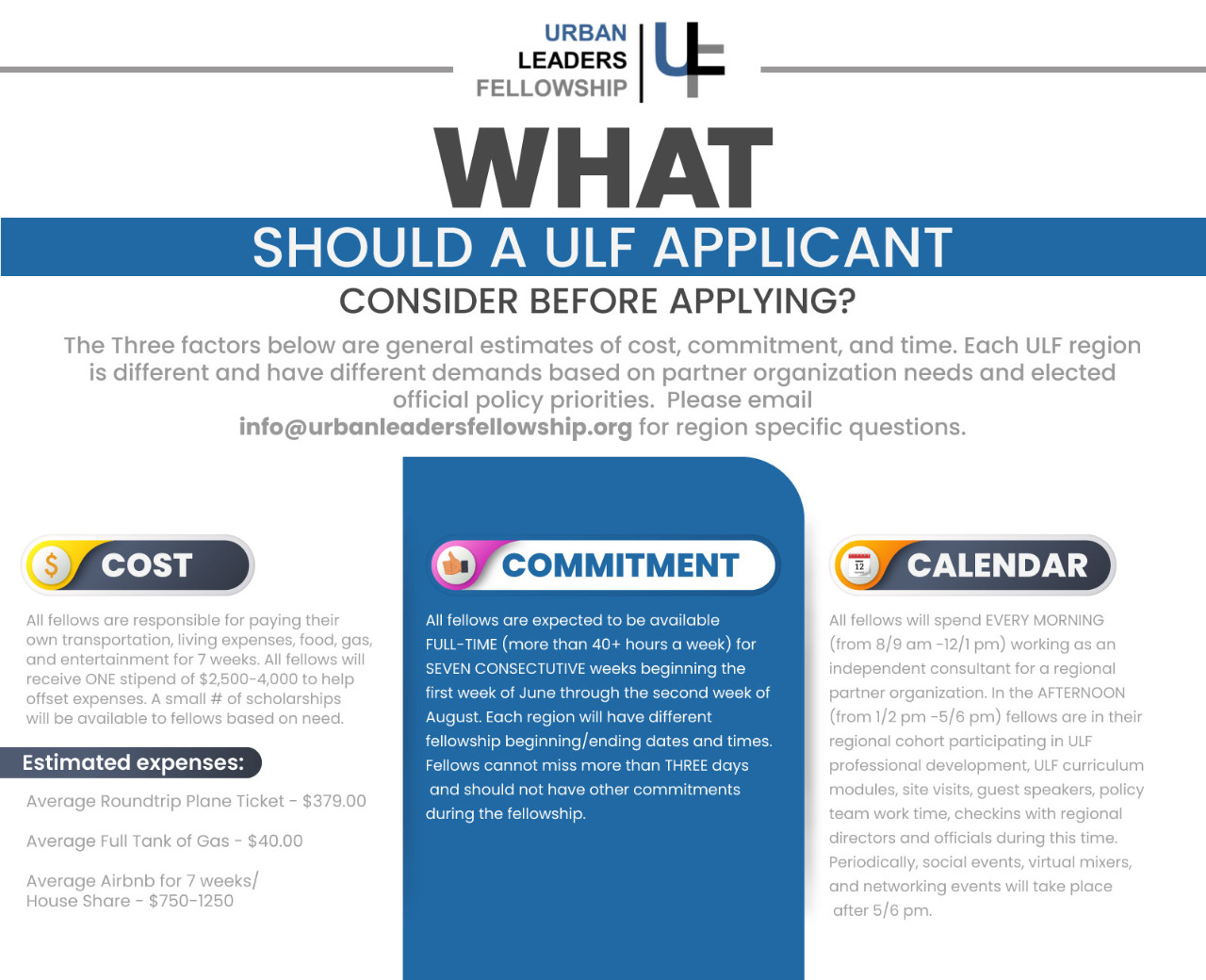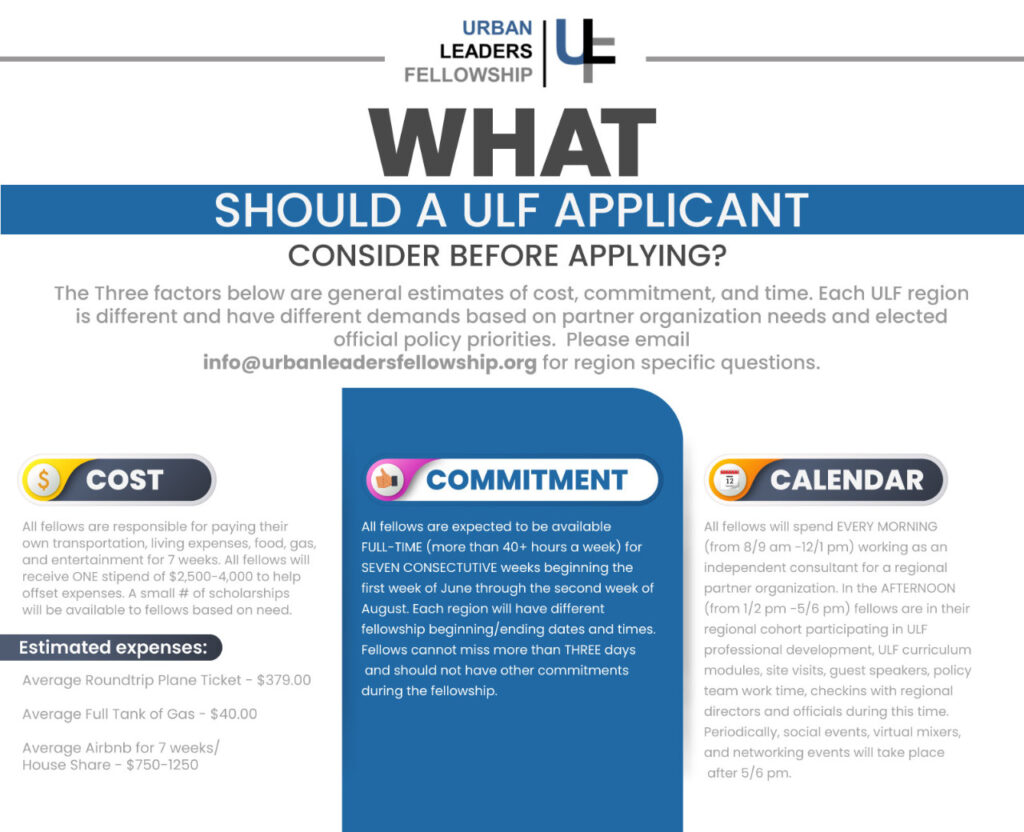 Applicant Guidance and Support 
For Questions or Connect with ULF Staff: email to [email protected]
Twitter | LinkedIn | Instagram
---
Not ready to apply this year? Bookmark the Urban Leaders Fellowship to your ProFellow account.
ProFellow, LLC 2023, all rights reserved