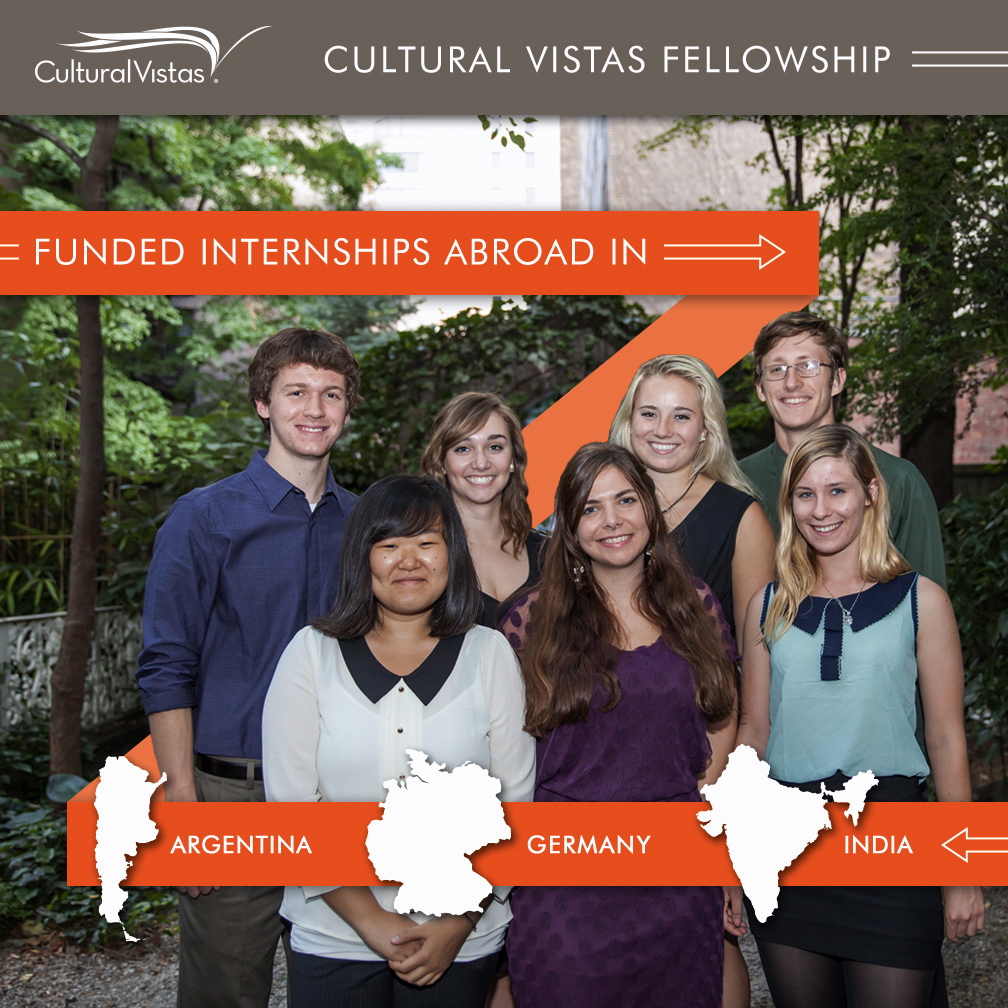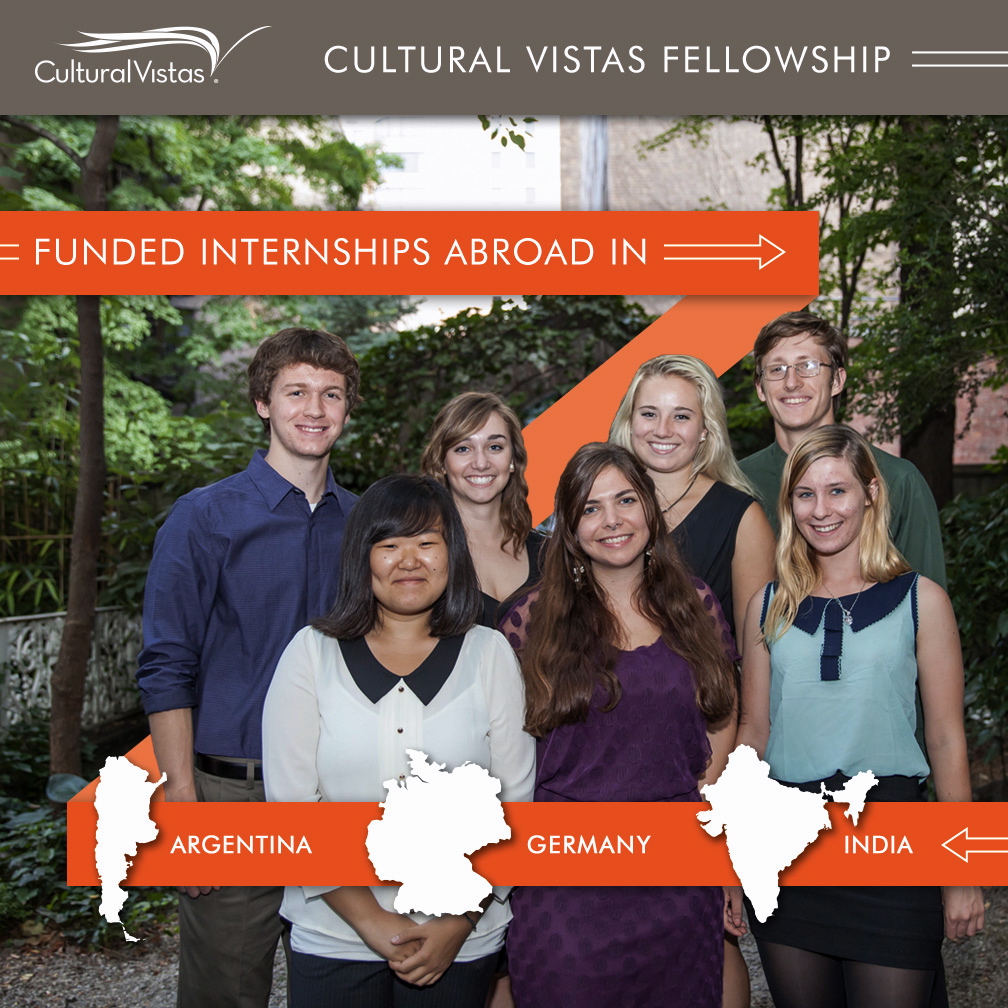 Sponsored by Cultural Vistas
Cultural Vistas is pleased to announce the application for the 2015 Cultural Vistas Fellowship is now open!
The funded program affords up to 12 U.S. university students the unique opportunity to gain professional experience through an eight-week summer internship in Argentina, Germany, or India. The theme of this year's Cultural Vistas Fellowship is entrepreneurship and innovation.
One cohort of up to four fellows will travel to each international destination. The program will take place in five phases, including a virtual learning component; a pre-departure orientation in New York City; eight-week internships in Buenos Aires, Berlin, or Bangalore; a re-entry seminar in New York City; and a post-program "Fellows in Service" project to be completed on fellows' campuses or in their local communities.
The initiative is funded directly by Cultural Vistas as part of its commitment to afford more Americans opportunities for formative international experiences. The Cultural Vistas Fellowship aims to provide underrepresented U.S. university students the unique opportunity to advance their career goals, develop global competencies, and experience life in another culture.
The fully-funded fellowship includes:
Internship placement
Accommodations throughout the program, including pre-departure and re-entry seminars
Virtual learning seminar
Pre-departure support services
Cultural orientation upon arrival in host country
Visa application support (where applicable)
Emergency medical insurance during internship phase
Program-related travel expenses, including round-trip airfare to and within internship country; travel to New York City for pre-departure and re-entry seminars
FEATURE: An Inside Look at the Cultural Vistas Fellowship
The 2014 Class of Cultural Vistas Fellows documented their eight-week international internships, focused on the theme of sustainability, through blogs and photography.
Read and view more about their Cultural Vistas Fellowship experiences overseas.
Cultural Vistas Fellowship Eligibility:
U.S. citizen, age 18-30, enrolled full-time at a four-year accredited U.S. college or university
Rising junior or senior status; minimum GPA of 3.0
No formal prior work or study abroad experiences
Demonstrated interest in or commitment to entrepreneurship and innovation
Proficiency in language of host country (applicable in Germany and Argentina only)
Strong preference will be given to students historically underrepresented in international exchange. This includes, but is not limited to: Pell Grant recipients, veterans, first-generation college students, STEM majors, members of minority communities within the United States, and non-traditional students.
Applications open Monday, November 3, 2014.
Application Deadline: January 15, 2015
To learn more about the Cultural Vistas Fellowship, please visit www.culturalvistas.org/cvfellowship. Questions should be directed to cvfellowship@culturalvistas.org.