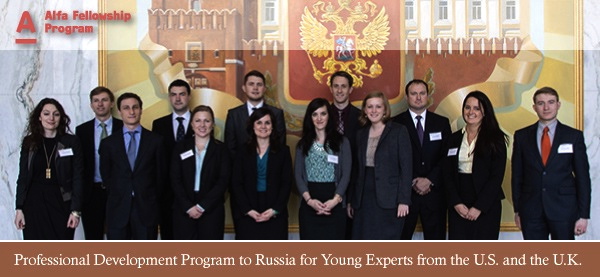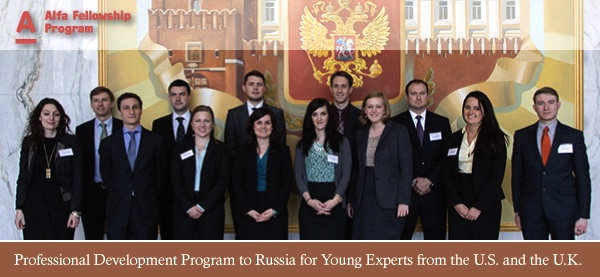 Sponsored by Cultural Vistas
Alfa-Bank and Cultural Vistas are pleased to announce a call for applications for the Alfa Fellowship Program. Now celebrating its tenth year, the program offers 11-month professional fellowships designed to create a new generation of American and British leaders with meaningful professional experience in Russia.
The program begins with language training in the United States or United Kingdom, followed by a language course in Moscow starting in mid-June. Throughout the summer, Alfa Fellows attend a seminar program with key public and private sector officials to discuss current issues facing Russia. Fellows then work at prominent organizations in Russia, including private companies, media outlets, think tanks, and foundations.
The fellowship includes a generous monthly stipend, language training, program-related travel costs, housing, and insurance.
Scott Burns, a 2007-8 Alfa Fellow, described his fellowship experience in Russia in an interview on ProFellow. Scott arranged a role with Alfa Capital Partners (ACP), a Russian private equity and real estate investment advisory firm. As an investment manager in Moscow, Scott deployed commitments from a $160 million private equity fund and contributed on the boards of several Eastern European logistics providers. Read more about his experience and his fellowship application tips.
Alfa Fellowship Eligibility:
Candidates must be a U.S. or U.K. citizen, between the ages of 25-35, and have a graduate degree and professional experience in business, economics, journalism, law, public policy, or a related field. Russian language proficiency is preferred.
The deadline to apply for the 2014-2015 program year is December 1, 2013.
Additional details and the online application can be found at culturalvistas.org/alfa
For more information, please contact the Alfa Fellowship Program.  You can also engage with program staff at the Alfa Fellowship on Facebook or Twitter.
OJSC Alfa-Bank is incorporated, focused and based in Russia, and is not affiliated with U.S.-based Alfa Insurance.