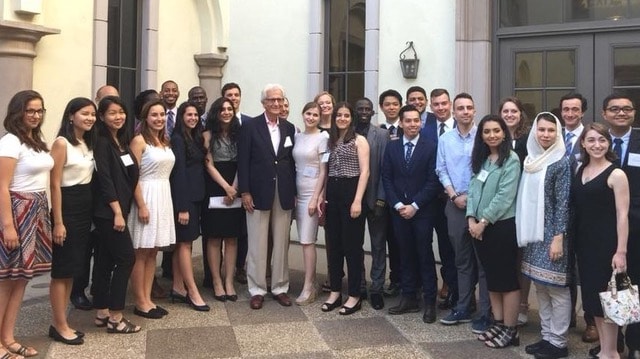 Sponsored by the Hansen Summer Institute
The Hansen Summer Institute on Leadership and International Cooperation, located in beautiful San Diego, brings together young leaders from the U.S. and abroad who want to learn leadership skills, public speaking, negotiation, conflict resolution and intercultural management. Hansen Fellows come from all majors and usually have an interest in multicultural understanding, international relations, economic development, diplomacy, or international security. They receive hands-on training from faculty and real-world experts at the University of San Diego School of Leadership and Education Sciences. They acquire a new understanding of the world through peers from 21 countries and make life-long friendships. Why not you?
Fellowship Benefits:
Leadership resume capital from a globally highly competitive program
$1,000 stipend upon completion of the program—get paid to learn!
Round-trip airfare from anywhere in the U.S. to San Diego
All classes paid for
All room and board paid for
All Excursions paid for – Sea World, Fourth of July parade, San Diego bay cruise
Create your own hands-on "Leadership Toolbox" for resolving conflict and creating a better future
Create your network of fellow leaders from 21 different countries worldwide
Program Dates:
June 30 – July 22
Eligibility:
Between 20-25 years old
Have completed at least 2 years of university study
If selected, must attend the entire three- weeks of the Institute
Application Deadline:
March 15, 2019

The friendships you make, the experiences you have and the knowledge you gain will help you better understand our world through the exceptional people who attend this program. You will learn skills to apply in your everyday life, and create "resume capital" to help propel your career. Watch what some of the 2018 Hansen fellows say about the program.
---
Not ready to apply right now? Bookmark the Hansen Summer Institute to your ProFellow account.