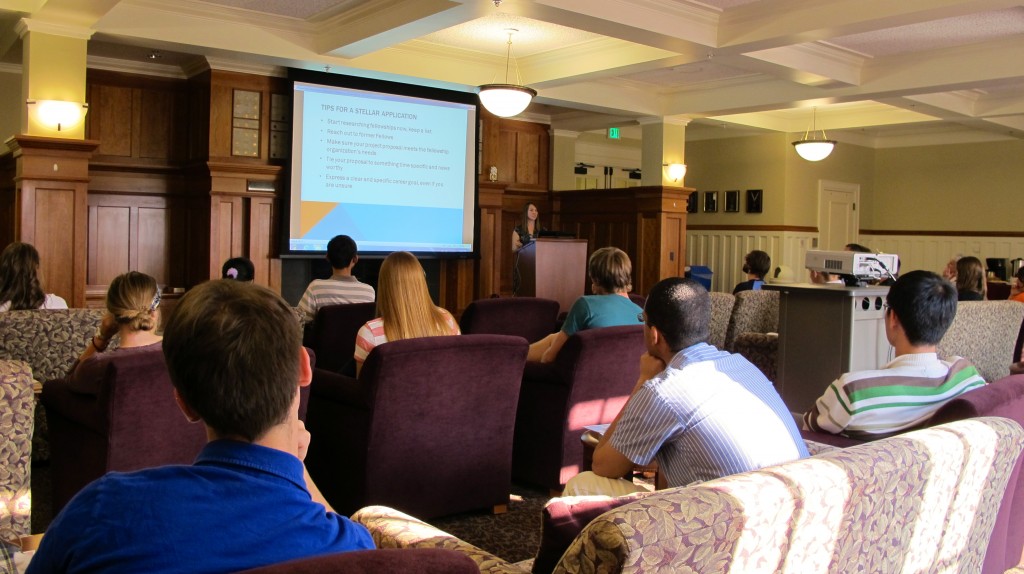 This week we continue our Fall 2012 University Tour in Washington, DC and Virginia, visiting schools including Johns Hopkins School of Advanced International Studies (SAIS), Georgetown University, George Mason University (Arlington Campus) and the University of Virgina. We'll be giving our insider tips on how to find and win professional and academic fellowships, as well as an overview of a variety of fellowships for different career levels in the U.S. and abroad.  This is a great opportunity to learn more about the Herbert Scoville Jr. Peace Fellowship, the Robert Bosch Foundation Fellowship in Germany and the Alfa Fellowship in Russia, among many others.
Also, we will be holding our inaugural Esteemed Fellows Dinner in Washington, DC on Thursday, October 4. We've invited former fellows from a variety of prestigious fellowship programs for a private dinner. Invited guests include White House Fellows, Fulbright Scholars, a German Chancellor Fellow, New York City Urban Fellows, Herbert Scoville Jr. Peace Fellows, and a Global MBA Fellow, among others. The dinner is an opportunity for the exchange of ideas and professional networking. We will also invite two aspiring fellows to join us for dinner on us! The ProFellow Dinner Fellowship offers two spots for two exceptional students or professionals who like to participate in this extraordinary opportunity. Tell us in 100 words why you would like to participate by Wednesday, October 3 at 5:00pm EST. We'll announce the winners that evening.
We hope to meet you this week!
Seminar Tour Schedule This Week:

Johns Hopkins School of Advanced International Studies, Washington, DC

Tuesday, October 2, 12:30-1:30pm

Location: Room 212, Nitze Building, 1740 Massachusetts Ave.

Map: http://www.sais-jhu.edu/pressroom/directions.htm

Georgetown University, Washington, DC

Date: Wednesday, October 3, 12:00 – 1:00pm

Location: McGhee Library, ICC 301

Map: http://maps.georgetown.edu/

George Mason University (Arlington Campus), Arlington, VA

Date: Wednesday, October 3, 6:00-7:00pm

Location: Arlington Campus, Founders Hall 121

Map: http://www.gmu.edu/resources/welcome/Directions-to-GMU.html

University of Virginia, Charlottesville, VA

Date: Thursday, October 4, 12:30-1:30pm

Location: The Commons, Garrett Hall