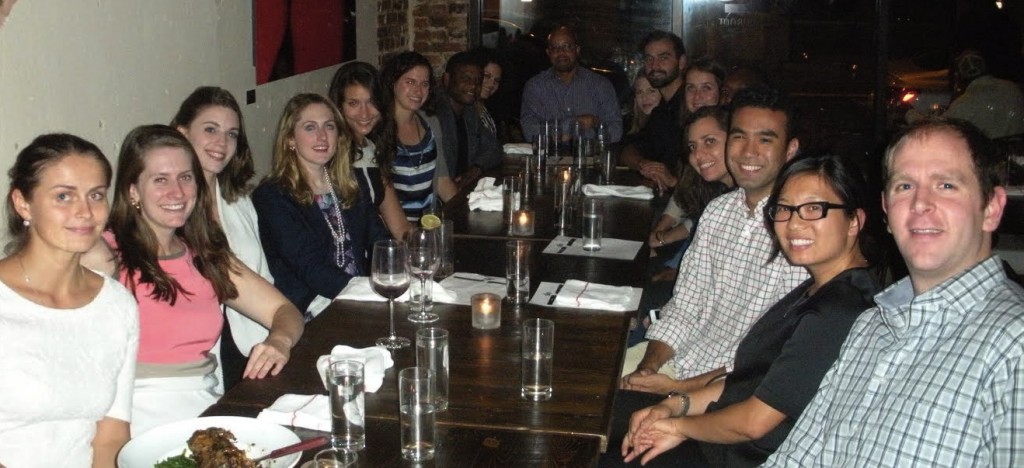 Yesterday, we held an Esteemed Fellows Dinner in Washington, DC, generously sponsored by Cultural Vistas. The event included current and former fellows from Cultural Vista's Alfa Fellowship Program in Russia, and the Robert Bosch Foundation Fellowship and the Congress-Bundestag Youth Exchange for Young Professionals (CBYX) in Germany. They were joined by members of ProFellow's International Affairs Network, including alumni from the Fulbright program, ProInspire, Capital City Fellows, and the Gabr Fellowship, among many others.
Guests mingled over a delicious meal at Silo in downtown DC, where they discussed topics ranging from global health, international security, the need to encourage minorities to enter STEM fields, and traveling in Kazakhstan. It was a lively and intimate exchange of experiences and ideas among fellows from a variety of disciplines.
The Esteemed Fellows Dinners are organized by our International Fellows Network (IFN), which is a rapidly growing professional networking organization of more than 1,000 current and former fellows from all over the world. We also hold events in San Francisco, New York City and Berlin, Germany, and will be expanding to other cities. If you are a current or former fellow and would like to get involved, please sign up for ProFellow and we'll be in touch by email. Through the IFN you can connect with other fellows for advice and information on fellowships, jobs, events, graduate programs and international competitions.
October 2014 DC attendees:
Brandon Ernst, International Public Policy Fellow
Devon Rollins, Center for American Progress Leadership Institute Fellow
Diana Galperin, Carnegie Endowment for International Peace Junior Fellow
Doug Mitchell, Fulbright Senior Specialist to Chile
Elisabeth Perry, Congress-Bundestag Youth Exchange (CBYX) Fellow to Germany
Haroun Habib, Gabr Fellow to Egpyt
Jennifer Huffman, CBYX Fellow to Germany
Jon Yahirun, CBYX Fellow to Germany
Kate Bussiere, Fulbright English Teaching Assistantship to Brazil
Maria Mahler-Haug, Robert Bosch Fellow to Germany
Michael Blauw, Fulbright grantee to Malaysia
Miriam Kochman, Chinese Government Scholar
Olga Khrustaleva, Fulbright Scholar to the US from Russia
Rachel Manis, CBYX Fellow to Germany
Richard Bobo, Cultural Vistas staff
Roushani Mansoor, Fulbright-Clinton Fellow in Bangladesh
Sarah Hale, Robert Bosch Fellow to Germany
Tracy Williams, ProInspire Fellow
Valarie Russell, Alfa Fellow to Russia
Waiching Wong, Capital City Fellow