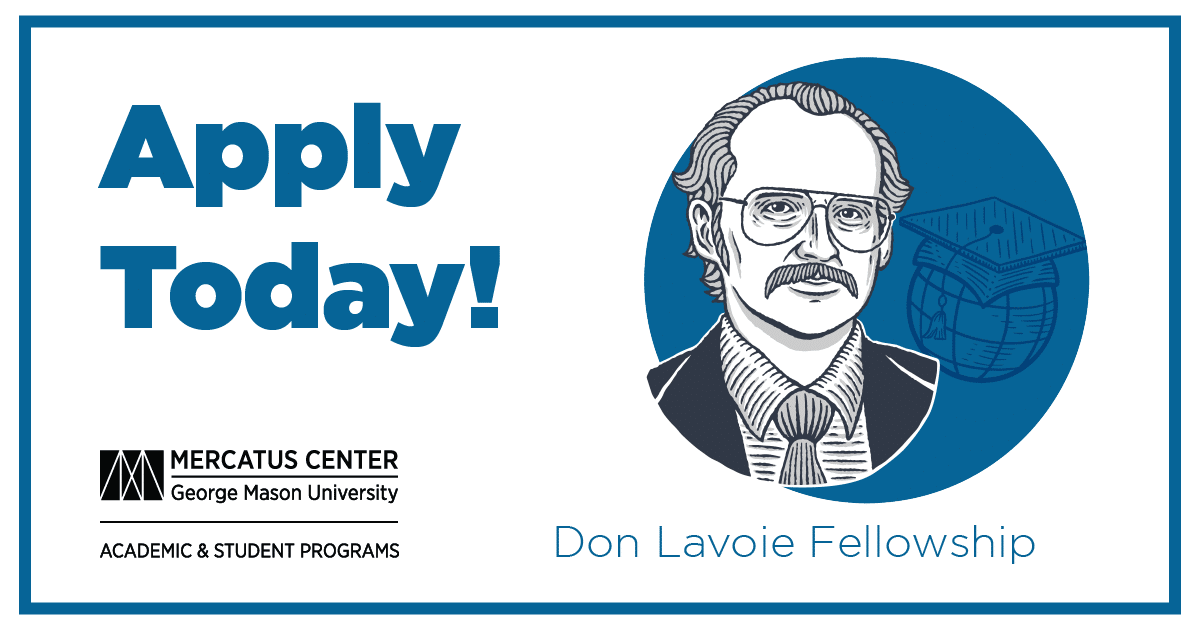 Sponsored by the Mercatus Center at George Mason University
The Mercatus Center at George Mason University's Don Lavoie Fellowship is an entirely virtual, semester-long fellowship designed to support advanced undergraduates, recent graduates considering graduate school, and early-stage graduate students. Don Lavoie Fellows will strengthen their understanding of political economy and its application to their research and policy interests by engaging with readings and participating in discussions with scholars and their peers. Students from any discipline who are interested in studying key ideas in the Austrian, Virginia, and Bloomington schools of political economy and learning how to utilize these ideas in academic and policy research are encouraged to apply.
To learn more about the Don Lavoie Fellowship and the other student programs offered by the Mercatus Center at George Mason University, please visit our website. 
Fellowship Benefits and Details

Throughout the semester, Lavoie Fellows attend a series of online activities, including an online discussion portal and online reading discussion sessions led by Hayek Program scholars. Fellows will be exposed to key ideas in the Austrian, Virginia, and Bloomington schools of political economy as well as contemporary work in this tradition. By participating in this program, fellows will join a network of Mercatus students, alumni, faculty, and scholars who are conducting and engaging with cutting-edge research in contemporary political economy and public policy.
The Don Lavoie Fellowship includes a stipend and all required readings for online events, as well as advice on research, jobs, and graduate school. It is a total award of up to $1,250 per semester.
Application Requirements 
In order to apply to the Don Lavoie Fellowship, you will need to fill out an online application that includes:
A 1-2 page cover letter explaining:

your post-secondary education to date,

your research and career interest,

your familiarity with the thinkers associated with the Austrian, Virginia and Bloomington schools of political economy, and

what you hope to get out of the program.

A current resume/CV.

A few short answer questions.
Applicants must be able to participate in both synchronous and asynchronous online programming. 
Admissions Process
Applications for the

Fall 2022 semester

must be submitted by

April 15, 2022.

Application review will begin after the deadline and decisions will begin to be announced approximately eight weeks after the deadline.

Not ready to apply? Bookmark the Don Lavoie Fellowship to your ProFellow account.
© Victoria Johnson / ProFellow, LLC 2021, all rights reserved