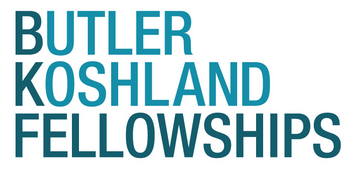 Butler Koshland Fellowships based in San Francisco, CA is looking for an independent, intelligent, and highly-motivated person to serve as a fellow to Dr. Gloria Duffy, President and CEO of The Commonwealth Club of California.
The Commonwealth Club of California is the nation's oldest and largest public affairs forum. A nonprofit, nonpartisan educational organization, they bring over 400 annual events on topics ranging across politics, culture, society and the economy to 16,000 members. Their mission is to be the leading national forum open to all for the impartial discussion of public issues important to the membership, community and nation.
Butler Koshland Fellowships is a unique program designed to pass on public service leadership skills and legacy. Our model is simple and personal—we ask extraordinary leaders to mentor an emerging leader. Each mentor and fellow pair work closely together on a project for one year, during which time we fund the fellow's salary. The fellow is also integrated into and supported by a community of Butler Koshland fellows and mentors—past, current, and future—doing important work for the common good.
Beginning in mid-April, 2013, the fellow would work under the direction and guidance of Dr. Duffy as a Butler Koshland Fellow. In this role, the fellow would support the executive-level goals of The Commonwealth Club of California. The fellow will experience the array of duties and responsibilities required to successfully lead a nonprofit organization in today's world. This is an exceptional opportunity for someone to participate at the management level of a major nonprofit organization during an especially exciting period of expansion and possibility.
Representative projects and learning opportunities may include:
Development: Currently The Commonwealth Club has a successful $14.5M capital campaign underway, the purpose of which is to fund the purchase and renovation of a historic building at 110 Embarcadero to serve as its new headquarters. Working closely with Dr. Duffy to fundraise from individuals, foundations, and corporations, the fellow will have the opportunity to support the campaign, learning first-hand from a team of expert fundraisers.
Content creation: In order to more fully realize its mission to be a public forum for the benefit of all, The Commonwealth Club is looking for new ways to share its live programming content with a broader audience. In support of this effort, the fellow will be responsible for acting as an in-house journalist—reporting on key events at the Club, selecting the most important ideas from hundreds programs and panels presented during their tenure with an eye towards the content's newsworthiness, potential for informing public policy, and capacity to create positive social change. The fellow will also work with the PR and Media Department to place and disseminate these multimedia reports via internal and external channels, in both traditional and new media formats.
Content management: As the terrain under traditional news media outlets continues to shift and in some cases disappear, The Commonwealth Club is interested in exploring its potential to fill some of this space. To this end, the fellow will be tasked with supporting efforts to organize and broadcast the Club's rich repository of content—both historical and contemporary—across its many internal channels (e.g. magazine, radio program, website) as well as to external outlets. One especially exciting possibility is the opportunity to work with the design and preparation of the architecturally-based multimedia elements for the new state-of-the-art headquarters building, which will include inset wall screens and other means of broadcasting archival and live content within the building.
The fellow will work from the downtown San Francisco office of The Commonwealth Club of California. Fellow compensation will be $40,000 per year plus employer provided health and other benefits. The fellow will work a standard 40-hour work-week and should be available to attend evening programs as needed.
Read more about the experience and application process in our interview with Butler Koshland Fellow,  José González.
Qualifications
Candidates must have a demonstrated commitment to public service.
Candidates should have at least 3 years of work experience. Relevant experience could include: experience in communications and marketing such as academic or work experience in a communications, community outreach, media or public affairs position; experience with social media as a tool for communications, stakeholder development, feedback, and business goals; experience in public and nonprofit administration such as academic or work experience in public administration, program management, business development and analysis, or nonprofit management; academic or work experience in related fields related to the position such as journalism, information science, or public policy.
Because the duties of the fellow involve strong communication and analytical skills, this position requires someone with a diverse set of abilities and personality traits, including: intellectual agility, friendliness, ability to interface with diplomacy and congeniality while facing multiple deadlines, excellent writing abilities, good presentation and verbal communication skills, ability to maintain calm in public settings, acumen for research, sense of humor, and cultural sensitivity. Applicants also must be adept at organizing both their own work and the work of others, have practical experience in making things happen, and know when to be appropriately discreet with confidential information.
Butler Koshland Fellowships is open to all applicants.  Women and people of color are encouraged to apply.
To Apply 
The application deadline is March 21, 2013. To apply please submit a cover letter and resume addressing your qualifications and interest in this fellowship along with a writing sample of no more than 10 pages. Please be sure to detail any technical skills you may have. We encourage applicants to also include relevant, short samples of their previous work—written reports, links to web-based publications, podcasts, ad copy, pitch letters, press releases, videos, and any other materials demonstrating communication skills are welcome.
Please send all application materials via email to the attention of Butler Koshland Fellowships' Executive Director, Kate Brumage, at apply [at] bkfellowships.org with the subject line "Duffy Fellowship." Only those chosen to interview will be contacted.  Do not contact Dr. Duffy or The Commonwealth Club of California directly.
About Butler Koshland Fellowships
Our mission is to identify and mentor the next generation of public service leaders. Our model is simple and personal—we ask extraordinary leaders to mentor an emerging leader. Each mentor and fellow pair works closely together on a project for one year, during which time we fund the fellow's salary. By directly investing in the individuals who have the greatest potential to influence others, we are accelerating the pace of positive social change.
 Sponsored by Butler Koshland Fellowships