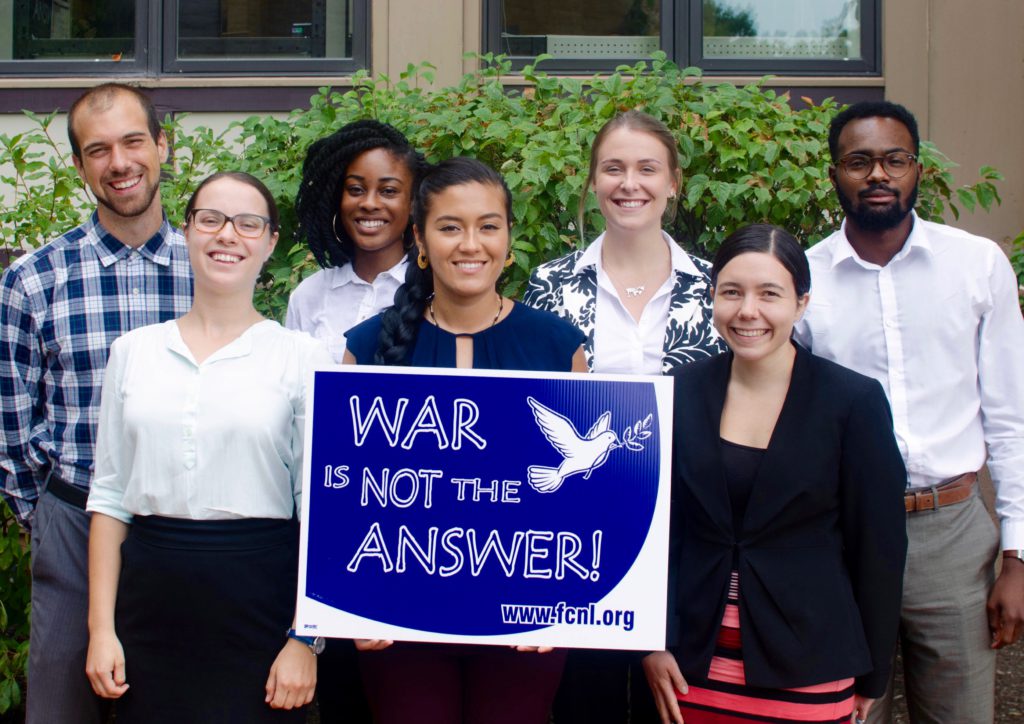 Sponsored by Friends Committee on National Legislation (FCNL)
Young Fellows spend 11 months working with key staff members at the Friends Committee on National Legislation (FCNL) to build expertise in advocacy from a public interest perspective.
The program is full-time and paid a salary at the Washington, D.C. living wage standard with benefits. Fellows work under the title "program assistant" and work directly with FCNL lobbyists and other senior staff, gaining first-hand knowledge of the legislative process and the organizing and communications work that is necessary for policy change.
Young fellows work full-time from late August through the end of the following July.
The program offers opportunities for:
Advocacy: Lobby Congress and build grassroots campaigns to encourage constituents and members of Congress to take action by providing them with information on critical issues.
Research: Attend congressional committee hearings and coalition meetings and analyze documents and reports.
Communications: Draft action alerts, letters, and background reports to keep constituents informed and to express FCNL's position to Congress and the administration.
Outreach: Help build democracy by organizing campaigns and workshops that empower people around the country to engage with elected officials in Washington.
Application Process
Applications are open! A completed application will include:
Transcript(s) from each post-secondary institution from which you hold a degree. (Transcripts may be unofficial. FCNL may ask for an official transcript at a later date.)
Resume (including education, work, extracurricular, and volunteer experience)
Three references.
A letter of recommendation from each of your references
Salary and Benefits
Salary covers basic living expenses for the Washington, DC area. Benefits include fully paid health coverage, paid vacation and sick leave, and a public transportation or biking stipend. Program assistants are responsible for making their own housing arrangements.
Deadline
The deadline to apply is February 13, 2017
Submit your application to join the 2017-2018 class of young fellows working in Washington, D.C. Please contact Katie at with any questions you may have.
Not ready to apply this year? Bookmark the FCNL Young Fellows Program to your ProFellow account.