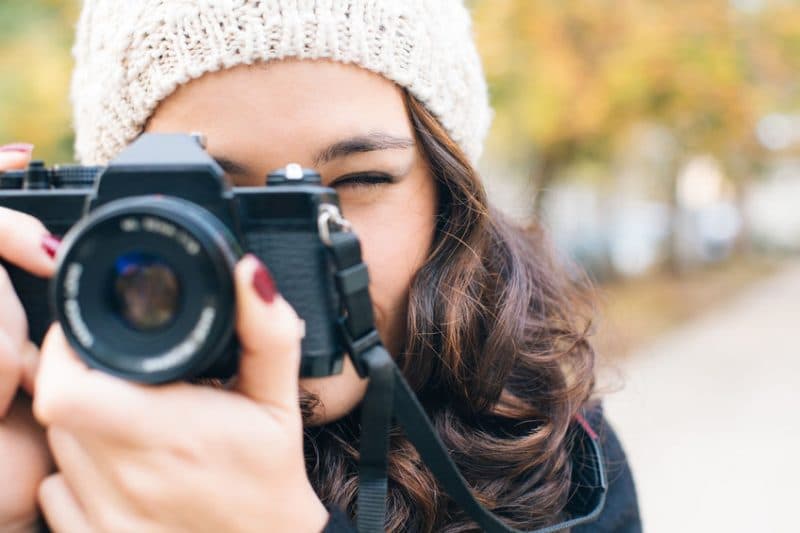 Looking for an opportunity to hone your photography skills in a new and exciting way? These fellowships for photographers take place all over the world and are designed to support artists at all career levels. This list features programs in Austria, France, Germany, Italy, and many locations in the United States. If one of these sounds like a good fit for you, be sure to bookmark it to your ProFellow account!
Each year, the AAF/Seebacher Prize for Fine Arts offers U.S.-based fine arts graduate students, or those who have completed their graduate studies within the past 2 years, the opportunity to study at the International Summer Academy of Fine Arts Salzburg in Austria. Up to 5 Fine Arts Fellows are selected annually by a jury of artists and arts professionals. Fellows are invited to attend a specific course at the Summer Academy and participate in daily classes for 2-5 weeks. The fellowship covers tuition to one Summer Academy course, $1,000 for travel expenses, accommodation and a small stipend.
Fellowship grants of up to $10,000 each will be awarded to artists working in photography and photo-based art. Qualified applicants must provide a portfolio of still photography of any subject matter, genre, or process. Works submitted may be traditional photography projects or experimental works, but photographic techniques must be pivotal to the works submitted. Examples of ineligible work include film, video, and interactive multimedia. United States citizens and legal permanent residents of the U.S. who are at least 21 years old are eligible to apply.
For over a century, the American Academy in Rome has awarded the Rome Prize to support innovative and cross-disciplinary work in the arts and humanities. Prize recipients are invited to Rome, Italy for five months or eleven months to immerse themselves in the Academy community. Each Rome Prize winner is provided with a stipend, meals, a bedroom with private bath, and a study or studio. Those with children under 18 live in partially subsidized apartments nearby. Winners of half-term and full-term fellowships receive stipends of $16,000 and $28,000, respectively. Winners of the Two-Year fellowships receive $28,000 annually.
Artist Trust Fellowships are designed to recognize artistic achievement, dedication to an artistic discipline and potential for further professional development. 8 grants at $10,000 each will be awarded in Music, Media, Literary and Craft disciplines are awarded in even-numbered years and Emerging Fields & Cross-Disciplinary, Performing, Visual and Traditional & Folk Arts in odd-numbered years. Applicants must be a practicing artist, age 18 or older by the application deadline date, a generative artist, and a resident of Washington State at the time of application and when the award is granted.
IRCAM's Artistic Research Residency Programme offers artists of all disciplines the opportunity to collaborate with one or more IRCAM research teams as part of a residency that can be extended in a partner institution. The residency offers many benefits including the potential to collaborate with other artists/researchers, time for reflection and the creation of a new performance or piece, utilizing the institute's technology and the opportunity for interaction with many international experts. Each laureate will be granted a residence at IRCAM for periods of 2 weeks to 6 months. A stipend of 1,200 Euros per month is awarded to cover expenses.
The Beckmann Emerging Artist Fellowship Program awards fellowships each year to qualified and talented artists in music, dance, theatre, literature, media and/or the visual arts. Artists will receive a monetary award of $3,500 to purchase supplies and cover other costs as they develop their project. Professional development and growth opportunities will also be provided throughout the 1-year fellowship. The fellowship program seeks to introduce and provide experiences, connections, and relationships with professional arts institutions and professional artists in central Indiana. Artists must have 1-3 years of experience in their field.
Creative Capital is the only national grantmaking organization with an open application process that supports individual artists across all disciplines. Creative Capital makes a multi-year commitment to its grantees, providing them with tailored financial and advisory support to enable their project's success while building their capacity to sustain their careers. Our grants are valued at up to $90,000. For each project, we offer up to $50,000 in award monies (direct funding) and an additional suite of career development services valued at $40,000. Applicants must be over 25 and have at least 5 years work experience.
The Oak Spring Garden Foundation will award one Eliza Moore Fellowship for Artistic Excellence of $10,000. The aim of the program is to support an outstanding early-career visual artist, working in some area related to plants, gardens and landscapes, who wishes to further his/her career through a dedicated period of focused activity on their artistic work. The fellowship will be a two-month long fellowship, with at least two weeks and up to two months of that time being spent working on-site at Oak Spring. Applicants must hold an MFA in visual arts and have a well-developed portfolio to apply.
The Hodder Fellowship will be given to writers and non-literary artists of exceptional promise to pursue independent projects at Princeton University during the academic year. Potential Hodder Fellows are writers, composers, choreographers, visual artists, performance artists, or other kinds of artists or humanists who have "much more than ordinary intellectual and literary gifts"; they are selected more "for promise than for performance." Given the strength of the applicant pool, most successful Fellows have published a first book or have similar achievements in their own field. Provides a stipend of $75K. Open to all citizenships.
Often characterized as "mid career" awards, Guggenheim Fellowships are intended for men and women who have already demonstrated exceptional capacity for productive scholarship or exceptional creative ability in the arts. Guggenheim Fellowships are grants to selected individuals for 6-12 months. No special conditions attach to them, and Fellows may spend their grant funds in any manner they deem necessary to their work. Open to citizens and permanent residents of the United States and Canada
The Kala Fellowship award is an international competition open to artists from the U.S. and around the world. Artists producing innovative work in all mediums including printmaking, digital media, installation art, social practice, photography, and book arts are encouraged to apply. Kala will award eight artists a $3,000 stipend, unlimited access to Kala's facilities for up to six months, one Kala class, and a culminating show in the Kala Gallery in Berkeley, CA. The award is geared towards supporting artists in completing specific projects or bodies of work that would benefit from Kala's specialized equipment in printmaking and digital media.
Kresge Arts in Detroit provides significant financial support for Kresge Artist Fellowships annually, each consisting of a $25,000 award and professional practice opportunities for emerging and established metropolitan Detroit artists in the dance/music, film/theatre, literary arts and visual arts. The Kresge Artist Fellowships are given to artists whose commitment to artistic achievement, in contemporary or traditional forms, is evident in the quality of their work. Fellowship applications are accepted by artists who are current legal residents of the metropolitan Detroit tri-county area (Macomb, Oakland or Wayne counties) in Michigan.
The MacDowell Colony is the nation's leading artist colony located in Peterborough, New Hampshire. Each year about 300 Fellowships, or residencies, are awarded to artists in seven disciplines: architecture, film/video arts, interdisciplinary arts, literature, music composition, theatre, and visual arts. A Fellowship consists of exclusive use of a private studio, accommodations, and three prepared meals a day for two weeks to two months. MacDowell encourages applications from emerging and established artists representing the widest possible range of perspectives and demographics. Enrolled students are ineligible.
Maine Artist Fellowships are awarded annually to recognize artistic excellence and advance the careers of Maine artists. Fellowships are merit-based awards that are informed by the applicant's work as documented through materials included in the application. Artists in literary, performing, traditional and visual arts, as well as film and crafts, are invited to apply. Applicants must currently reside in Maine and be 25 years of age or over at the time of the application deadline. The award is for $5,000 and can be used at the artist's discretion to cover living expenses or project costs.
The NACF Mentor Artist Fellowship is a regional artist award focused in the Pacific Northwest, Southwest and Upper Midwest areas of the United States. The fellowship is open to established American Indian or Alaska Native artists of ten years or more who want to mentor an emerging American Indian or Alaska Native artist apprentice for a period of one year in the Traditional or Contemporary Visual Arts fields. Monetary awards of $30,000 are provided with $20K going to the mentor and an additional $10K to cover expenses for the apprentice and project costs.
Native Arts and Cultures Foundation National Artist Fellowship awards up to $20,000 to individual, practicing Native artists who are making a significant impact in their discipline in one of the following categories: Traditional Arts, Music, Visual Arts, Artist Innovation or Literature. Eligible applicants will be Native artists who both reside in the U.S. and are enrolled citizens of a U.S. federally or state recognized American Indian Nation, Alaska Native Corporation or with other documentation of Native Hawaiian ancestry. Check website for open calls.
Artists' Fellowships are $7,000 cash awards made to individual originating artists living and working in the state of New York for unrestricted use. Grants are awarded in 15 artistic disciplines, with applications accepted in five categories each year. To be eligible for a NYFA Fellowship, applicants must be a resident of New York State for at least two years prior to the application deadline and cannot be enrolled in a degree program of any kind.
Paul Mellon and Ailsa Mellon Bruce Visiting Senior Fellowships are intended to support research in the history, theory, and criticism of the visual arts (painting, sculpture, architecture, landscape architecture, urbanism, prints and drawings, film, photography, decorative arts, industrial design, and other arts) of any geographical area and of any period. Fellowships are for full-time research, and scholars are expected to reside in Washington, DC, and participate in lectures, colloquia, and informal discussions that complement the fellowship program. The program length is for 2 months and includes housing and stipend of $6-8K.
Each year, the program supports a diverse, international group of Photography and Social Justice Fellows who are passionate about challenging injustice, pursuing social equality, and advancing human rights through photography. During the program, Fellows work on projects in their home communities with support from Magnum Foundation's mentors. Magnum Foundation covers the cost of travel and room and board for the sessions in New York City. Fellows also receive a modest stipend to support the production of their projects. Fellows are early-career photographers or individuals trained in aligned disciplines
The QM-Jerome Foundation Fellowship is open to emerging visual artists living in the five boroughs of New York City. Eligible artists have completed their studies, but have not had solo exhibitions at established commercial galleries or public institutions or received major grants. Eligibility is also extended to artists who are well beyond their studies but have not received extensive press or market recognition. Artists will receive $20,000, professional development consultations, and close mentorship from QM staff members working toward an artist's project. The fellowship is for 1 year and culminates with exhibitions at the Queens Museum.
Radcliffe Fellows are award-winning artists, academics, and professionals who convene at the Radcliffe Institute for Advanced Study at Harvard University for a full year to focus on individual projects and research while benefiting from a multidisciplinary community in the University setting. Stipends are funded up to $77,500 for one year with additional funds for project expenses. Fellows receive office or studio space and access to libraries and other resources of Harvard University during the fellowship year, September through May. Deadlines vary by discipline, check website.
DAAD scholarships offer graduates the opportunity to continue their education in Germany with a postgraduate or continuing course of study. Foreign applicants who have gained a first university degree in the fields of Fine Art, Design/Visual Communication and Film are eligible. In this study programme, you can complete: a Master's degree/postgraduate degree leading to a final qualification, or a complementary course that does not lead to a final qualification at a state or state-recognised German university of your choice (not an undergraduate course). If you are not a citizen of the United States or Canada, it is usually required that your last degree was obtained in the US/Canada, or you will have received a degree here before your scholarship starts.
The Terra Summer Residency in Giverny, France provides eight-week fellowships for emerging artists and predoctoral scholars to pursue individual work and research within a framework of interdisciplinary exchange and dialogue, and senior advisor positions for established artists and scholars to serve as mentors and seminar leaders. For visual artists with a master's degree (or its equivalent); doctoral candidates researching a subject on American art and visual culture pre-1980 or its role in a context of international artistic exchange. All fellows are provided with 8 weeks of lodging in Giverny, a stipend of $5,000 and travel costs.
Uncomfortable Revolution is offering 4 paid media fellowships to support up-and-coming media talent, and give them a launchpad for their future careers. Fellowships last for a total of 6 months, during which fellows receive a €2,000 stipend to develop a creative work on the theme of awkward conversations that arise from chronic illness or disability. The 4 fellowship options include projects in writing, the visual arts, podcasts and video. Authentic stories about any health condition from cancer, HIV/AIDS, and heart disease to mental illness, addiction or eating disorders and MS or other mobility-affecting illnesses are welcome.
© Victoria Johnson 2019, all rights reserved.