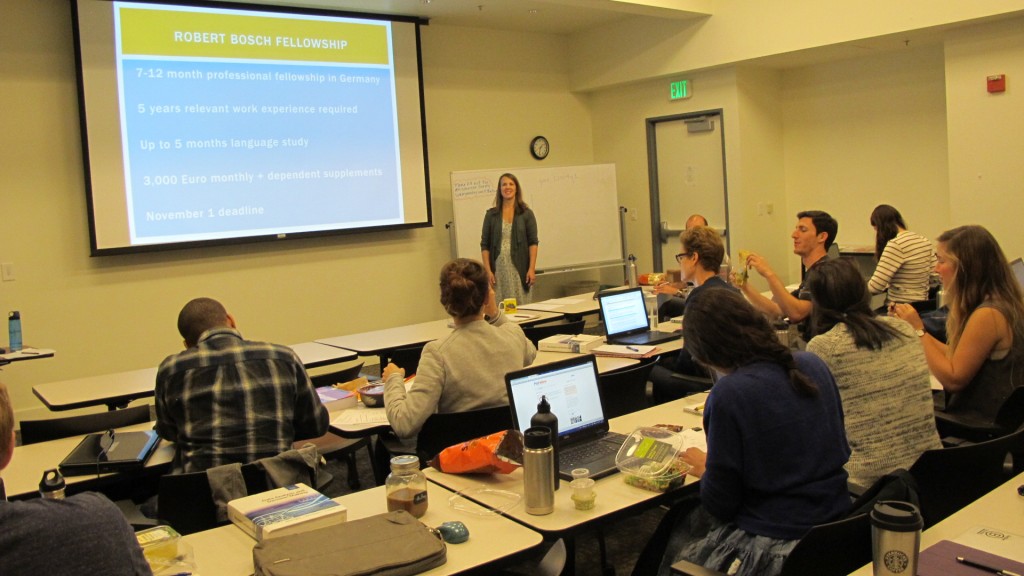 This week we kicked off our Fall 2014 University Seminar Tour at the Presidio Graduate School in San Francisco. During the tour, I am sharing insider tips on how to find and win professional and academic fellowships. I also provide students and staff an overview of a variety of fellowships for different career levels in the U.S. and abroad. This is a great opportunity to learn more about the Herbert Scoville Jr. Peace Fellowship, the Robert Bosch Foundation Fellowship in Germany, the Alfa Fellowship in Russia, and the Cultural Vistas summer fellowship abroad, among many others.
The Presidio Graduate School offers MBA, MPA and dual degree programs in Sustainable Management. The graduate program attracts domestic and international students from a wide variety of professional backgrounds, including Fortune 500 corporations, small and medium-sized businesses, nonprofits, and governmental agencies. We were pleased to have the opportunity to share how fellowships can provide graduate students and mid-career professionals opportunities to expand their experience and skills in sustainability.
Our next stops on our tour include Mills College, UC Berkeley and Stanford University. Also, Stanford University's Haas Center for Public Service will be sponsoring a special Esteemed Fellows Dinner on October 28th for San Francisco Bay Area fellowship alumni and aspiring fellows from the Stanford community.
If you have questions, please contact us. We hope to see you there!