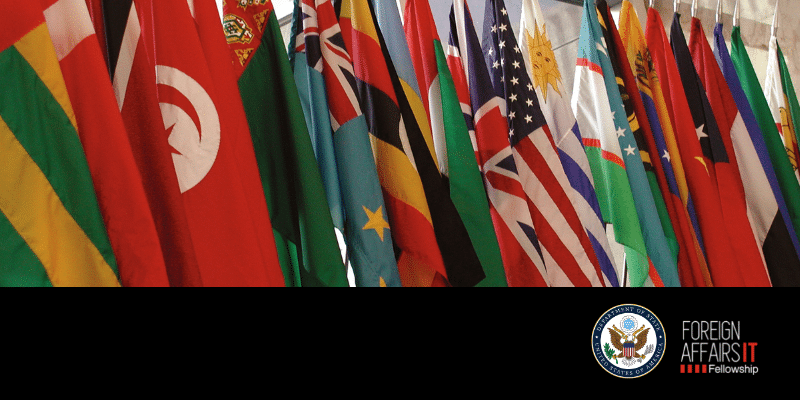 Sponsored by The  U.S. Department of State
The Foreign Affairs Information Technology (FAIT) Fellowship, sponsored by the U.S. Department of State, is a path to a career in the Foreign Service as an Information Management Specialist (IMS). If you want to use your technology skills to support U.S. diplomacy and experience new cultures, the FAIT Fellowship is an opportunity of a lifetime. 
This unique two-year Fellowship prepares you to enter the Foreign Service by providing:
Academic funding (up to $75,000) for you to complete your junior and senior years of college, or a two-year master's degree program, in an IT-related field; 

Two summer internships with stipends (one in Washington, D.C. and one overseas at a U.S. embassy or consulate;

Professional development and mentorship.
When you've completed the FAIT Fellowship program and the State Department requirements, you will become a Foreign Service Information Management Specialist and launch a career that will take you all over the world.
Promoting Diversity in the Foreign Service
The State Department seeks to attract the best tech talent to the Foreign Service that reflects the diversity of the United States. Based on the fundamental principle that diversity is a strength in our diplomatic efforts, the FAIT Fellowship program values varied backgrounds, including ethnic, racial, gender, and geographic diversity.  Members of minority groups underrepresented in the Foreign Service, women, and individuals with financial need are encouraged to apply. 
Now Accepting Applications for the 2022 Cohort
Applications are now being accepting through January 31, 2022. Here are the basic eligibility requirements for the 2022 cohort:

Be a U.S. citizen;
Be enrolled full-time in an IT-related degree program and starting your junior year in fall 2022, or seeking admission for fall 2022 in a two-year IT-related master's degree program, at a U.S.-based accredited institution (in-person or online programs);
Be able to obtain and maintain medical and security clearances and suitability requirements;
Hold a minimum 3.2 GPA on a 4.0 scale at the time of your application and maintain this GPA throughout the program;
Be on a timeline to graduate with your degree in May 2024.
What You'll Receive as a FAIT Fellow
As a FAIT Fellow, you can expect to forge new friendships, create a professional network, and build memories for a lifetime. Plus, here are the benefits of the Fellowship:  
Up to $37,500 annually (total of $75,000) in academic funding for the junior and senior years of undergraduate study, OR a two-year master's degree program in an IT-related field;
Stipends, housing and travel allowances for the two summer internships: A domestic internship in Washington, D.C. at the U.S. Department of State; and an international internship at a U.S. Embassy or Consulate abroad;
Personalized mentoring and professional development opportunities throughout the program;
An appointment in the Foreign Service as an Information Management Specialist upon successful completion of the program and the State Department's requirements.
Foreign Service IMS and FAIT Fellows Share Their Experiences 
Before you embark on your FAIT Fellowship journey and the path to becoming a Foreign Service IMS, you can hear directly from five FAIT Fellows in video interviews, as they share their experiences with the application process and their summer internships. Also, Foreign Service IMS Elizabeth Slater talks about what it's like working in the Foreign Service. 
Prepare Now to Apply
The application period for the 2022 cohort is September 8, 2021 to January 31, 2022. You should start preparing your application documents early to submit the most competitive application possible for this prestigious fellowship program. Go to the FAIT Fellowship website to get helpful tips in our Diplomatic Roots blog articles, discover what documents you'll need on the Apply page, register for an upcoming webinar and more. 
The application deadline is January 31, 2022


Contact Us with Questions
We'd love to talk with you and answer your questions. Send us an email at [email protected] and let us know your contact info and the best time to reach you. 
To learn more about the FAIT Fellowship experience, check out this interview with Fellow Courtney Jarrett.
For more information see FAITFellowship.org
Follow us:
Not ready to apply this year? Bookmark the Foreign Affairs IT Fellowship to your ProFellow account!
© Victoria Johnson / ProFellow, LLC 2021, all rights reserved