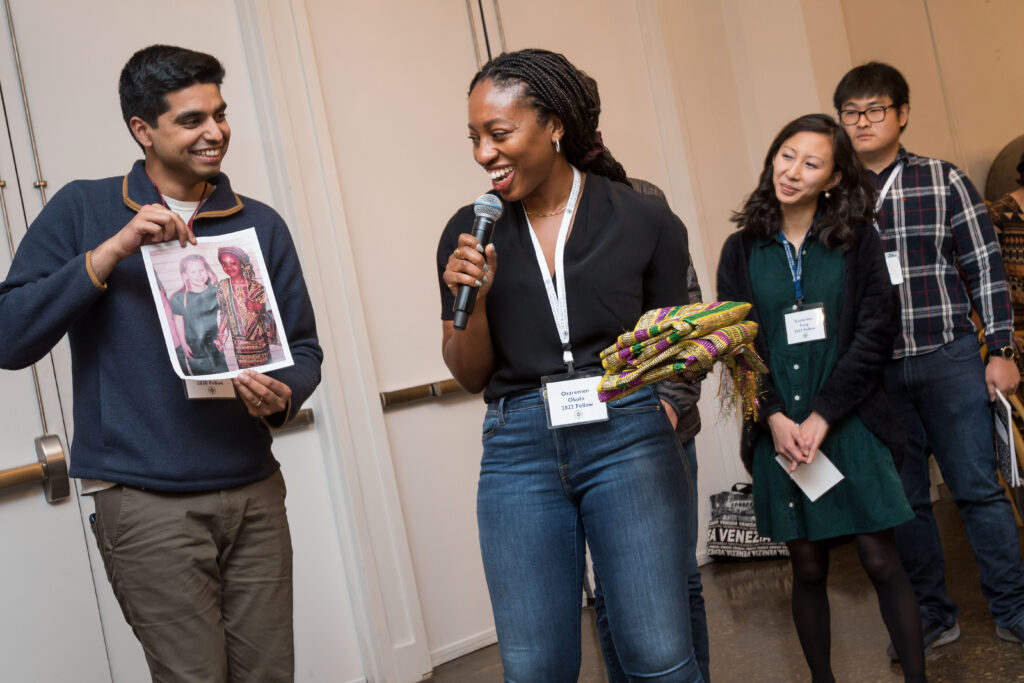 Sponsored by Paul & Daisy Soros Fellowships for New Americans
Funding for all types of master's and doctorate degrees, including in the fields of art, law, business, science, the humanities and social sciences, medicine, engineering, and more. 
Founded by immigrants, The Paul & Daisy Soros Fellowships for New Americans supports outstanding New Americans—immigrants and children of immigrants—pursuing graduate school in the United States. Each Fellowship lasts for one to two years. 
What are the benefits of the $90,000 Paul & Daisy Soros Fellowships?
With the goal of highlighting the many ways that New Americans contribute to society and culture, the Fellowship supports 30 individuals every year with up to $90,000 in funding per Fellow. 
In addition to receiving funding for the graduate program of their choice, each new Paul & Daisy Soros Fellow joins the lifelong community of 775 past recipients. The active alumni network includes artists, designers, architects, directors, writers, composers, and musicians, in addition to doctors, lawyers, public health experts, professors, engineers, and entrepreneurs. 
"The Paul & Daisy Soros Fellowship liberated me from the traditional path I was expected to follow," said 2009 Paul & Daisy Soros Fellow Shantanu Gaur, the cofounder and CEO at Allurion Technologies. "Unburdened from debt and energized by peers who were taking the road less traveled, I have been able to thrive." 
Who is the Paul & Daisy Soros Fellowships for?
Selection criteria focuses on accomplishments that show creativity, originality, and initiative in all fields. The application is open to college seniors, students applying to graduate school, and those who are in the early stages of graduate school. All applicants must be planning to be enrolled full-time in an accredited graduate program in the US in the 2024-25 academic year. In addition, applicants must be 30 or younger as of the application deadline. 
In terms of New American status, eligible applicants include individuals born in the United States who have two parents who were born abroad, and immigrants who are green card holders, naturalized citizens, Deferred Action for Childhood Arrival (DACA) recipients, or individuals born abroad who graduated from both high school and college in the United States. 
Applicants can find full eligibility requirements here.
What is involved in the Paul & Daisy Soros Fellowships for New Americans? 
The Paul & Daisy Soros Fellowships for New Americans financially supports 30 students every year. The recipients are spread out around the country and can go to the university and full-time graduate or professional program of their choosing. The Fellowship is meant to be a gift to the student so that they can focus on their studies and make the most of their schooling, which is why Fellows are not able to work at a job full time during their graduate studies. 
There are three main requirements of all Paul & Daisy Soros Fellows. The first is to participate in two consecutive annual Fall Conferences, which are paid for by the Fellowship program and take place over a long weekend in late October. The annual Fall Conference in New York City is an opportunity for the new Fellows to get to know one another and the Fellowship staff, alumni, and community, celebrate, and examine the New American experience. The second requirement is to participate in a one-day campus visit where the Paul & Daisy Soros Fellowships Director or Deputy Director visits each new Fellow on their campus. 
Finally, Fellows are required to remain in good standing in their graduate program while receiving funding. At the close of their two years as an active fellow, Fellows must submit an exit report. More details on the visit and the requirements of the Fellowship are provided when selected applicants sign a contract with the Fellowship. 
How can applicants to the Paul & Daisy Soros Fellowships learn more?
The best way for applicants to learn more about the Paul & Daisy Soros Fellowships is to watch an information session by following this link. There are information sessions on that page that are focused on students in various fields so it's best for applicants to watch the session that matches their academic or professional field. There are several guides to help applicants think through recommendations and essay writing here. 
Finally, applicants can sign up for the Fellowship's e-mail list and connect with the Paul & Daisy Soros Fellowships on social media! Applicants can find the Fellowship on Twitter (@PDSoros), Instagram (@PDSoros), and LinkedIn (PDSoros).
Application for the 2024 Fellowship Now Open until October 26, 2023!
The application for the 2024-25 academic year is now open and is due on October 26, 2023 at 2:00 pm Eastern Time (ET). 
Not ready to apply now? Bookmark the Paul and Daisy Soros Fellowships for New Americans to your ProFellow account.
© ProFellow, LLC 2023, all rights reserved