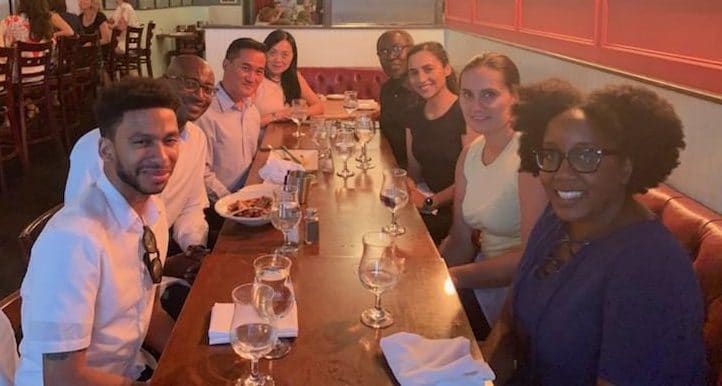 On June 27, the International Fellows Network hosted a dinner for current and former fellows at the French Restaurant Le Midi in Greenwich Village in New York City. The dinner brought together a cross-disciplinary group of leaders from several countries for an evening of discussion and exchange.
The dinner was filled with interesting discussions about a variety of topics. Tan shared his experience traveling to Germany through the Robert Bosch Foundation Fellowship and learning German. Sibu shared how the National Urban Fellowship has helped her meet people from different fields and locations as well as what she learned from being mentored by Congresswoman Ayanna Pressley.  Jeremy had just landed after a flight from Israel and told us about the numerous fellowships he has participated in, including the Israel Government Fellowship. Jamaal, a Stanford MBA/Harvard MPA graduate, talked his time as a Leadership New York Fellow, during which he worked to solve problems in New York City. We also enjoyed discussing the importance of mentorship and sponsorship to grow a career, using fellowships to travel the world, the recent Democratic debate, and the best places to eat in NYC.
The International Fellows Network is a professional networking organization of more than 1,800 current and former fellows from all over the world. The IFN also holds events in San Francisco, Washington, DC, and Berlin, Germany and seeking to expand these to new locations this year. Through the IFN, current and former fellows can connect for socializing, advice and insights on fellowships, jobs, events, graduate programs, and collaborative opportunities. If you are a current or former fellow and would like to join, please sign up for our fellowships database, and we'll be in touch by email!
June 2019 Attendees:
Christina Lopez –National Urban Fellow
Dai Shi – AXA Equitable Holdings
Ekem Karl-Agbee – Essex County College, Coordinator of the Business Division's Participation
Fielding Vaughn – National Urban Fellow
Irina Razumovskaya – Fulbright Foreign Student Fellow
Jamaal Glenn – Transatlantic Digital Debates Fellow
Jeremy Pesner – StartingBloc Fellow
Sibu Malaba – National Urban Fellow
Tan Nguyen – Robert Bosch Foundation Fellow
© Victoria Johnson 2019, all rights reserved.