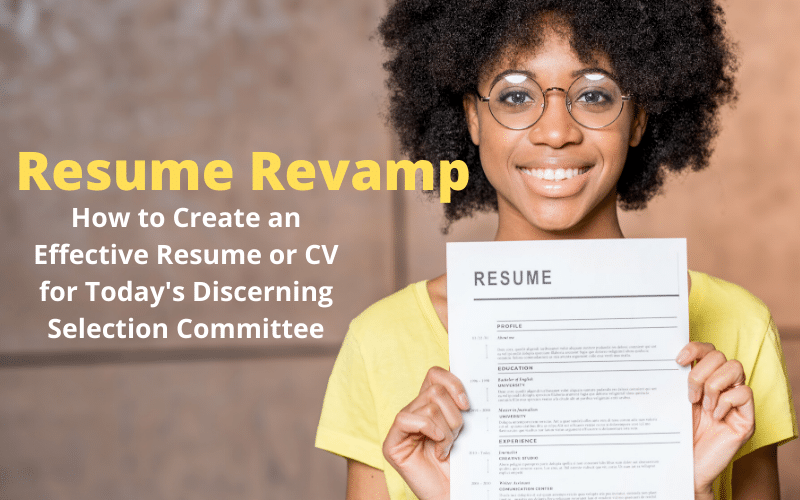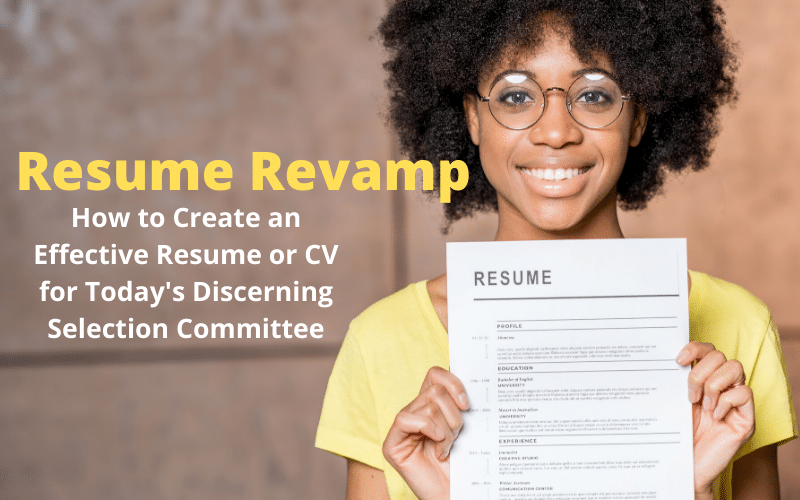 Register for our next workshop!
Resume Revamp
How to Create an Effective Resume or CV for Today's Discerning Selection Committee
Taught by four-time fellow and ProFellow Founder, Dr. Vicki Johnson
Online workshop on

Friday, January 24, 2020


9:30 – 11:00am PDT | 12:30pm – 2pm EDT

Available live & recorded*
I'm going to teach you the most important things you need to know when preparing your resume or CV for jobs, fellowships and graduate programs.
---
In this 1.5 hour online workshop, you'll learn:
#1 How to format today's resume/CV for the discerning employer or selection committee, including headings, education, keywords, professional experience bullets and "summaries"
#2 How to efficiently describe 15+ years of work experience in your resume (and what to include when you have less than 15, and less than 5)
#3 How to make strengths of career changes, career gaps, age, and lack of OR too much work experience
and finally…
#4 Insider strategies of multi-award winners that got their resume to the top of the "stack"
The workshop & exercises will be 1 hour, plus 30 minutes of Q&A.
The workshop will be hosted in Zoom and recorded for later viewing.
---
Testimonials from previous workshops:
"I have been an educator and mentor for 25+ years and I found Vicki's workshops to be the best career and application trainings I have ever seen. I wish I had been giving information to my students over the years in the way that Vicki does."
"I'm pleased to report I won the Fulbright research award to Austria! Thank you for your wonderful workshop, it definitely helped me become a more sophisticated writer and helped me plan my ideas out in a more fluid way."
"I just received this exciting email below [a finalist interview invitation]. I used your tips, listened to your video over and over again, developed and reviewed my work, and got more insights before submitting my application. This is my first invitation to interview after many attempts."
"I want to thank you for the excellent workshop you presented today. You did a great job of addressing the questions I had and providing me with much more actionable information than I imagined I'd receive. Further, you did it all in an interesting, upbeat, easy to follow format. This is rare in my experience."
---
Registration:
Please register to attend live on January 24 or receive access to the recorded seminar. All registrants will receive a recording.
Registration to attend live or receive recording: $129