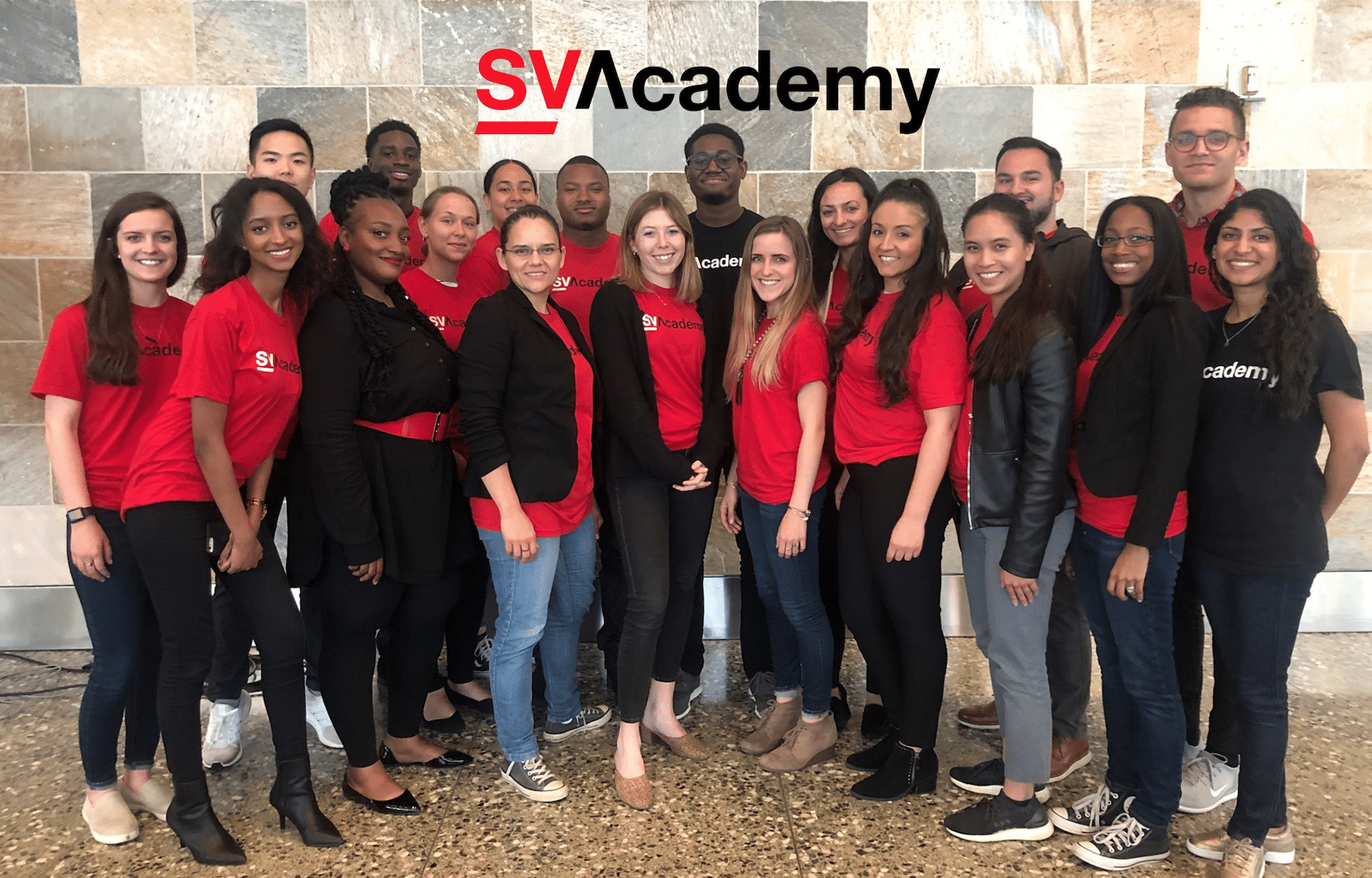 Do you enjoy creating a great first impression, building a brand, and creating momentum for a company? A job in business development might be the ideal next role for you.
ProFellow and SV Academy have collaborated to offer placement for a select number of individuals in SV Academy's Business Development Fellowship. SV Academy's employer-funded fellowship is 12 weeks and leads to a full-time business development role at high-growth tech companies in San Francisco Bay Area and the Silicon Valley.
The best part is that it's online, part-time and 100% tuition-free.
What is SV Academy?
Training & Mentorship: With only a 4% acceptance rate, SV Academy is a competitive 12-week, part-time, online business fellowship where SV Academy fellows receive mentorship and hands-on training from top business executives at Google, LinkedIn, and Facebook.

Job placement: Upon completion, fellows transition into a full-time business development job a fast-growing startup with a median salary package of $79,000.

Community: We've placed hundreds of motivated job-seekers just like you who are now in our alumni network and are eager to help you grow and succeed. Our alumni come from diverse backgrounds and are paving the way for future fellows like you.

No fees, no catch: Business Development Representatives are in high demand. There is no coding involved, and your training is 100% paid for by employers — fellows pay nothing.
What startup will I work for?
Upon completion, 100% of fellows will work full-time at one of our 100+ startup partners in Silicon Valley, San Francisco, New York City and other major U.S. cities

SV Academy employer partners all have small, high-power, entrepreneurial business development teams that have direct access to leadership and opportunities for growth within the organization
Next steps
Cohorts start every month and have limited seats available – apply today to get started!
The initial application takes 10 minutes. Please note: At this time, we are only accepting applicants who are bachelors degree holders (or within 60 days of graduation) and U.S. citizens/Green Card holders.
To submit an official application, please click here:


Learn more
Want to learn more? Check out reviews on Glassdoor. We're venture-backed by Bloomberg Beta, Re-Think Education, and Uprising Ventures and many others.
"SV Academy is the future of innovation in the tech world. Not only does SV Academy source top talent, but they also find individuals who have a growth mindset and match them with the right company." – Eugene H. Cohort 6
---
Not ready to apply now? Bookmark the SV Academy Business Development Fellowship to your ProFellow account.