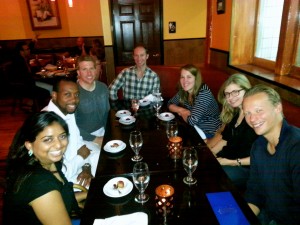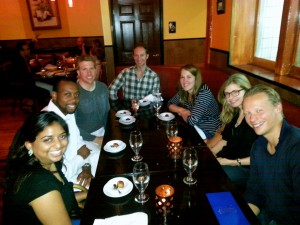 Last night we held our monthly Esteemed Fellows Dinner at Aslam's Rasoi in San Francisco with fellows representing Fulbright, New York City Urban Fellows, the Greenlining Institute, and the American Indian Foundation among others.
Attendees talked about their new and ongoing projects including working with schools in India on low-cost innovations in sustainable water management practices, the experience of working within New York City's 24/7 emergency command center during Hurricane Sandy, and advising social entrepreneurs on business strategy.  Experiences and business cards were exchanged, and fellows left the event with ideas, contacts and plans to stay in touch!
The mission of the Esteemed Fellows Dinners is to bring together small, cross-disciplinary groups of fellowship alumni to exchange ideas and contacts over a social meal. The International Fellows Network is planning additional Esteemed Fellows Dinners in San Francisco and other parts of the U.S, as well as events internationally. If you are a fellowship alumnus and would like to get involved, sign up for our beta, and we'll be in touch by email!
July 2013 Dinner Attendees:
Cecilia Culverhouse – NYC Urban Fellow

Joerg Geier – Fulbright to the U.S, from Germany

Jonah Cooperman – Director of Marketing, PrescenceLearning

Ragini Kathail – AIF Clinton Fellow in India 

Reynold Graham – Greenlining Summer Fellow

Ryan Johnson  – Cofounder, ProFellow
Vicki Johnson – German Chancellor Fellow