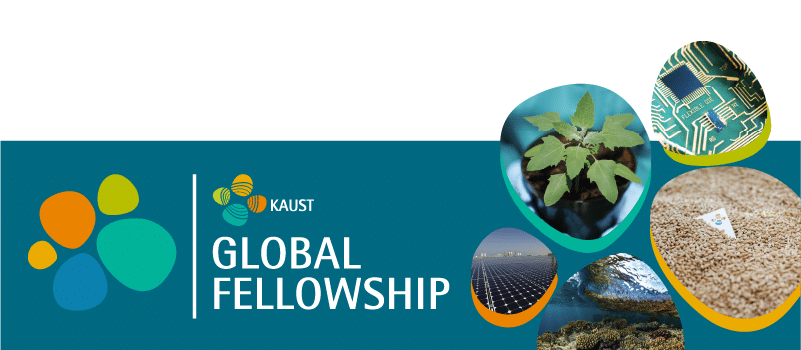 Sponsored by KAUST
About the program
King Abdullah University of Science and Technology (KAUST) seeks to be a catalyst for societal and economic change in Saudi Arabia and the world, addressing national and global needs under five Research Pillars: Water, Energy, Environment, Food & Health, and the Digital domain. 
KAUST has established a new Global Fellowship Program to recruit up to 10 talented postdoctoral researchers each year. The cohort of Global Fellows will contribute to the outstanding expertise at KAUST and have the opportunity to take advantage of its unparalleled laboratory facilities and exceptional equipment to explore and realize their research ideas and goals. 
The Fellowship Program is designed with two strands: one that is general and relevant to topics under the five Research Pillars and one that is focused on a research area that is time relevant. Year-to-year, Strand 2 will focus on different research areas that are strategically important to KAUST and that are highly topical. "Hydrogen production and storage solutions" is the topic for this year.
About the fellowship
The KAUST Global Fellowship Program is designed to attract emerging research leaders working across areas under the five Research Pillars of KAUST. It will support excellent postdoctoral researchers taking the initial steps toward a fully independent research career by providing them with the resources to conduct a three-year research project of their own design and under their own management.
In addition, KAUST Global Fellows will enjoy opportunities for interdisciplinary and cross-cultural exchange, leadership training, teaching training, community engagement, professional mentorship, and access to an international alumni network. The Global Fellows will be met by a welcoming staff who are dedicated to the wellbeing of all Global Fellows. 
The Fellowship is offered for three years with an evaluation at the end of the second year. The Fellow will receive an annual stipend of 75,000 USD and other benefits including accommodation, schooling, and medical insurance, as well as an annual research budget of up to 45,000 USD.
Eligibility 
The Fellowship is open to candidates who:
Have been awarded a Ph.D. degree from a well-recognized university from around the world. 

Will perform a three-year research project in Saudi Arabia at KAUST. 

Have up to, but not exceeding, four years of relevant postdoctoral experience.
Research proposal
Candidates are required to submit a three-year research proposal in an area of research that is aligned with those of KAUST and that addresses global challenges under one or more of the five Research Pillars. The topic can be general in nature for Strand 1 or focused on hydrogen production and storage for Strand 2.  
Application
Applicants should apply through the electronic application form and follow the instructions on the KAUST Global Fellowship Program website https://kgfp.kaust.edu.sa/
Timeline
October 1, 2021 – Call opens
November 30, 2021 – Application deadline
December 1, 2021-January 31, 2022 – Selection process and interviews
January 31, 2022 – Award notification
February 1, 2022 – Start of onboarding procedures
For any questions contact us at the KAUST Global Fellowship office: [email protected]
Not ready to apply this year? Bookmark KAUST Fellowship to your ProFellow account!
© Victoria Johnson / ProFellow, LLC 2021, all rights reserved