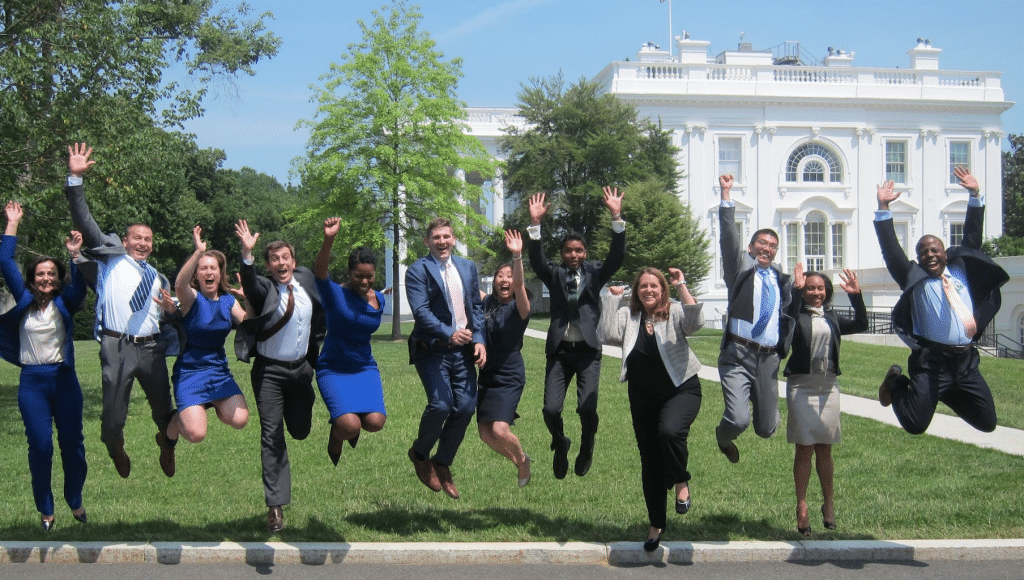 Sponsored by the White House Fellows Foundation and Association
"A genuinely free society cannot be a spectator society … Freedom, in its deepest sense, requires participation. It requires full and zestful, knowledgeable participation." President Lyndon B. Johnson
President Johnson spoke these words when he founded the White House Fellows program.
Today, there still remains a call to action for all Americans who seek to better themselves, their communities, and the lives of people across the globe. That is what being a White House Fellow is all about: the opportunity to serve in our government alongside incredible people, all working to make the world a better place.
WHAT DOES IT MEAN TO BE A WHITE HOUSE FELLOW?
White House Fellows are extraordinary Americans, competitively selected by the President's Commission on White House Fellowships, who have demonstrated remarkable achievement early in their careers and have a proven commitment to service.
During their year in Washington, Fellows are placed as advisors to senior White House staff, Cabinet Secretaries, and other top-ranking government officials. The Fellows frequently meet with top leaders in public, private and non-profit sectors to discuss the policy-making process as well as ideas and issues concerning leadership and service. They also participate in a robust education program that includes conversations with a range of leaders, domestic and international policy trips, and first-hand leadership development with senior government leaders. 
The White House Fellows program is non-partisan and has been a fixture across Republican and Democratic presidential administrations. White House Fellows come from a variety of backgrounds and reflect the diversity that makes our country so great to begin with.
Check out our  interview with 2015-16 White House Fellow September Hargrove, Vice President & Detroit Program Officer at JPMorgan Chase & Co., to learn more about her fellowship experience and fellowship application tips.

THE WHITE HOUSE FELLOWSHIP EXPERIENCE:
The White House Fellowship is an extraordinary year where Fellows are pushed outside their comfort zones and immersed in the study of leadership.
Placements:

Fellows are placed as advisors to senior White House staff, Cabinet Secretaries, and other top-ranking government officials. Fellows work on both short-term time-sensitive projects and longer-term strategic initiatives.

Education Program:

The fellows participate in bi-weekly off-the-record leadership roundtable discussions with policy, government and business leaders, which expands their knowledge of leadership, policy-making, and contemporary issues.

Domestic and International Policy Trips:

Fellows take policy trips to explore U.S. policy in action both domestically and internationally. Recent trips have included South Korea, Japan, Los Angeles, and New York.

Fellowship Class:

The Fellowship provides a cohort structure that allows you to bond with the other Fellows. Fellows participate in after-hours events, both fun and professional. They have played basketball at the "highest court in the land", attended private tours of Air Force One, and had dinners with White House Fellows Commissioners and Cabinet secretaries. The entire year is designed to foster a lifelong commitment to each other and the alumni community.

Community Service:

Community service plays a vital role in the program, and Fellows often take part in service projects throughout the year.


WHO HAS BEEN A WHITE HOUSE FELLOW?
More than 800 men and women have been selected as White House Fellows over the 55 year history of the program and the vast majority have gone on to make notable contributions in their communities, our country, and the world, including Congresswoman from Kansas's 3rd congressional district, Sharice Davids; CEO of the Robin Hood Foundation, Wes Moore; Current U.S. Secretary of Labor, Elaine Chao; Chairman of NBCUniversal International Group and Telemundo Enterprises, Cesar Conde; CNN Medical Correspondent Sanjay Gupta; and former Secretary of State General Colin Powell, who described the program as a "turning point" in his career. 
Learn more about the White House Fellows experience in our video with former fellow Dr. Rachel Thornton.
WHO SHOULD APPLY?
Selection as a White House Fellow is based on a combination of the following criteria: 
A record of remarkable professional achievement early in one's career.

Evidence of leadership skills and the potential for further growth.

A demonstrated commitment to public service.

The skills to succeed at the highest levels of the Federal government, and the ability to work effectively as part of a team.
These qualities combined with the strength of one's character, a positive attitude, and the ability to work well with others are taken into consideration when selecting a class of White House Fellows. Competitive candidates should be able to demonstrate notable achievement early in their careers ‒ and a deep commitment to public service.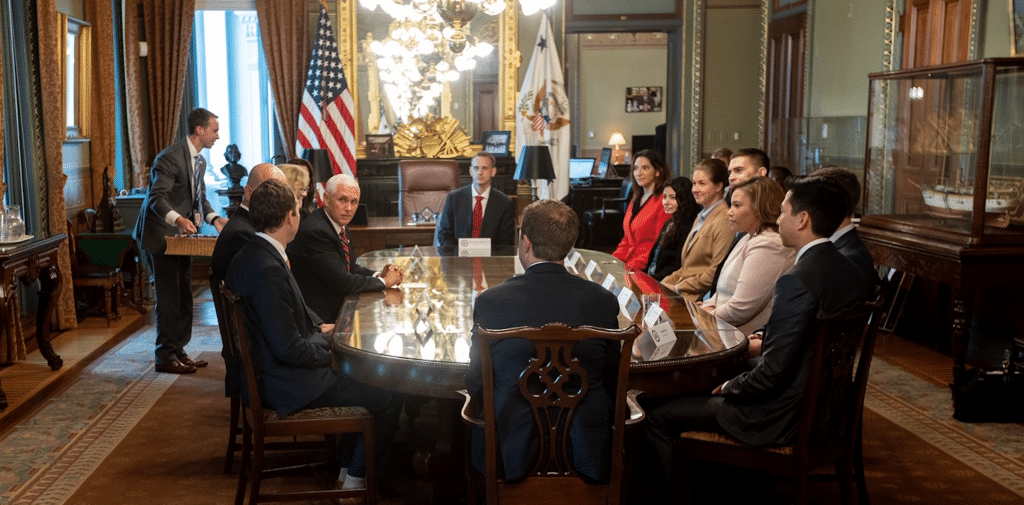 ELIGIBILITY REQUIREMENTS:
Applicants must be U.S. citizens.

Employees of the Federal government are not eligible unless they are career military personnel.

Applicants must have completed their undergraduate education by the time they begin the application process.

There are no formal age restrictions. However, the Fellowship program was created to give selected Americans the experience of government service early in their careers.
PROGRAM DATES FOR THE NEXT CLASS: 
August 2020 – August 2021 
APPLY NOW:
Application Deadline: January 8, 2020, at 5:00 p.m. EST.


---
Not ready to apply right now? Bookmark the White House Fellowship to your ProFellow account.