We have a BIG PROFELLOW ANNOUNCEMENT to share!
Since the beginning of 2022, we have been working diligently behind the scenes to add 2 new categories of funding opportunities to our free ProFellow database: Fully Funded PhDs & Fully Funded Master's.
And we have been adding *hundreds* of fully funded graduate programs to the database. More are being added each week!
We currently have 484 Fully Funded PhD programs listed and 277 Fully Funded Master's programs listed (these are full-time, on-campus graduate programs that offer all or most students a Graduate Assistantship at acceptance, which provides an annual stipend and full tuition waiver).
We also have 1,300+ fellowships (doctoral, master's, summer, professional and post-doctoral) listed in the database! These are awards offered by non-profit, philanthropic, government and corporate agencies to fund professional experiences, research, graduate study, and creative projects.
To view these awesome opportunities, log in or sign up for a free ProFellow.com account to access the database!
Get Started – Sign Up!
Sign up here for a free ProFellow account to view and bookmark awards in the database:
https://www.profellow.com/sign-up/
How to Use the Database
In the database, you can filter awards by Type, Discipline, Citizenship eligibility, Location (continent) and Work Experience. You can also use the Keyword search bar for words that are sub-disciplines, country locations and other keywords. Use words like "journalism", "mid-career" or "Germany" to further filter opportunities.
You can also sort your list of awards by newest (newly added), deadline, and name (A-Z).
The best part is you can bookmark awards to your account! Click the heart icon on the listing or click the button "Add to Favorites".
About Award Deadlines in the Database
Deadlines in the database are listed as "confirmed" or "estimated". If confirmed, that is the next upcoming deadline! If "estimated", it means our team is estimating the deadline based on last year's deadline and it is not yet confirmed. For awards with estimated deadlines, we recommend going to the program's main website for more information (click the "Go to Website" button at the listing).
How to Apply to Awards Listed in the Database
Each listing has a "Go to Website" button that will take you the funding award's main website, where you can find more information about the award, including the full eligibility guidelines, application requirements, deadlines and contact information for fellowship staff. If you have questions about specific awards, please contact the fellowship staff directly as they will be the best people to assist you. We do not collect applications or answer questions on behalf of fellowship organizations and universities.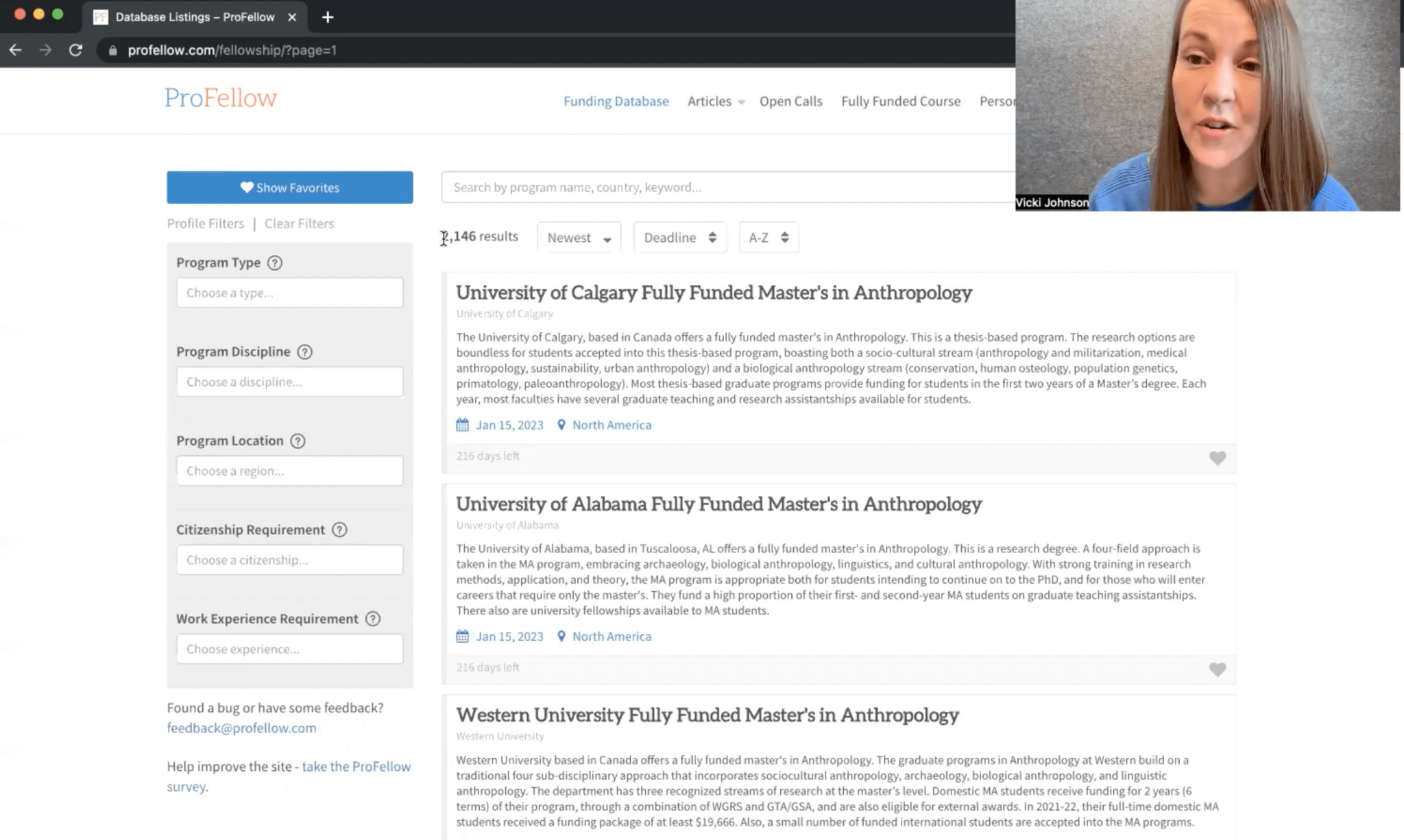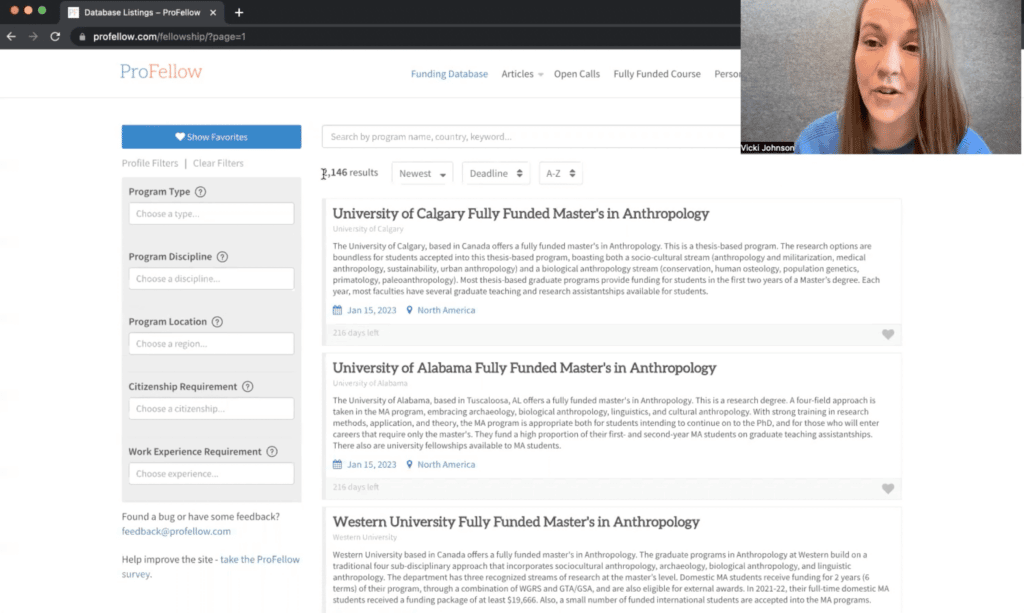 Also! Check Out Our "Open Calls" Page
Seeking awards collecting applications now? Regularly check our Open Calls for Applications page with new awards and upcoming deadlines posted by our fellowship partners!*
*If you represent a fellowship organization that would like to post a sponsored Open Call for Applications on our page, please be in touch here. 
Get Application Tips
At ProFellow, we regularly post articles with application tips written by Fellows, which we share in our weekly newsletter. You can also join an upcoming workshop! Please join the ProFellow mailing list for announcements about workshops hosted by ProFellow Founder, Dr. Vicki Johnson
Thanks for being a part of the ProFellow community! Learn more about our Mission, History and Values here.
© ProFellow, LLC 2022, all rights reserved.