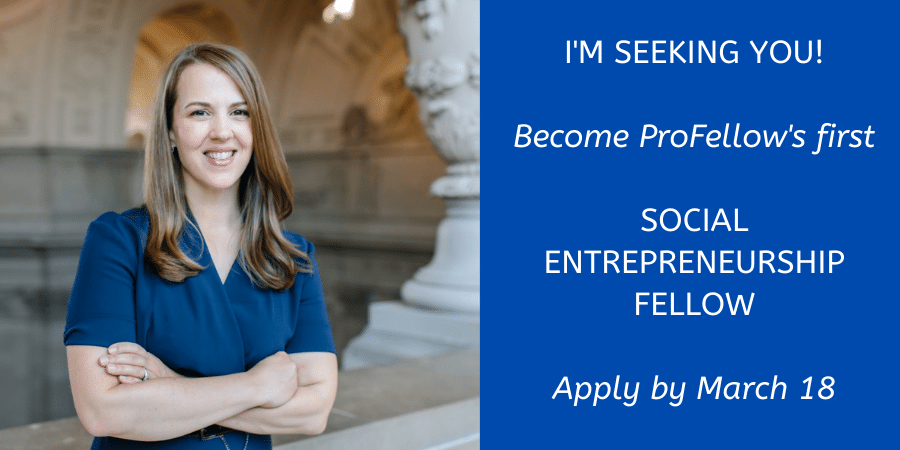 We're pleased to announce that ProFellow is now recruiting for its first Social Entrepreneurship Fellow! During this 6-month fellowship, the Social Entrepreneurship Fellow will have the unique opportunity to learn first-hand the mechanics of building and sustaining a social enterprise and will contribute to ProFellow's impact through a project of your own design. 
About ProFellow
ProFellow.com is the world's leading online resource for information on professional and academic fellowships. ProFellow's mission is to make funding opportunities easier to find and to share advice on the competitive application process. All of our content is voluntarily produced by current and former fellows who aim to pay-it-forward and inspire the next generation of aspiring fellows.
ProFellow attracts fellowship seekers from all over the world. We offer our readers a free fellowships database where you can search and bookmark more than 1,300 fellowships and funding awards for individuals. We also publish articles with application tips written by fellows, features and interviews with current and former fellows, and fellowship calls for applications. We also founded ProFellow Academy, a free private network where people can ask questions and access free courses on finding and competing for awards.
Since 2011, more than 4 million people have visited ProFellow.com and 130,000 people have registered to use our database. 80% of our audience is U.S.-based, but we have a growing readership in India, the United Kingdom, Canada, Australia and Nigeria. Most of our readers are early- and mid-career professionals in the social impact sector who are seeking funding for graduate school, professional development, research and creative projects.
ProFellow is a small, women-owned social enterprise based in San Francisco, CA. ProFellow's Founder and Director Dr. Vicki Johnson is a four-time fellow, top Ph.D. scholar, and award-winning social entrepreneur. Read more about our history.
As an organization, we believe in knowledge-sharing, positive support, diversity and inclusion, and paying-it-forward. Read more about our values. 
About the Social Entrepreneurship Fellow
We are seeking a Social Entrepreneurship Fellow to join our team for a 6-month full-time professional fellowship from April 2020 to September 2020 (start and end date is flexible). This fellow will have the opportunity to work directly with ProFellow CEO Dr. Vicki Johnson to learn the nuts & bolts of running a global social enterprise and the strategies to sustaining a social impact mission through entrepreneurship. 
The fellowship will include 3 parts:
Sales and Marketing:

The SEF will be trained in our advertising sales process and will execute sales and marketing as an assistant throughout the fellowship. Successful entrepreneurs know that sales and marketing is THE most important aspect of building and sustaining a business. As an apprentice in sales, you will be actively engaged in the core function of our business and you will be expected to contribute to our business development strategy to increase sales and revenue.

Impact Project:

The SEF will create and execute a self-designed project that will significantly impact any aspect of ProFellow's reach. For example, the project can be based around a goal related to sign-ups and conversions, SEO, brand awareness, PR, sales and new revenue streams. In the application, you will be asked to propose a project, but note, your project may change during the course of your fellowship as you learn new knowledge about our business. 

Fellowship Industry Report

: The SEF will lead the production of our first "2020 Fellowship Industry Report" to identify and share trends and best practices in the U.S. fellowship industry. We will collect data on this report through surveys and case studies with our esteemed fellowship partners who advertise and/or are listed on ProFellow's website. The purpose of the report is to serve the fellowship industry with information that will help organizations improve the impact of their fellowship programs, increase diversity and inclusion in their fellowship cohorts, and share best practices about fellowship program management, recruitment and selection. 
Fellowship Benefits:
This fellowship is a paid, full-time, contract position that can be done remotely, anywhere in the world. 
Full-time professional fellowship (contract role) from April 2020 to September 2020 (start date flexible)

Fully remote with flexible hours – this fellowship can be done virtually from anywhere in the world with an internet connection

Monthly stipend commensurate with experience 

Weekly planning and mentorship meetings with ProFellow Founder, Dr. Vicki Johnson

Access to an unparalleled network of current and former fellows globally

Professional reference for future jobs and applications
Eligibility: 
There are no age, education or citizenship requirements for this fellowship. We encourage anyone interested in the role to apply. However, we do have the following candidate requirements:
Excellent written and verbal English

Self-starter with proven project management skills

Detail-oriented

Demonstrated interest in business and social entrepreneurship

Supports our mission and values

Must have reliable, daily access to a computer with internet and the ability to participate in video conferencing
How to Apply:
We ask that you fill out this application form which includes short answers responses, a short personal statement, a project proposal, contact information for 2 professional references and your resume.  
The deadline to apply is March 18, 2020.
Applications will be reviewed once the application has closed. Interviews with finalists will take place via Zoom video conference the week of March 23rd.
The start date for the fellowship will be in early April 2020. 


If you have questions about the Social Entrepreneurship Fellowship, please contact us at [email protected].