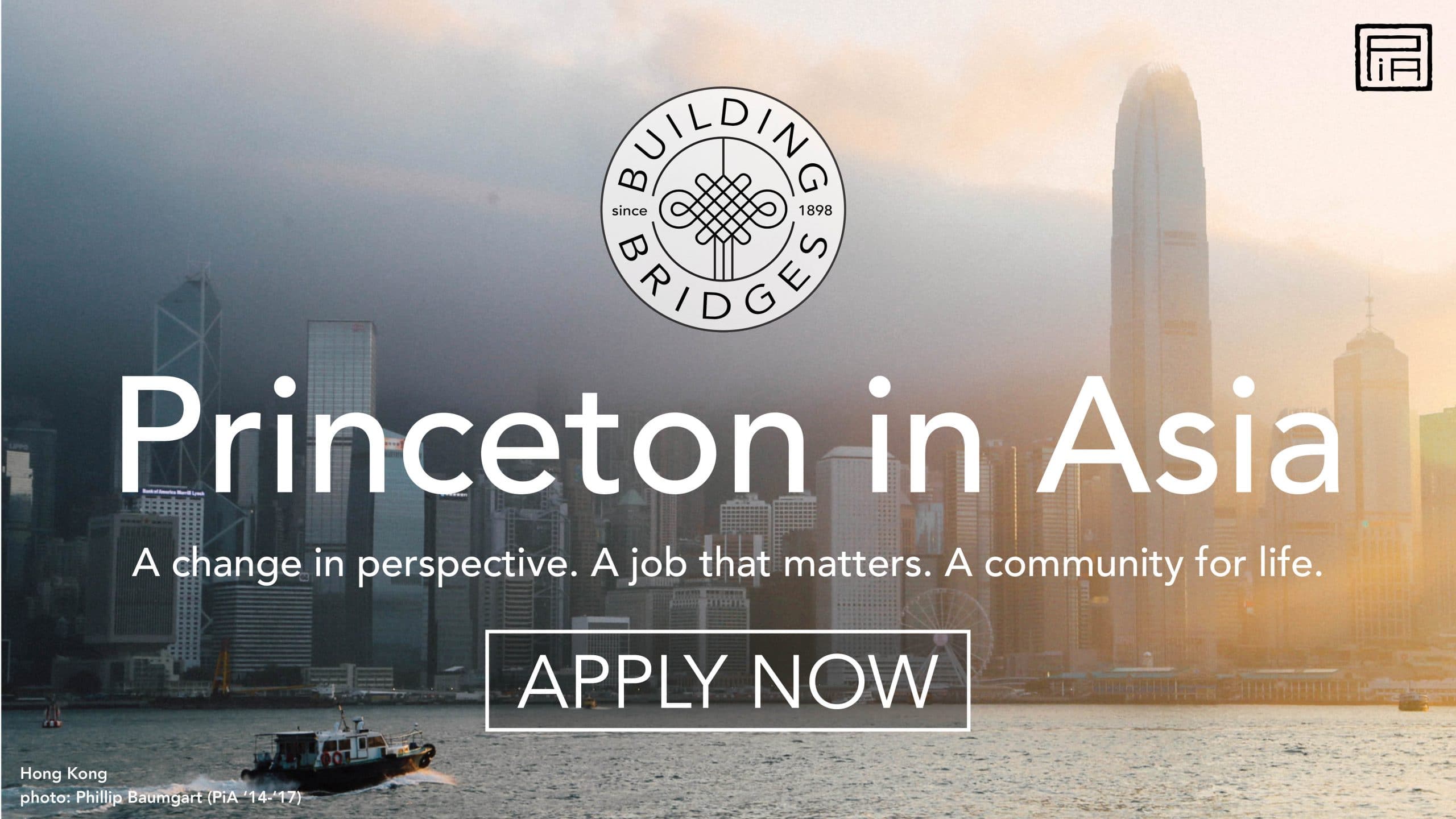 Sponsored by Princeton in Asia
The application for 2022-23 PiA Fellowships is now open! Submit your application via our online portal now 
To learn more about Princeton in Asia, visit the "For Applicants" page of our website.
Princeton in Asia (PiA) is an independent, non-profit organization affiliated with and located on campus at Princeton University. Founded by Princeton students in 1898, the program has long been driven by a mission to foster mutual appreciation and cultural understanding by connecting service-minded graduates and partner organizations in Asia through immersive work experiences that transform perspectives, cultivate long-lasting friendships and benefit local and global communities. It is PiA's vision that through extended exposure to Asian workplaces and cultures, Fellows will develop a life-long appreciation for and engagement in this part of the world, as well as a commitment to contributing to the local communities after their fellowship is complete. We like to think of PiA as "a change in perspective, a job that matters, a community for life." 
Princeton in Asia Fellows teach in kindergartens, secondary schools, polytechnics, and universities; they work with international and local nonprofits as well as some of Asia's most innovative businesses and social enterprises; they write for newspapers and create content for news platforms with an international reach. Considering the wide diversity of available positions, we encourage applicants of all disciplines and backgrounds to apply.
For the 2022-2023 fellowship cycle, PiA will be making significant changes in response to disruptions caused by the COVID-19 pandemic. We are working to develop the roster of available fellowships and fellowship countries, which will depend on a variety of factors, including the status of COVID-19 in-country and the feasibility of securing a visa. We will update our website with pertinent information as soon as it is available. 
In the 2019-20 cycle, PiA offered 140 full-year fellowships in the following locations: Cambodia, China, Hong Kong S.A.R., Macau S.A.R., Taiwan, India, Japan, Kazakhstan, Kyrgyzstan, Laos, Malaysia, Mongolia, Myanmar, Singapore, South Korea, Sri Lanka, Thailand, Timor-Leste and Vietnam. We anticipate this year's program will be smaller in size and scope, and we are working diligently with our host organizations to adapt to these changing and difficult circumstances.
The basic prerequisite for placement is a bachelor's degree. In addition:
All positions require professional proficiency in English, and English teaching positions require native English-speaking ability. Host countries' visa restrictions may limit our ability to place citizens of certain nationalities.

Asian language ability is not a prerequisite for most positions. Non-teaching positions typically require some language skills or specific academic or work experience. For requirements for specific positions, please refer to the "Our Fellowships" section of our website.

All applicants should have a valid passport by January 2022. For visa purposes, your passport should be valid for 18 months from your date of arrival in Asia. If you do not have a passport or your passport will expire soon, we encourage you to apply for or renew your passport now.

Applicants selected for an interview will be asked to complete an interview in January or February via online video call.

All applicants who receive placement in a teaching position will be asked to complete our virtual TEFL (Teaching English as a Foreign Language) certification course. You are not required to have any level of TEFL training/experience prior to applying to PiA. 

All applicants who accept offers from Princeton in Asia must complete PiA's virtual Orientation. More information on the Orientation program, including timing, will be provided when it becomes available. 
Costs
There is no fee to apply for a PiA fellowship.
Fellow contribution to travel medical and emergency evacuation insurance: $550. Paid via credit/debit card or check upon acceptance of a PiA fellowship. This contribution represents a fraction of the total cost of an insurance premium for the duration of a fellowship. Some full or partial contribution waivers are available upon request.

Vaccination and pre-departure health expenses.

Visa application fees and transportation fees to the nearest embassy for most positions.

Round-trip transportation to Asia for most positions.
PiA is dedicated to offering these experiences to as diverse and talented an applicant pool as possible. Though PiA has limited resources, financial assistance in the form of Fellow contribution waivers and travel grants is offered on a case-by-case basis. We will work with each applicant to ensure that financial considerations do not preclude anyone from applying for or participating in these opportunities.
Deadline: 3:00 pm EST on Monday, November 1st, 2021.


Not ready to apply this year? Bookmark Princeton in Asia Fellowships to your ProFellow account!
© Victoria Johnson / ProFellow, LLC 2021, all rights