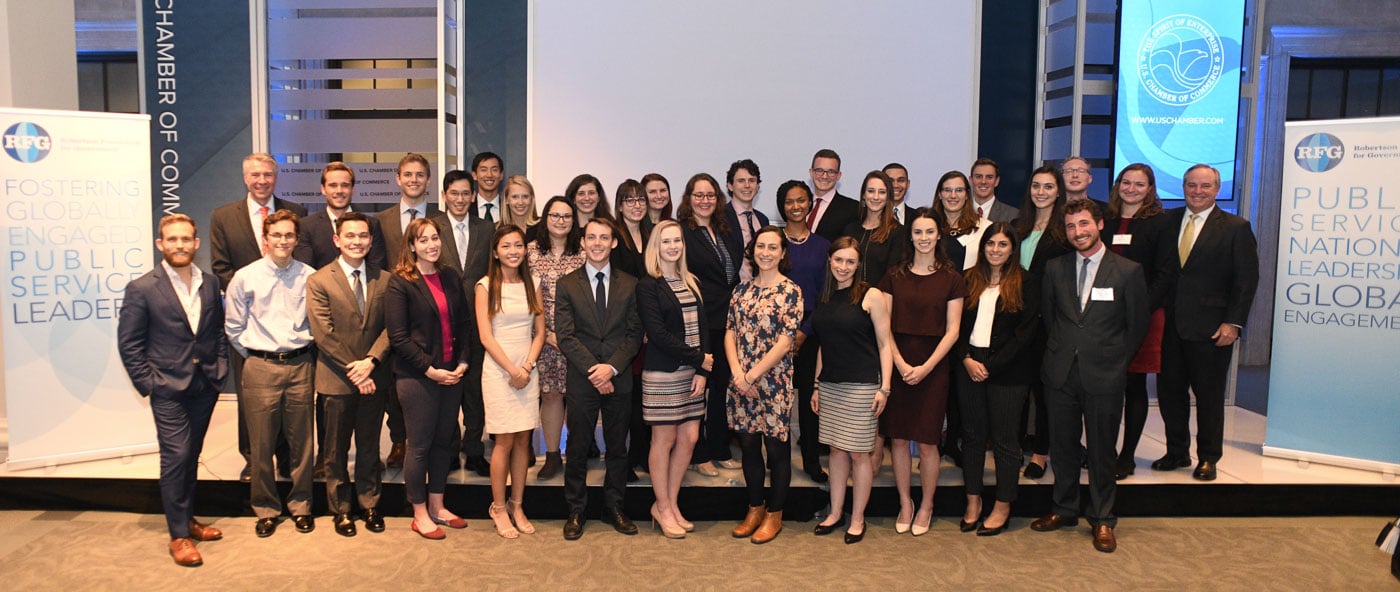 Sponsored by Robertson Foundation for Government
The Robertson Foundation for Government (RFG) is building a corps of public service leaders to help the United States formulate and implement international policies, programs, and partnerships for the benefit of American citizens and people around the world. Robertson Fellows are among the most promising students from some of America's leading graduate schools of public service, policy and administration.
RFG addresses the critical need for highly qualified, committed, globally aware individuals to serve the public as national leaders in roles that relate to foreign policy, international issues, and national security. The foundation supports outstanding graduate students who represent diverse perspectives with a common commitment to government service.
Benefits and Opportunities
Robertson Fellows share in a collegial cohort experience and participate in professional development programming during their master's degree studies and beyond. The fellowship significantly impacts career trajectories and expands circles of influence through academic support for two-year graduate degrees, and career-long professional development and networking opportunities. Robertson Fellows receive:
Tuition paid for a master's degree from one of four RFG-affiliated universities.

Annual stipend for books, equipment, supplies, transportation and living expenses.

Coverage of university health fees.

Paid trip to Washington D.C. for annual fellows' gathering and networking with policy experts.

$5,000 stipend for an internship with a U.S. government entity and support to pursue internship opportunities.

Guidance from an experienced government career advisor.
Location and How to Apply
Robertson Fellowships are available at RFG's four partner universities:
Bush School of Government and Public Service, Texas A&M University

Maxwell School of Citizenship and Public Administration, Syracuse University

School of Global Policy & Strategy, University of California San Diego

School of Public Policy, University of Maryland
Interested candidates may apply to one, multiple or all of the partner academic institutions. Each school has its own application requirements and procedures. For more information, please follow the link above and reach out to the contact person listed for the specific university.
Qualifications
RFG emphasizes equal opportunity in its programs and grantmaking, with a core value of incorporating diverse perspectives. We encourage candidates from all backgrounds to apply. Qualifications include:
Demonstrated leadership potential.

Passion for public service and commitment to a career in the federal government.

Agreement to work for the federal government for a minimum of three of the first seven years after graduation.

Focus on foreign policy, international relations or national security.

Excellent communication skills.

Functional fluency in a foreign language (or attain by graduation).

U.S. citizenship.

Flexibility, adaptability, and perseverance for work in a federal policy setting.

Acceptance into a two-year master's program at an RFG-affiliated university. 
When
Apply by the deadline for the specific partner university graduate program in order to be considered for a Robertson Fellowship in the 2022-23 academic year or beyond. 
Public Service. National Leadership. Global Engagement.  
Robertson Fellowship alumni join a growing community of civically engaged colleagues involved in a wide range of initiatives across the United States and around the world. Alumni also benefit from: 
Invitations to participate in RFG trainings and seminars and events by other groups for continuing professional development.

Ongoing access to an experienced public service career advisor. 

Up to $600 in annual support for activities that advance career skills.

Opportunities to participate in networking events sponsored by RFG and other organizations.
Join a network of leaders dedicated to public service in the U.S. Government!
For More Information
Contact [email protected] with questions. To receive the quarterly Robertson Report send an email to [email protected] with SUBSCRIBE in the subject line. 
Not ready to apply this year? Bookmark the Robertson Foundation for Government Fellowships to your ProFellow account!
© Victoria Johnson / ProFellow, LLC 2021, all rights reserved