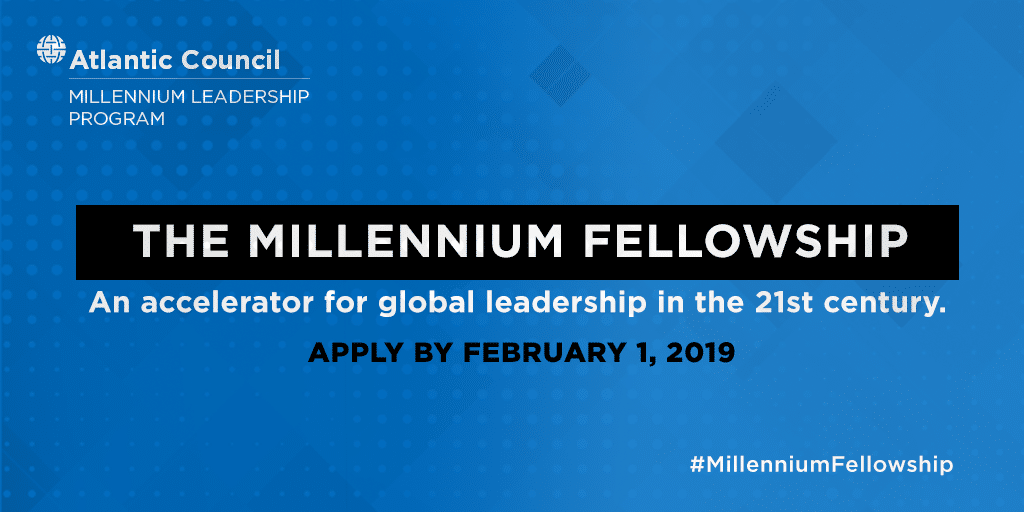 Sponsored by the Atlantic Council
We are seeking talented young leaders on the cutting edge of the most pressing global challenges, and we ask that you please help us attract recruits by passing this information along to your network. A link to the application is available here, but more detailed information regarding the Fellowship is located on our website, www.millenniumfellowship.org. The deadline for completed applications is February 1, 2019.
About the Recruitment Process
Each year, we solicit applications across every sector and around the world from high performing young leaders (ages 25-35) to join the Atlantic Council's Millennium Fellowship. The program is extremely competitive – we only select about 20 people annually – and last year we had over 650 applications from 100 countries.
About the Program
The Fellowship is a part-time, two-year commitment that features 6-8 weeks of in-person activities, including our annual study tours, conferences, and leadership retreats. The annual study tour is a particularly unique and valuable aspect of the program. These trips are once-in-a-lifetime "expeditions" that take young leaders to the front lines of key global trends and challenges. For example, in 2018 we focused on migration and took the group on a 2,500 mile journey that began near the Syrian border in Turkey, transited through the Aegean Sea (where they conducted an operational exclusion with the Turkish Coast Guard on their rescue vessels), visited the Greek Island of Lesvos and spent time in camps and with refugee community leaders, and concluded in Athens where they met with senior policy makers and political leaders. In 2019, our tour will take fellows to Colombia. 
Eligibility
Eligible candidates must be between 25-35, possess an interest and passion for the Council's mission of securing the future together, and be able to commit to attending our 2-week summer program in Colombia in May 2019. Beyond that, there are no technical requirements and we encourage applicants with nontraditional backgrounds (the community is diverse by design and includes internationally renowned and award winning artists, authors, academics, activists, and others, as well as business leaders and officials).
Deadline
The deadline to apply is February 1, 2019.


---
Not ready to apply right now? Bookmark the Millinneum Fellowship to your ProFellow account.