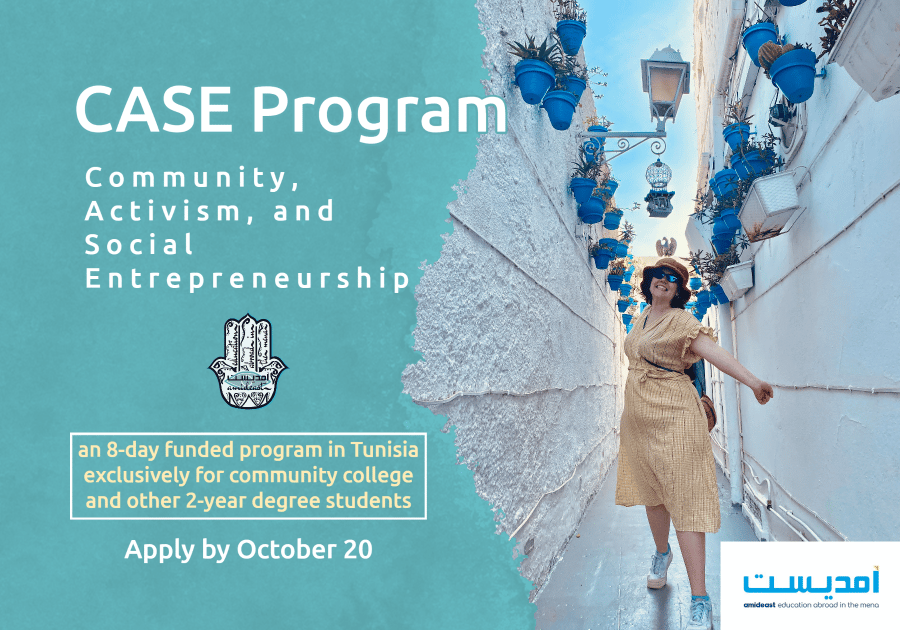 Sponsored by Amideast
The CASE: Community, Activism, and Social Entrepreneurship Program
The CASE Program is an 8-day fully funded, guided program in Tunisia specifically for students of 2-year institutions and 2-year or similar pre-baccalaureate degree programs at 4-year institutions. Participants will be introduced to the world of advocacy and civil society organizations in and around Tunis through daily presentations, panel discussions, engagement with local peers, tours, and community service. Participants will interact with leading organizations, activists, and community leaders on topics of civic engagement, sustainability, race and indigeneity, gender, migration, and other critical global justice issues through Tunisian and North African lenses.
Highlights:
You will be accompanied by a Program Leader experienced in the region and with the community college system.

You will learn with and hear from leaders in the fields of civil society, sustainability, race, gender, and indigenous people in Tunisia.

You will explore Tunis, the vibrant ocean-side capital of Tunisia.

You will come away ideas and plans for using your experience to benefit your home communities.

Amideast

works exclusively in the Middle East and North Africa (MENA) and has been doing so for over 70 years – we are experienced professionals in the study abroad field and the MENA region.
Eligibility:
Applicants to the CASE Program must be:
U.S. citizens or permanent residents of the U.S.

Currently enrolled at a 2-year institution or seeking a 2-year degree or similar pre-baccalaureate degree program at a 4-year institution.

Fully vaccinated for COVID-19, including at least 1 booster, at least 30 days before the program start date.
Note: Knowledge of Arabic or French language is not required to participate on this program. All program activities will be conducted in English.
What makes a competitive applicant?
While our eligibility list is short, preference will be given to candidates who demonstrate the following:
The maturity and independence to navigate and engage with Tunisian culture and people, as well as with peers in a diverse program cohort.

Curiosity and adaptability

Ability and position in home communities to use experience gained on this program to the benefit of the community.
Application and Program Timeline:
Application timeline:
October 20 – application deadline

End-October through end-November – approximately 30 semi-finalists will be asked to do a short phone interview

Before the new year – 15 finalists will be notified
Post-decision timeline:
Immediately after selection – finalists will be able to apply for extra funding to assist with passport fees and airfare

Winter and spring – 

Finalists will be invited to join the Amideast Online LMS where Amideast will host pre-departure webinars and provide resources on logistics, preparation, and Tunisia as a host country

Finalists should complete all post-decision questionnaires in their application portals (medical information forms, accommodation requests, passport information, etc.)

By early May – all finalists should have their passports and plane tickets, and completed all post-decision materials

June 2 – departure day! Program runs from June 3 to June 10, 2023.
Benefits:
This is a fully funded opportunity. Funding covers:

Pre-departure programming

Hotel accommodations

Meals

Airport transfers

International medical and evacuation insurance

Program activities and associated local transportation costs

Ongoing program support on-site

Additional aid is available for airfare and passport fees.

All students who successfully complete the program will be Amideast Alumni and have access to our alumni network, events, and discounts on future programs.
Apply:
Are you as excited as we are? Apply now to be part of the first CASE cohort! Applications are brief, but do require a recommendation, so please plan ahead in order to meet the October 20th deadline!
Deadline: October 20, 2022
If you have any questions, please contact us at [email protected].
Stay in Touch:
If you would like to stay up-to-date on Amideast programming, scholarship opportunities, and other initiatives, consider signing up for our mailing list here, or follow us on Instagram, Facebook, LinkedIn, or Twitter.