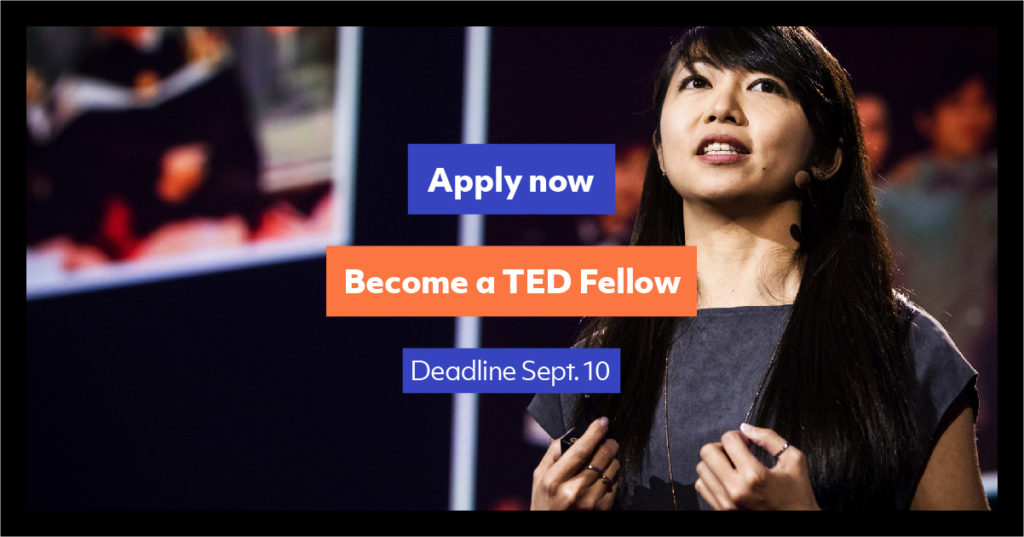 Sponsored by TED Fellows
TED is looking for early-career, visionary thinkers from around the world to join the Fellows program at the upcoming TED2018 conference in Vancouver, British Columbia.
TED Fellows are a multidisciplinary group of remarkable individuals who are chosen through an open and rigorous application process. For each TED conference, TED selects a class of 20 Fellows based on their exceptional achievement and an innovative approach to tackling the world's toughest problems, as well as on their character, grit and collaborative spirit.
TED2018 — themed "The Age of Amazement" — will take a deep-dive into the key developments driving our future, from jaw-dropping AI to glorious new forms of creativity to courageous advocates of radical social change. If selected, you will attend the TED2018 conference and participate in a Fellows-only pre-conference designed especially to inspire, empower and support your work. Fellows also deliver a TED Talk at the conference, filmed and considered for publication on TED.com.
The TED Fellows program is designed to catapult your career through transformational support like coaching and mentorship, public relations guidance for sharing your latest projects, hands on speaker training — and, most importantly, access to the vibrant global network of more than 400 Fellows from over 90 countries.
The online application includes general biographical questions, short essays on your work and three references. Only those aged 18 and older can apply. Applications close September 10, 2017. If selected, Fellows must reserve April 7 – 15, 2018 on their calendars for the TED2018 conference in Vancouver, British Columbia.
Who should apply
We look for different applicants than many other leadership-oriented programs. Instead of business people, professionals, policy wonks and government officials, the TED Fellows program focuses on doers, makers, inventors, advocates, filmmakers and photographers, musicians and artists, scientists, entrepreneurs, NGO heads, and human rights activists.
In addition to impressive accomplishment, two very important traits we look for in every potential TED Fellow are fine character and a good heart. More than anything, this focus on character has defined the success of the TED Fellows program.
The application process
We welcome anyone over the age of 18 to apply. We choose 20 Fellows to attend each TED Conference. To be reminded when TED Fellowship applications open, please sign up for updates.
The selection process
TED Fellows are selected by the program staff, with extensive reference checking and consultation with experts across all fields. Selections are made by the group as a whole, not by individuals.
There is no algorithm for how we select our TED Fellows. We select Fellows based on their accomplishments in their respective fields, the potential impact of their work and also, most importantly, their character. The ideal applicant is multidisciplinary in their pursuits, and is at a moment in their career to maximize the support of the TED Community.
Deadline to apply: September 10, 2017


Contact
For more information, visit: http://www.ted.com/fellows
Follow: @tedfellow
Like: http://www.facebook.com/TEDFellow
Read: https://medium.com/ted-fellows
About the TED Fellows program
The TED Fellows program recognizes extraordinary, iconoclastic individuals at work on world-changing ideas, offering them tools to amplify the power of their vision. Each year, we select a group of 20 Fellows, inviting them to a private Fellows conference in conjunction with TED. The Fellows conference offers skill-building courses taught by world experts, an opportunity to network with the Fellows community, and the chance to present their own work to the TED community in an onstage talk, which is filmed and considered for TED.com. This is also a chance to be part of an extraordinarily active and supportive community well beyond the one-year fellowship.
Throughout this application process, we seek remarkable thinkers and doers who have shown unusual accomplishment, exceptional courage, and the potential to create positive change in their respective fields – including technology, entertainment, design, science, film, art, music, entrepreneurship, the NGO community and beyond. Since the program was founded in 2009, 436 Fellows from 94 countries have participated in TED and/or TEDGlobal.
---
Not ready to apply this year? Bookmark TED Fellows to your ProFellow account.