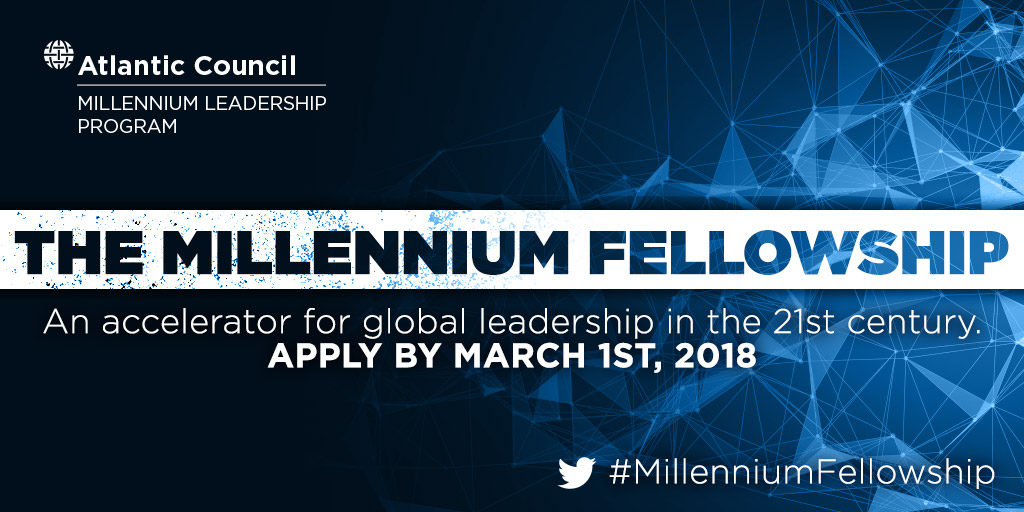 Sponsored by the Atlantic Council
The Atlantic Council is now accepting applications and nominations for the 2018 class of its Millennium Fellowship.
We seek leaders, innovators, and agents of change, ages 25-35, to join our growing, multidisciplinary, and international community of fellows at the Atlantic Council. Ideal candidates will possess an entrepreneurial spirit, bold vision for the future, character to lead and inspire, and passion for solving global challenges. Fellows may come from any country and a range of backgrounds including, but not limited to: government, civil society, business, the arts, journalism, politics, and the military.
Snapshot of our Fellows
Award-winning film-makers, journalists, and artists countering violent extremism, human trafficking, and corruption. Scientists, entrepreneurs, and executives on the cutting edge of artificial intelligence, climate change, and the fourth industrial revolution. Elected officials, advisors to heads-of-state, and senior policymakers shaping the future of public health, democracy, immigration, and security cooperation. These are just some of our millennium fellows – accomplished leaders and innovators with a shared commitment to solving global challenges.
About the Millennium Fellowship
This two-year, part-time program brings together top young leaders around the world who share the Council's mission of securing the future together through multiple in-person programs ranging from 2-10 days each. It accelerates their development as global leaders – individuals who can navigate the complex relationships among nations, across sectors, and between cultures required to forge the truly collaborative and comprehensive solutions we need to address our greatest global challenges. Through the program, fellows will:
Join a global and cross-sectoral network of exceptional peers with in-person programming throughout the year,
Meet world leaders and senior experts at high-profile conferences and exclusive events,
Explore global challenges first-hand with study tours to the places most affected, and
Shape the debate and share the stage with opportunities to speak, publish, and collaborate with the Atlantic Council on projects with direct impact.
2018-2019 Program – July 2018:
Each year, the fellowship explores several major issues shaping our international system through an intensive 10-day core program featuring a study tour, global conference, and leadership retreat. Required for every new fellow, the 2018 core program will include:
Study Tour: The Aegean Refugee Crisis (visits to Turkey and Greece)
Global Conference: 2018 NATO Town Hall, collocated with the 2018 NATO Summit
Leadership Retreat: Top skills trainers and thought leaders conduct private master classes for fellows
Beyond the core program, fellows also receive invitations to exclusive Atlantic Council events, ranging from 2-5 days each, around the world where they gather in smaller groups around specific issues and benefit from more targeted programming. The 2018 Event calendar includes, but is not limited to:
2019 Program and Beyond
In the second year of the program, fellows attend a second core-program and have access to a second year of the open calendar of events. Costs for the core program are completely covered and stipends for the open events are sometimes available. Upon conclusion of their two-year term as fellows, participants transition to alumni and can expect a long-term relationship and continued engagement by the Atlantic Council as we seek to invest in their future and create opportunities to collaborate with on projects with immediate and direct impact.
Further information regarding our current and past fellows, programming, and the Atlantic Council can be found at www.millenniumfellowship.org.
Join us in shaping a more secure future together.
The Deadline to Apply is March 1, 2018


---
Not ready to apply today? Bookmark the Atlantic Council Millennium Fellowship to your ProFellow account.