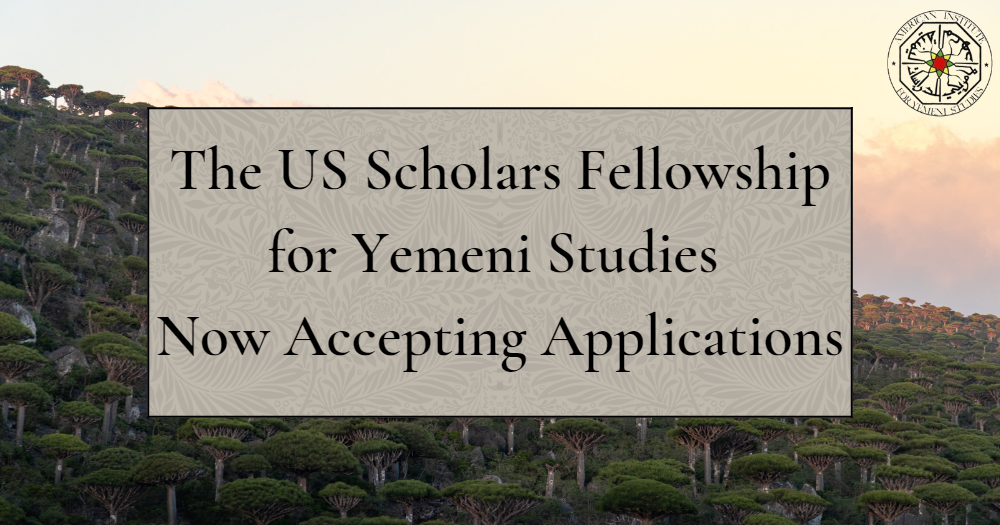 Sponsored by the Council of American Overseas Research Centers (CAORC)
The American Institute for Yemeni Studies (AIYS) is now accepting applications for the US Scholars Fellowship until February 8th, 2023! This fellowship enables US scholars to travel and complete research on Yemen in any academic discipline.
Proposals are invited from graduate and post-graduate scholars in all disciplines. Collaborative or group projects, including collaborations with Yemeni researchers, are also invited. 

To qualify for the fellowship, travel must be carried out outside of the U.S. and Yemen. Previous fellows have gone to Lebanon for the Jafet Library Special Collections at the American University of Beirut and to the Netherlands for the Leiden Collection of Ancient South Arabian Stick Inscriptions at Leiden University. This fellowship allows for a wide range of creativity, so don't miss out! If you'd like to learn more, click here for an article that talks to previous fellows about their research and their experiences on the fellowship.

Eligibility/Guidelines:
US citizens

Graduate students or post graduate professionals

You must travel outside of the US and Yemen
1-2 awards for up to $5,000 will be given out for the 2023 cycle. To learn more about the fellowship, click here.
How to Apply:
Non-AIYS members are encouraged to become an AIYS member, click here to become a member.
Once the fellowship is open for applications, click the 'Apply Here' button to be taken directly to the online application. The documents listed below are required to be submitted along with your application in order for your application to be considered eligible for review.​
Application Form

A Research Proposal (not more than 2,000 words)

Detailed Budget Proposal

Current CV or Resume

Two letters of support

Graduate students must submit a copy of their transcripts.
It is advisable to enter your recommender's contact details into the recommendation letter section of the application as soon as possible (and click 'mark as complete') so that they have sufficient time to complete and upload their letter. Note that the applicant is responsible for checking in with their recommender to ensure the letter is submitted by the recommender deadline
Application deadline: February 22nd, 2023 at 5:00PM ET
Recommendation letter deadline: February 24th, 2023 at 5:00PM ET
​Notification of award decisions: Mid-April, 2023
​​​If you have questions, please email [email protected]
Application deadline: February 22nd, 2023 at 5:00PM ET
Not ready to apply this year? Bookmark the AIYS Fellowship Programs to your ProFellow account.
ProFellow, LLC 2023, all rights reserved