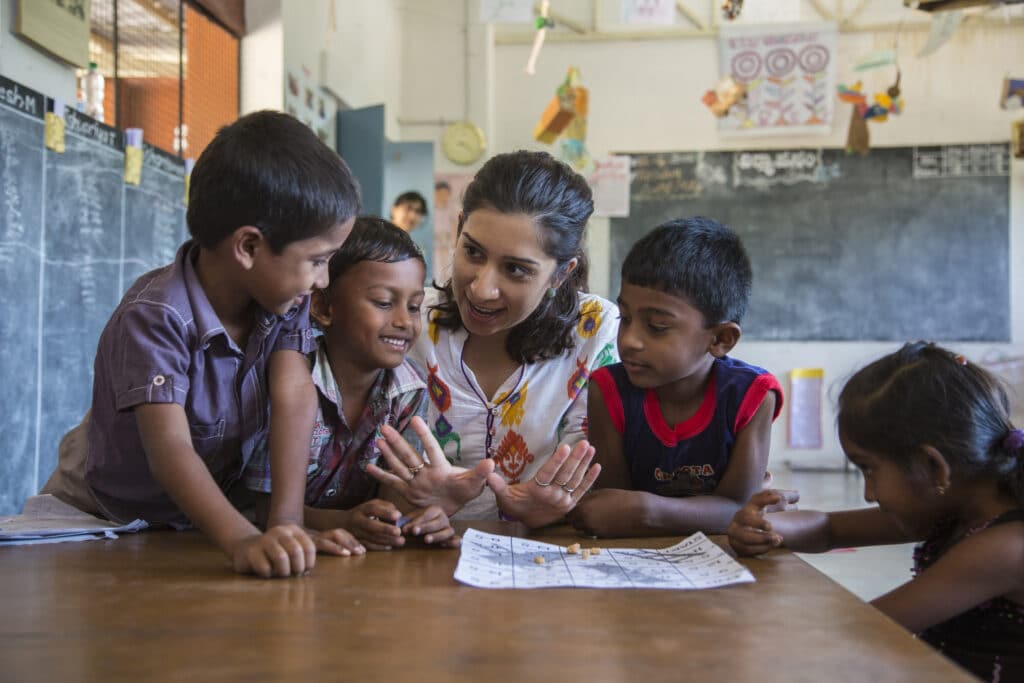 Sponsored by the American India Foundation
Applications are now open for the 2023-24 AIF Banyan Impact Fellowship for service in India!
We believe that cross-cultural partnerships give rise to innovation.
The American India Foundation's (AIF's) Banyan Impact Fellowship for service in India is an interdisciplinary, experiential learning program that places young professionals from India and the U.S. in service with development organizations in India. Through collaboration and capacity-building, Fellows and local communities exchange knowledge and skills to steer projects that advance social and economic development. Fellows learn about grassroots development and inclusive leadership. 
Who Are the Fellows?
The Fellowship recruits consist of young professionals from India and the U.S., between 21 and 35 years of age, with remarkably diverse professional and personal backgrounds, who bring a passion for community based development. AIF selects, trains, and places these individuals directly with partnering implementation organizations across India. Fellows serve through contributing their efforts and skills to developing ongoing initiatives, as well as strategizing new projects for the host organizations. To review previous Fellow bios and placements, please check www.aif.org/fellowship/fellows.
Benefits
AIF provides Fellows with a living stipend, health insurance, professional development, mentorship, and programmatic benefits to enable their service. Selection of Fellows includes a written application and an interview, followed by matching with potential partner organizations for projects.
AIF also presents its fellows with an additional professional development platform: The Atlas Corps Virtual Leadership Institute (VLI). The VLI is an online leadership development program that focuses on the three themes of developing self, developing others, and leading movements, while also strengthening connections between the AIF Fellows and the global Atlas Corps Community. This five-month online program includes sessions with keynote speakers, interactive workshops, self-led activities, discussion groups, and community-building activities with U.S. organizations and leaders. Participants, also known as Scholars, will also work on individual leadership projects that benefit the communities or organizations where the Scholars work. 
Program Dates
September 1, 2023 – June 30, 2024
Eligibility
Applicants must be either U.S. Citizens, U.S. Permanent Residents, or Indian Citizens.

Applicants must be young professionals between the age of 21-35 by the program start of September 1, 2023.
Applicants must have completed at least a Bachelor's or other undergraduate degree before the program starts on September 1, 2023.
Applicants must be willing and able to serve on the ground in India for the full duration of the program.
Applicants must be willing to receive a COVID-19 vaccine before the start of the program.
Applicants must bring both skills and experience, as well as an eagerness to learn with host communities on the ground.
Applicants must be willing to learn a local language if required for the project.
Applicants must be committed to enriching learning opportunities for the fellowship community and positively contribute to building U.S.-India bridges of understanding and partnership during their time of service and after.
Deadline: February 10, 2023
---
ABOUT AIF
The American India Foundation (AIF) is dedicated to catalyzing social and economic change in India and building a lasting bridge between the United States and India. AIF is committed to improving the lives of India's underprivileged, with a special focus on women, children, and youth. AIF does this through high-impact interventions in education, health, and livelihoods because poverty is multidimensional. AIF's unique value proposition is its broad engagement between communities, civil society, and expertise, thereby building a lasting bridge between the United States and India. Working closely with local communities, AIF partners with non-government organizations (NGOs) to develop and test innovative solutions and with governments to create and scale sustainable impact. Learn more at www.AIF.org
QUESTIONS
For details on the Fellowship structure and application process, look up https://aif.org/fellowship/faq/. If your question isn't answered there or if you require any support with the application, please email [email protected] directly. Given the volume of emails we receive, please be mindful that replies may take longer than usual. Once you have completed the application, an AIF representative will be in touch for further evaluation and information after the deadline
For details on The Virtual Leadership Institute, look up https://atlascorps.org/faq/.
---
Not ready to apply this year? Bookmark the Banyan Impact Fellowship to your ProFellow account.
ProFellow, LLC 2022, all rights reserved