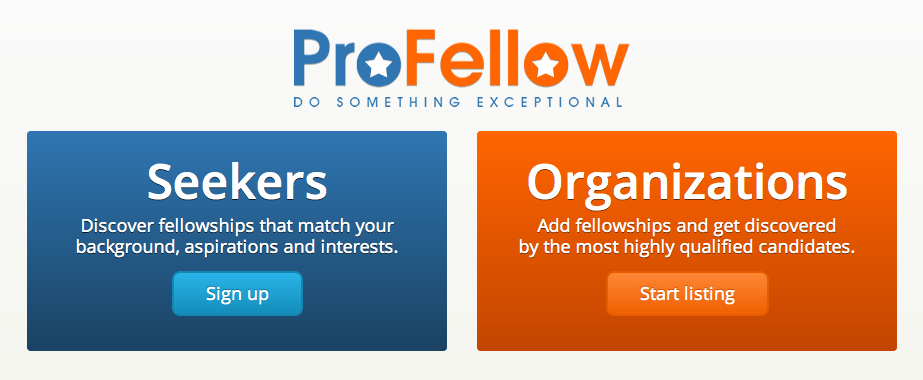 We're pleased to announce that our private beta is now under way. Throughout the last week we've gradually been inviting a select group of individuals and organizations to participate, something we will continue to do over the coming weeks and months. We want everyone to know how important it is to us to be transparent and accessible to our users, so moving forward we'll be posting regular updates on our blog. Okay, here goes the first one!
Keeping it simple
To start we've intentionally made our interface very basic. Traditional fellowship, grant and scholarship databases tend to overwhelm users with lengthy forms or filters, upon filters, upon filters intended to make finding funding easier, but often times having the opposite effect. We know that there are many fellowships that individuals qualify for that they often unknowingly exclude themselves from. For this reason we've adopted a minimalist approach and will be relying heavily on testing and user feedback for new features. We've received excellent feedback so far. Please keep it coming!
We're already growing
We started the beta with 200 fellowships, and this week alone, 70 new fellowships were added. Our database now represents nearly 14,000 fellowship awards worth more than $600 million in annual funding. Although we have several opportunities for foreign nationals, most of our current opportunities are for U.S. citizens and/or residents. This is by design, but certainly not permanent. We've partnered with several U.S. universities for participation in our beta so we've consciously focused on opportunities for those students. It's our goal for ProFellow to be useful to people of all backgrounds and citizenships, so over the course of the beta we'll continue to add more opportunities for all nationalities and disciplines.
Start the conversation
In addition to helping make the process of finding fellowships easier, we want to help you win them. No better way to do that than to start talking about the fellowships you're interested in. Some of you may or may not have noticed the comments section at the bottom of each fellowship record. This is the ideal place to start the conversation!
Kudos
We just wanted to say thanks for all of the kudos that we've received so far. We have a long way to go, but we're excited about ProFellow and are glad that you are too. Here's a few of our favorites from this week.
"I would like to be the first to tell you that this website is so flipping cool." – Rose, University of Delaware

"This site is amazing. It is making scholarship and fellowship search so much easier and less time-consuming." – Allison, California State University, Fullerton

"I love your site.  It's fantastic for someone like me since I'm a rising college senior and will be applying to a lot of fellowships in the Fall." – Julia, Swarthmore College
That's all for now, but we'll keep the posts coming. To make it easy for you to keep up with all beta related posts we created a "beta" category. Just click the link on our sidebar to see all of the posts. Have a great weekend!