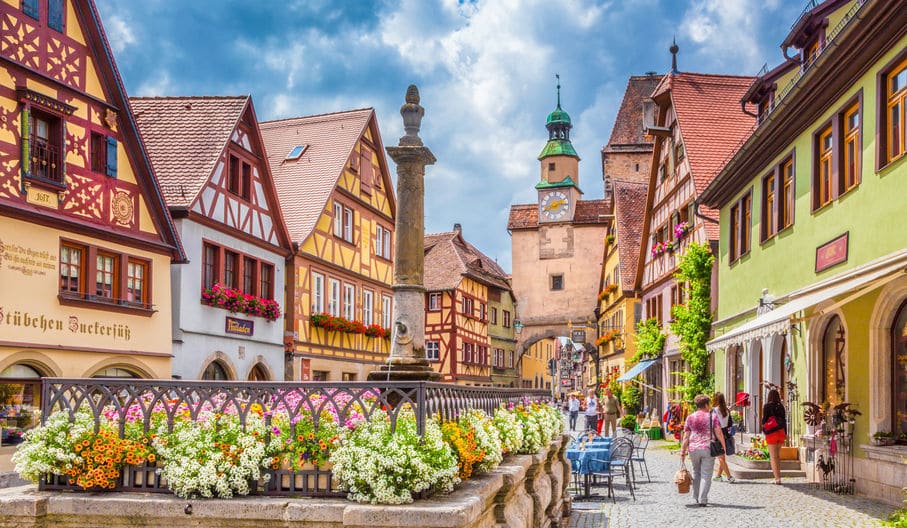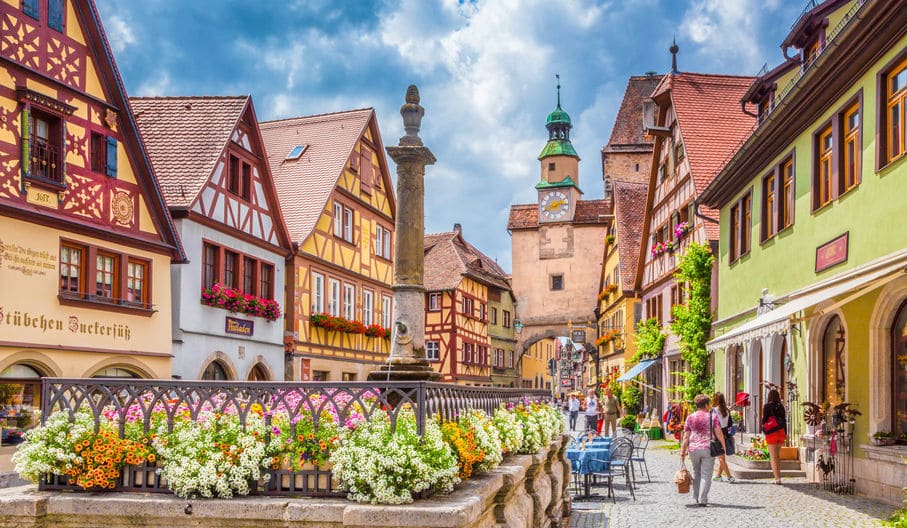 You've got 8 weeks to apply! There are opportunities this week for graduate students, PhD scholars, and early- to mid-career professionals. There are a number of international fellowships and a variety of disciplines represented, including advocacy, teaching, STEM, journalism, poetry, and international studies. Apply now!
Not ready to apply this year? Click the links to bookmark these fellowships to your ProFellow account.
Upcoming Fellowship Deadlines: April 26 – May 2, 2020
Bryce Harlow Fellowship

: The Bryce Harlow Fellowship supports highly motivated students in pursuit of a career in professional advocacy through government relations and lobbying. Fellowships are awarded to individuals who undertake graduate level studies on a part-time basis and work full-time. Graduate programs may include, but are not limited to, public policy, law, and business. The $8,000 award will help defray tuition costs and will be paid directly to the university. Students will also receive mentoring from the foundation's board members and career development support throughout the fellowship, which can be renewed each year of the graduate degree. / Due April 26, 2020
Enterprise Rose Architectural Fellowship: Enterprise Rose Architectural Fellows are provided a unique three-year fellowship offering unparalleled learning and networking opportunities. Fellows work full time within their host organizations in cities like Denver, New York and Seattle, helping to build capacity and bringing fresh ideas. In exchange, the hosts provide mentorship and guidance, supporting the development of the fellows' careers with meaningful hands-on experience. Enterprise provides an annual stipend of $52,000, coaching and training, along with industry networking. Applicants must posses a professional degree in architecture. / Due April 26, 2020
EnCorps STEM Teaching Fellowship

: The EnCorps STEM Teaching Fellowship is a career pathway that includes a volunteer pre-service component: tutoring and/or guest teaching in high-need schools and after-school programs. Fellows are matched with an EnCorps partner school and commit to 2-5 hours per week. EnCorps provides study materials for such exams as the CSET, credentialing resources and research and scholarship and professional development award opportunities. Applicants must have 3+ years of work or research experience as a STEM industry professional and currently live in an area we serve: Greater San Francisco Bay Area, Greater Sacramento Area, Greater Los Angeles Area, Orange County, or San Diego. Final deadline in April. / Due April 27, 2020
CAO Graduate Research Fellowship Program: The Center for Advancing Opportunity (CAO) Research Fellowship Program is driving the discovery of evidence-based solutions to remove barriers to opportunity. The fellowship seeks to expand educational, social and economic opportunities in fragile communities in the U.S. Future leaders passionate about eliminating inequality, researching its causes, and contributing to innovative solutions are invited to apply. The fellowship award is applicable to tuition, fees, a stipend or a combination of the three for up to $40,000 a year. Applicants must be current doctoral students at a U.S. university. / Due April 27, 2020
IGNITE Fellowships: IGNITE recruits a new cohort of diverse and passionate women in communities across the United States and provides them with resources, training and networks to launch political careers. Each Fellow launches a regional college council for 20-30 politically ambitious young women from a group of local college campuses. Each College Council meets for bi-monthly weekend retreats. Fellows represent the political spectrum and are deeply motivated, take initiative, have organizing experience on college campuses and have a track record building new initiatives. IGNITE Fellows are compensated with a $10,000 stipend. Different deadlines for each city. / Due April 27, 2020
Gabr Fellowship: The Gabr Fellowship is for emerging leaders in the areas of art, science, media, law and both social and business entrepreneurship. Gabr Fellows travel to Egypt and the U.S. to develop a better and in depth understanding of each other's societies, customs, traditions, religions, politics, law, art, science and business environments. The group meets with renowned public figures to explore challenges faced by their societies and the global community today. Applicants should have big ideas and a strong interest in transnational dialogue. All applicants must be 24 to 35 years of age and must be citizens of Egypt, Great Britain, Jordan, Lebanon, France and the United States. / Due April 30, 2020
Winston Churchill Fellowships for Australian Citizens

: Churchill Fellowships will be awarded for the purpose of pursuing a 4-8 week overseas investigative project of a kind that is not readily available in Australia. It also aims to reward proven achievement of talented and deserving Australians with further opportunity in their pursuit of excellence for the enrichment of Australian society. No prescribed qualifications are required in order to apply for a Churchill Fellowship. Applicants must be Australian Citizens and age 18 or older. The value of every Fellowship is based on the number of countries visited, the duration of the approved Fellowship and an estimated airfare. / Due April 30, 2020
Ruth Lilly and Dorothy Sargent Rosenberg Fellowships

: Five Ruth Lilly and Dorothy Sargent Rosenberg Poetry Fellowships in the amount of $25,800 each will be awarded to young poets in the U.S. through a national competition sponsored by the Poetry Foundation, publisher of Poetry magazine. Established in 1989 by the Indianapolis philanthropist Ruth Lilly, the fellowships are intended to encourage the further study and writing of poetry. Applicants must be U.S. citizens between 21 – 31 years of age at the time of application. / April 30, 2020
Wellcome Trust International Training Fellowships

: The International Training fellowships offer nationals of low- and middle-income countries the opportunity to receive training at the postgraduate or postdoctoral level. Research proposals should focus on a health priority in a low- or middle-income country. The fellowship is for 3 years and includes a salary plus coverage of other fees and research costs. Fellows are encouraged to collaborate with researchers in other low- and middle-income countries. Fellows will work with a sponsoring institution to learn new skills and become leaders in independent research. / April 30, 2020
Millennium Fellowship

: The Millennium Fellowship is a semester-long leadership development program that happens on university campuses located around the world. Fellows will work together with a cohort of other undergraduate classmates to create sustainable initiatives that produce social good. Leadership training is a key component of the fellowship and fellows will put their newly learned skills into practice immediately as they design projects that are meant to have a social impact from the beginning. Fellows will have access to a global network of other alumni and can continue working on meaningful projects well after their graduation. / Due April 30, 2020
The Academic Research Institute in Iraq Fellowship- U.S. Citizens

: The Academic Research Institute in Iraq (TARII) is inviting post-doctoral and advanced pre-doctoral researchers to conduct research focused on subjects in historical academic fields from ancient Mesopotamia to modern Iraq. Potential projects include: research in archives in Europe, Turkey, or India, interviews with Iraqis living abroad, remote sensing of ancient Iraqi landscapes, collaboration between a U.S. scholar and an Iraqi living in Iraq. Financial awards are up to  $7,000 and based on merit by a review panel consisting of scholars from member universities. / Due April 30, 2020
The Academic Research Institute in Iraq Fellowship– Iraqi Citizens

: The Academic Research Institute in Iraq (TARII) is inviting Iraqi citizens who are university faculty members, post-graduate researchers, or current graduate students to conduct research focused on any field of the humanities or social sciences. Financial awards are up to  $4,000 and based on merit by a review panel consisting of scholars from universities that are members of TARII. / Due April 30, 2020
Urban Studies International Fellowships: The purpose of the Urban Studies International Fellowship is to expand theoretical and empirical understanding of the major social, economic, political and other problems associated with the rapid processes of urban growth in the Global South. The fellowship covers the costs of a sabbatical period (3 – 6 months) at a university of the candidate's choice in the Global North or South for the purpose of writing up the candidate's existing research findings in the form of publishable articles or a book in collaboration with their host university. The scholar must hold a PhD and be a national from a country in the Global South. / Due April 30, 2020
Dismas Family Farm Fellowship: Dismas House of Massachusetts, Inc., seeks a fellow for the Dismas Family Farm, a 12-bed, vocational farm for recently released prisoners. The fellowship is a unique, fully-funded, one-year, post-baccalaureate, service opportunity. The Fellow lives in solidarity with the residents of the Dismas Family Farm and helps coordinate daily activities at the farm. Fellows have a commitment to issues of social justice, excellent verbal and written communication skills, and are comfortable working with individuals from diverse socioeconomic backgrounds. All applicants must be recent graduates from a 4-year college or university. / Due April 30, 2020
Emerging Writer Fellowships: The Emerging Writer Fellowships are designed to provide 12 months of uninterrupted time and studio space to write and mentorship with feedback from a nationally established author in their respective genre. Fellows may attend one community creative writing workshop per semester and may attend one Miami Writers Institute workshop in the genre of their manuscript-in-progress. Applicant must not have published in any genre a book-length work, have a book under contract, or be negotiating a contract either in the United States or abroad by the time the fellowship begins. Each fellow receives a stipend of $41,000 / Due April 30, 2020
New York State Senate Graduate Fellowships: The fellowships provide a one-year placement for recent graduates in the office of an elected member in Albany, NY. While duties vary depending on the needs of the member, Fellows generally perform in-depth policy research, take part in meetings. In most cases, Fellows must be full-time matriculated graduate students in an accredited university during the immediate previous spring and fall semesters. Fellowships are not financial aid for academic work, on-campus or classroom study. Applications from a wide range of interests and disciplines are welcome and encouraged. Provides a stipend of $33,000. / Due April 30, 2020
Healthline & Feeding America Stronger Scholarship: The Healthline & Feeding America Stronger Scholarship is dedicated to the advancement of food security and access to nutrition, either through research, raising awareness, community building, or increasing access. The program will award four students (two undergraduate, two graduate) with a $5,000 scholarship each. Applicants must be a U.S. resident with a minimum cumulative GPA of 3.0 and demonstrated involvement in the advancement of nutrition and/or food security and access to nutrition, either through research, raising awareness, or community building. Nutrition can include, but is not limited to: food security, access to nutrition, food justice and equity, agriculture, and eating disorders. / Due April 30, 2020
CivicSpark AmeriCorps: CivicSpark is a Governor's Initiative AmeriCorps program in California dedicated to building capacity for local governments to address climate change, water, and land-use needs. Fellows have the opportunity to gain valuable experience in their field, build office professional skills, and develop a strong network, while creating a lasting impact in their service community during their 11 months of service. The program offers two fellowship tracks: CivicSpark Climate (50 Fellows) and CivicSpark Water (20 Fellows). Fellows receive a $16,000+ living allowance (before taxes) spread evenly over 11 months; Segal Education Award of $5,815 at the completion of service; and health insurance, among other benefits. / Due April 30, 2020
Hector Fellow Academy: At the Hector Fellow Academy in Germany ambitious young scientists get the opportunity to realize a self-developed research project under the supervision of a Hector Fellow. The Hector Fellow Academy funds several PhD positions for national and international Master graduates each year. The core of each application is the submission of an innovative and self-developed research proposal. The applicants will spend three years working on it at the home university of their supervising Hector Fellow. In addition to their salaried position, Hector Fellow Academy doctoral students receive €15,000 per year for material expenses. / Due April 30, 2020
SREB-State Doctoral Scholars Program: The program's goal is to produce more minority Ph.D students who seek careers as faculty on college campuses. The Doctoral Scholars Program provides multiple layers of support including financial assistance, academic/research funding, career counseling and job postings, scholar counseling and advocacy, a scholar directory for networking and recruiting, invitation to the annual Institute on Teaching and Mentoring, and continued early career support. The fellowship is open to minorities pursuing a Ph.D. who are a U.S. Citizen or have permanent U.S. residency. / Due April 30, 2020
Kirchner Food Fellowship: The Kirchner Food Fellowship is an opportunity for student leaders to be engaged in investment decisions on agriculture-oriented businesses with ground-breaking solutions for global food security. Fellows receive mentoring from networks of investors and engage in a series of face-to-face and on-line educational experiences using learning paradigms that expose them to practical, real-world issues of seed-stage and early-stage investment. Fellows received a small scholarship to travel to a region of the world vulnerable to food shortages in search of solutions that might be expanded globally through a commercial enterprise. The program will cover travel and accommodation costs for the face-to-face meetings throughout the year and provide the capital necessary for investment. Candidates must be enrolled in a university in the United States, Canada or Mexico. / Due April 30, 2020
Profugo Field Fellow: The Profugo Field Fellowship is a program offered to recent graduates or master's students. The program offers credit to master's students who must complete their field practicum in order to graduate. Field Fellows coordinate a specific project or program at the Center of Development in India and gain hands-on experience by supporting local staff on various projects and programs. The Fellowship program is 1 year in duration but longer or shorter terms of service may be considered depending on the circumstances. Field Fellows will be provided room, board, and a modest stipend; students of all disciplines are invited to apply. / Due April 30, 2020
German Studies Research Grant

: This specialized DAAD program offers up to ten German Studies Research Grants to highly qualified undergraduate and graduate students who are nominated by their department/program chairs. The grant may be used for short-term research (1-2 months) in either Germany or North America. The program is designed to encourage research and promote the study of cultural, political, historical, economic and social aspects of modern and contemporary German affairs from an inter- and multidisciplinary perspective. / Due May 1, 2020
Harnisch Graduate Student Fellowships

: Harvard University Institute of Coaching is offering graduate student fellowships for Masters and Doctoral candidates seeking support for coaching dissertation research. Accepted applicants will plan to advance the science, profession, and practice of coaching, employing quantitative, qualitative, or mixed research methods. Eligible applicants must demonstrate competence in conducting and completing research as graduate students. Awards are up to $10,000 for each fellow. Pre-proposals are accepted any time of the year. / Due May 1, 2020
DAAD Research Grant

: Research Grants are awarded to highly qualified candidates who have completed either: a Master's degree or Diploma, a Bachelor's degree (by the time they begin their grant-supported research), or a  Ph.D. (postdoctoral candidates). Applications for long-term grants (7-10 months) are accepted annually in November. Short-term grants (1-6 months) accept applications in November and May. / Due May 1, 2020
Byron Hanke Fellowship

: The Foundation for Community Association Research (FCAR) awards its Byron Hanke Fellowship to selected graduate students to implement research projects related to the development, management and governance of common interest communities and their community associations. Applicants must be enrolled, at time of application and through the research period, in a graduate level program (masters, doctoral, legal) at an accredited higher education institution in the United States or Canada. The Hanke Fellowship stipends range from $3,000-$5,000 over one year, or as determined by the Foundation. / Due May 1, 2020
Victory Empowerment Fellowship

: The Victory Institute is offering a fellowship consisting of two programs – the Candidate & Campaign Training and the International LGBTQ Leadership Conference – and a year-long mentorship program. The Candidate & Campaign Training will begin the program and is crafted to train fellows for tough and realistic campaign situations. Soon after, fellows will attend the International LGBTQ Leadership Conference in November or December; learning from experts in the LGBTQ movement through training, workshops, and networking opportunities. The fellowship is open to people of all genders, orientations, abilities, races and political affiliations. / Due May 1, 2020
Group Study Visit

: DAAD offers financial support for academic information visits to Germany which are organized by faculty members for groups of students. Group Study Visit grants are intended to encourage contact with academic institutions, groups and individuals in Germany, and offer insight into current issues in the academic, scientific, economic, political and cultural realms. All departments are eligible for this funding. / Due May 1, 2020
Russell Sage Foundation's Visiting Journalists Fellowship

: The Visiting Journalists Fellowship provides journalists the time and resources needed to carry out an original project focused on social, economic, or political conditions in the United States. RSF provides an environment where journalists and social scientists can interact with the goal of making journalistic work more informed and social science research more valuable and accessible to the public. Fellows receive a stipend of $8,000 per month for full-time visits of up to three months and are provided with an office at the Foundation, computers and software, library access, and limited research assistance. / Due May 1, 2020
David B. Larson Fellowship in Health and Spirituality

: The fellowship seeks to encourage the pursuit of scholarly excellence in the scientific study of the relation of religiousness and spirituality to physical, mental, and social health. The fellowship provides an opportunity for a period of 6-12 months of concentrated use of the collections of the Library of Congress, through full-time residency in the Library's John W. Kluge Center in Washington, DC. Applicants must by U.S. citizens or permanent residents and must possess a doctoral degree awarded by the deadline date. The fellowship provides a stipend of $4,200/month. / Due May 1, 2020
University of Toronto Fully Funded PhD in Pharmacology

: The University of Toronto offers fully funded programs of study for students to earn a PhD in Pharmacology. The objective of the PhD degree in Pharmacology is to have students possess a comprehensive understanding of the general field of pharmacology, in addition to specific expertise in their particular area of interest. They build on their knowledge of pharmacology so that they are able to think critically about specific areas in pharmacology. Funding is guaranteed for the duration of the program as long as the student remains in "good standing" and package includes payment of tuition and fees plus a $20,000 living stipend. / Due May 1, 2020
American Indian Graduate Center Fellowship: Graduate fellowships are monetary awards made to American Indian and Alaska Native graduate or professional full-time, degree-seeking students currently enrolled in a university. AIGC administers a Bureau of Indian Education contract to provide financial assistance in the form of scholarships to eligible American Indian and Alaska Natives seeking undergraduate, graduate and professional degrees in Science, Technology, Engineering and Mathematics (STEM). The maximum amount of an undergraduate award is up to $20,000 and the maximum amount of a graduate award is up to $30,000 in an academic year. / Due May 1, 2020
Western University Fully Funded PhD in Chemical and Biochemical Engineering: Western University offers a fully funded PhD Program in Chemical and Biochemical Engineering. The PhD is a 4-year research program working closely with an advisor. There are several fields of research to focus on including: biomaterials and biochemical, environmental and green, macromolecular and materials, particle technology and fluidization, and reaction and process systems. Funding comes from a mixture of scholarships, fellowships, studentships and grants. Minimum aid for PhD students includes full tuition and a stipend of $14,000 per year. / Due May 1, 2020
Indiana University-Purdue University Fully Funded Phd Program in Health Policy and Management: IUPUI offers a fully funded PhD program in Health Policy and Management. PhD students will focus on the creation of new knowledge that informs the advancement of health services delivery within and across the public, private, and non-profit sectors. With a PhD degree in Health Policy and Management, students will be well-prepared to take on independent research roles as academic faculty members. Collaboration with other schools at IUPUI is encouraged as students conduct their research and finish their thesis. Students are fully funded with packages including tuition remission, health insurance and a living stipend. The application deadline to receive priority for financial support is January 5. / Due May 1, 2020
Watson Institute Fellowships: The Watson Institute, a unique higher education program for social entrepreneurs, offers several full-ride fellowships each semester that include full tuition and housing. The Enlight China Fellowship is for applicants from greater China, including Taiwan and Hong Kong; the Enlight Women's Fellowship is for applicants working to increase access and quality of education for women and girls; the Luff Peace Fellowship is for applicants working to promote peace globally; the Lakota Fellowship is for Lakota youth applicants; and the Middle East Fellowship if for applicants from the Middle East or of Middle Eastern descent. Fellowships are available for beginning in both the fall and spring semesters. / Due May 1, 2020
Data Science Fellowship: The Data Incubator is an intensive 8 week fellowship that prepares masters students, PhDs, and postdocs in STEM and social science fields seeking industry careers as data scientists. A variety of innovative companies partner with The Data Incubator for their hiring and training needs, including LinkedIn, Genentech, Capital One, Pfizer, and many others. The program is free for admitted Fellows. Fellows have the option to participate in the program either in person in New York City, Washington DC, Seattle, Boston, the San Francisco Bay Area, or remotely online. Multiple sessions offered each year, check the website for deadlines, including early priority deadlines. / Due May 2, 2020
Dog Tag Inc. Fellowship: Dog Tag Inc. (DTI) runs a living business school for transitioning veterans with service-connected disabilities, military spouses, and caregivers, empowering them to rediscover purpose through an entrepreneurship-focused fellowship program. Throughout the five-month program, fellows gain business skills in both the classroom and in practice at Dog Tag Bakery. The Fellowship program combines coursework, workshops, wellness techniques, guest speakers, and experiential learning to help fellows find what they want to do next beyond their military-connected service. Fellows graduate with a certificate in business administration from Georgetown University and receive a monthly stipend. / Due May 2, 2020
© Victoria Johnson 2020, all rights reserved.