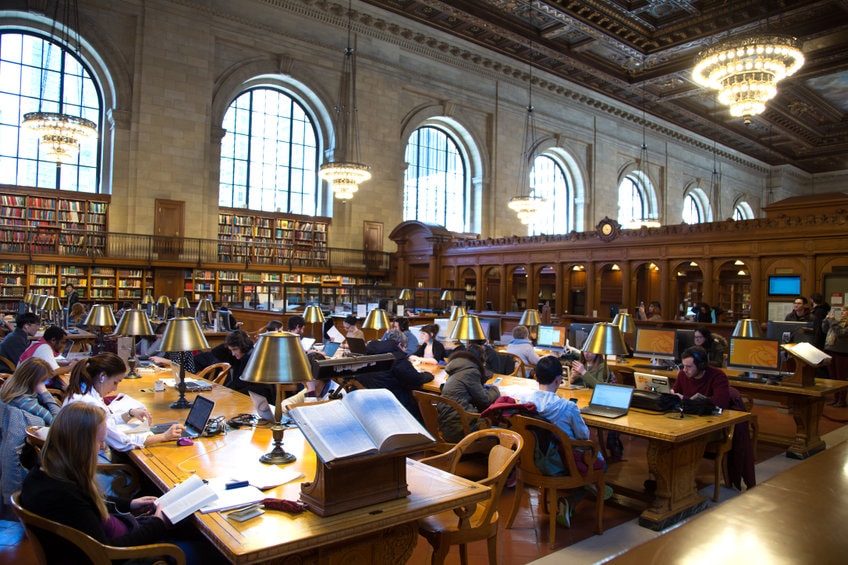 This extensive list of upcoming fellowship deadlines includes opportunities in almost every career field, including government fellowships, journalism, data science, and education fellowships. If one of these programs sounds like a great fit for you, get started on your application soon! Apply now!
Not ready to apply this year? Click the links to bookmark these fellowships to your ProFellow account.
Upcoming Fellowship Deadlines: January 30 – February 5, 2022
Nieman-Berkman Fellowship in Journalism Innovation:

The Nieman-Berkman Fellowship in Journalism Innovation brings individuals to Harvard University to work on a specific course of research or a specific project relating to journalism innovation. Proposals from Nieman-Berkman Fellowship candidates may deal with any issue relating to journalism's digital transformation. The fellowship is open to both U.S. and international applicants. Candidates should either be working journalists or work for a news organization in a business, technology, or leadership capacity. Freelance journalists are welcome to apply. Most Nieman Fellows receive a stipend of $65,000 paid over a 9-month period. / Due January 31, 2022
Killam Fellowships Program

: The Killam Fellowships Program provides an opportunity for undergraduate students from universities in Canada and the United States to spend either one semester or a full academic year as an exchange student in another country. The Killam Fellowships Program offers a cash award of $10,000 US ($5,000 US per semester), along with an allowance of $500 to offset health insurance costs. The Foundation hosts all new Killam Fellows at an Orientation program in Ottawa each fall and again at a seminar in Washington D.C. each spring. In addition, all Fellows are eligible to apply for a mobility grant in an amount not to exceed $800. The application must be submitted according to the internal deadline of your institution (in the case of the direct exchange). / Due January 31, 2022
Josephine De Karman Fellowships

: DeKarman fellowships are open to students in any discipline, including international students, who are currently enrolled in a university or college located within the United States. A minimum of ten (10) fellowships, $22,000 for doctoral students and $14,000 for undergraduate students, will be awarded for the regular academic year. Only doctoral students and undergraduate students about to enter their final year of study/dissertation are eligible. The fellowship is for one academic year and may not be renewed or postponed. Special consideration will be given to applicants in the Humanities. / Due January 31, 2022
APS/Institute for Advanced Studies in the Humanities Fellowship for Research in Edinburgh

: In collaboration with the Institute for Advanced Studies in the Humanities (IASH) at the University of Edinburgh, the APS offers a visiting fellowship of between 2-4 months for research in Edinburgh in any aspect of the humanities and social sciences. This award includes travel expenses between the United States and the United Kingdom, a private office, library, and research facilities at the IASH, and a monthly subsistence paid by the APS. Travel expenses and the monthly subsistence amount will not exceed a maximum of $6,000. / Due January 31, 2022
Short-Term Research Fellowships

: The New York Public Library offers Short-Term Research Fellowships to support visiting scholars from outside the New York metropolitan area engaged in graduate-level, post-doctoral and independent research. Fellowship stipends are $1,000 per week for up to 4 weeks and researchers must be in residence at the Library for a minimum of 2 weeks between July and June. Supports on-site research in the Library's special collections for projects in the humanities including art history, cultural studies, history, literature, performing arts, and photography. Applicants must be U.S. citizens or permanent residents. / Due January 31, 2022
Summer Public Health Scholars Program

: The Summer Public Health Scholars Program (SPHSP) is a 10-week summer program for undergraduate students and recent graduates to increase interest in and knowledge of public health and biomedical science careers. This is a rigorous program that includes Public Health course work at Columbia University; hands-on field experience and immersion in a diverse, economically disadvantaged urban environment; seminars and lectures with public health leaders; and mentoring by faculty members. Accepted students receive a stipend, housing, travel, and meals. The program is designed for undergraduates in their sophomore or junior year and recent baccalaureate degree students. / Due January 31, 2022
Stanford Global Health Media Fellowship

: This opportunity provides medical students with 12-months of practical training in global health reporting using a variety of media platforms including print, television, social networking, and fundamentals in journalism and communications. The Fellow will complete training programs through the Stanford University Graduate Program in Journalism (on-campus) and CNN (remote or in Atlanta), and will pursue an overseas or domestic capstone project on an untold global health story tackling equity issues. The Fellow receives a living and travel stipend. / Due January 31, 2022
James A. Ferguson Emerging Infectious Diseases Fellowship Program

: The fellowship is a CDC-funded, 9-week summer program providing professional development opportunities for students interested in infectious diseases research and health disparities. The program begins with an orientation on research design, infectious diseases, urban health issues, and other health equity topics. During the remaining 8 weeks, fellows participate in a mentored internship at the CDC, the Kennedy Krieger Institute, Johns Hopkins Medical Institutions, Bloomberg School of Public Health, or the Maryland Department of Health and Mental Hygiene. A $4,000 stipend and other benefits are provided. / Due January 31, 2022
Imperial College London Fully Funded PhD in Chemical Engineering

: Imperial College London offers fully-funded Ph.D. programs in Chemical Engineering. It is a 3.5-year research degree that can be undertaken in 1 of 9 themes including biomedical engineering, energy and environmental engineering, materials, multiphase transport process, multi-scale computational chemical engineering, multi-scale thermodynamics, and molecular systems, reaction engineering and applied catalysis, separations, and soft matter engineering. In addition, there are also interdisciplinary collaborative research opportunities. Funding is provided through scholarships, studentships, and research assistantships. / Due January 31, 2022
ASU Fully Funded PhD Program in Physics

: ASU offers a fully-funded Ph.D. program in Physics. Students are engaged in both theoretical and experimental research that requires a deep understanding of the core areas of physics, which is aimed at comprehending the fundamental properties of the universe we live in. A wide range of research experiences is offered that encompass working with individual faculty in a specialized subfield or as a member of a collaborative team focusing on larger transdisciplinary topics that transcend the traditional boundaries of physics. The Ph.D. students are supported with full tuition, insurance, and a stipend. / Due January 31, 2022
J. S. Lee Memorial Fellowship Programme

: The J. S. Lee Memorial Fellowship Programme supports curators, museum professionals, and art history research academics taking part in Chinese art. The fellowship supports professionals in Chinese art history, curatorship, archaeology, conservation, museum management, and museum education. The program also seeks to offer professional development opportunities to the fellows through collaborative research projects and travel to overseas museums. Round trip airfare and all expenses will be covered throughout the duration of the fellowship, which is anywhere between 4 and 12 months long. / Due January 31, 2022
Congressional Healthcare Policy Fellow Program

: The program comprises unique healthcare-policy learning experiences in the United States Congress and the government affairs offices of the American College of Clinical Pharmacy (ACCP) and the American Society of Health-System Pharmacists (ASHP). During the 14-month program, fellows contribute to the effective use of scientific, therapeutic, and pharmaceutical knowledge in pro­fessional organization and government policy decision-making. Experienced pharmacists are invited to apply and will be designated as adjunct assistant professors of the VCU School of Pharmacy. Fellows receive a stipend of $70,000 plus other benefits. / Due January 31, 2022
Endocrine Society Summer Research Fellowships

: The Endocrine Society offers Summer Research Fellowships to encourage promising undergraduate students, first-year medical students, and first-or 2nd-year graduate students to pursue careers in endocrinology. The Society provides a stipend to each award recipient to participate in research projects under the guidance of a Society member for 8 to 10 weeks during the summer. After the summer fellowship, recipients are invited to attend the ENDO Conference, the Society's Annual Meeting & Expo, and will receive complimentary registration, airfare and lodging, and per diem for the duration of the meeting. / Due January 31, 2022
Science Corps Fellowship

: Science Corps places recent STEM Ph.D. graduates to teach and develop scientific understanding in regions that lack access to quality science education. As Science Corps Fellows, they design scientific curricula, teach and demonstrate experiments for students in innovative schools; providing students with hands-on STEM experience. The fellowship is six months long, including a complete school semester in an international placement. Applicants may be from any country in the world while being fluent in English. Fellows receive compensation for their work and all expenses are covered, the entire trip will be financially neutral for the fellow. Accepting applications on a rolling basis after the deadline. / Due January 31, 2022
Civic Digital Fellowship

: The Civic Digital Fellowship is a technology internship program for students to solve pressing problems in federal agencies. Fellows are mission-driven, student software engineers, data scientists, product managers, and designers working at the intersection of technology and public service. Fellows do high-impact work at host agencies, building products and services on behalf of the American people. Students work 40 hours/week over the summer and will receive a competitive stipend, one-on-one mentorship, and access to exclusive professional and community programming. Fellows can be enrolled in a community college, an undergraduate program, a graduate program, or be recent graduates. / Due January 31, 2022
Knight-Bagehot Fellowship in Economics and Business Journalism

: The Knight-Bagehot Fellowship in Economics and Business Journalism offers qualified journalists the opportunity to enhance their understanding and knowledge of business, economics, finance, and technology, as well as gain a strong understanding of the business of journalism itself, in a yearlong, full-time program. Fellows may seek to qualify for a Master of Arts degree in journalism at the end of their year if they opt to complete the course-work required for that degree, or receive a Certificate in Economics and Business Journalism. The Fellowship accepts up to 10 Fellows each year and they receive free tuition, plus a stipend to offset living expenses. / Due January 31,2022
Nemours Masters/Doctoral Fellowship Program

: This Master's/Doctoral Fellowship Program provides an opportunity for graduates of Public Health or other related fields or doctoral students who have completed their qualifying exams to acquire research knowledge and skills in areas pertaining to pediatric health disparities science. The core component of this 6-month program includes the application of advanced epidemiologic methods in the understanding of the cause and subsequent development of pediatric health disparities. Fellows will also be required to mentor the HESSP students in the completion of a research project. The stipend is $16,000. / Due January 31, 2022
Holt/Smithson Foundation Research Fellowship: Holt/Smithson Foundation exists to continue the creative and investigative spirit of the artists' Nancy Holt (1938-2014) and Robert Smithson (1938-73). The Research Fellowship encourages new research on the work, ideas, and creative legacies of Nancy Holt and Robert Smithson, including topics addressing indigenous land rights, ecological consequences of building earthworks. The Fellowship Program is open to graduate students, recent college graduates, doctoral and post-doctoral researchers, artists, early career museum professionals, and Holt and Smithson scholars working towards a specific publication, exhibition, or project. Researching from their home base, Fellows will receive compensation of $3,540 and a travel allowance. / Due February 1, 2022
Group Study Visit: DAAD offers financial support for academic information visits to Germany which are organized by faculty members for groups of students. Group Study Visit grants are intended to encourage contact with academic institutions, groups, and individuals in Germany, and offer insight into current issues in the academic, scientific, economic, political, and cultural realms. All departments are eligible for this funding. Applications are accepted three times a year. Click here for more info. / Due February 1, 2022
Harry S. Truman Scholarship

: The mission of the Truman Scholarship Foundation is to find and recognize college juniors with exceptional leadership potential who are committed to careers in government, the nonprofit or advocacy sectors, education, or elsewhere in the public service. Truman Scholars receive up to $30,000 for graduate or professional school, participate in leadership development activities, and have special opportunities for internships and employment with the federal government. All Candidates for the Truman must be nominated by their undergraduate institution. / Due February 1, 2022
Fulbright International Education Administrators Program

: The International Education Administrators (IEA) seminars help U.S. higher education administrators establish lasting connections within the social, cultural and higher education systems of other countries. Selected administrators have the opportunity to gain in-depth knowledge about the host country's higher education system and establish networks of U.S. and international colleagues during a two-week fully funded visit abroad. The IEA Seminars are open to experienced international education administrators and senior administrators. Deadlines vary by country. / Due February 1, 2022
PhRMA Foundation Pre-Doctoral Fellowships

: The PhRMA Foundation Predoctoral Fellowship programs provide up to two years of stipend funding to support full-time advanced students who will have completed most of their pre-thesis requirements (at least two years of study) and be engaged in thesis research as Ph.D. candidates by the time the award is activated. Fellowships are $25,000 per year, for up to two years. The goal of the program is to assist in the candidate's Predoctoral training. Predoctoral Fellowships should not be seen as a way to fund a research project. Related disciplines are Health Outcomes Research, Drug Delivery, Drug Discovery. / Due February 1, 2022
PhRMA Foundation Postdoctoral Fellowships

: The PhRMA Foundation Postdoctoral Fellowship programs provide two-year stipend support to well-trained graduates from Ph.D. programs who seek to further develop and refine their research skills through formal postdoctoral training. These fellowships are designed for individuals engaged in a multidisciplinary research training program that will create or extend their credentials. Fellowships are two-year awards and provide from $50,000 to $60,000 per year in stipend support. Related Disciplines are Health Outcomes Research, Drug Delivery, Drug Discovery, Translational Medicine. / Due February 1, 2022
UC Berkeley Amgen Scholars Program

: The Amgen Scholars Program is a national program at the University of California, Berkeley to increase research opportunities for students committed to pursuing careers in the sciences and biotechnology. This program provides outstanding science undergraduates with research experience and increases participants' competitiveness as candidates for admission to prestigious graduate and professional institutions. You must be a U.S. citizen or permanent resident AND be enrolled in a college or university in the U.S. or U.S. territory. 22 – 25 positions available. / Due February 1, 2022
Knight-Wallace Fellowship

: The Knight-Wallace Fellowships offer accomplished journalists from all facets of the profession an academic year of study and collaborative learning at the University of Michigan.  Reporters, editors, data experts, designers, and entrepreneurs from the U.S. and abroad expand their knowledge, develop new ideas, pilot special programs, and address challenges facing the journalism industry.  Our fellows devise a personalized study plan and participate in twice-weekly seminars. Extensive travel is a core component of the Knight-Wallace experience, with news tours to  Brazil and South Korea. Stipends of $75,000 for U.S. fellows (varied for international fellows). / Due February 1, 2022
Dissertation Fellowship

: The Dissertation Fellowship program is designed to support the final year Ph.D. or Th.D. dissertation writing for students engaged in research pertaining to North American Christianity, especially projects with the potential to strengthen the religious life of North American Christians and their institutions, including seminaries, while simultaneously advancing American religious and theological scholarship. Applicants must be candidates for the Ph.D. or Th.D. degree in an accredited graduate school in the U.S. or Canada. Dissertation Fellowships will provide a stipend of $22,000 for 12 months. / Due February 1, 2022
Dalai Lama Fellows

: Dalai Lama Fellows cultivates and supports a global movement of next-generation leaders applying universal values to solve global challenges. Fellows work on social change projects in local communities to address one or more of the following areas: mitigating economic disparity, diminishing violence, gender inequity, improving cross-cultural and inter-religious cooperation, and enhancing environmental sustainability. As part of a year-long Fellowship, we provide each Fellow with (1) Immersion in our distinctive yearlong Head, Heart, Hands leadership curriculum, (2) One-on-one coaching, and (3) Life Long affiliation in our global learning community and support system. In order to be eligible, applicants must be next-generation leaders between the ages of 20-35. / Due February 1, 2022
Allen Ginsberg Fellowships

: The fellowships are awarded annually to three incoming MFA Creative Writing and Poetics students (residency program). Recipients receive a $10,000 partially funded fellowship ($7,000 scholarship plus a $3,000 stipend). Students must be enrolled full-time and maintain a 3.7 GPA while attending Naropa. Students awarded a fellowship cannot simultaneously hold a GA position or another Naropa scholarship. / Due February 1, 2022
Summer Undergraduate Research Fellowship (SURF) at Mayo Clinic

: Each year, approximately 130 undergraduate students from around the U.S. come to Mayo Clinic's campus in Rochester, MN, to work beside both young and established scientists on a broad range of biomedical research questions. A limited number of fellowships are also available at the Mayo Clinic campuses in Jacksonville, FL, and Scottsdale, AZ. Candidates must be students currently in their sophomore or junior year at a U.S. university and seriously considering a biomedical research career as a Ph.D. or M.D.-Ph.D. (international students are eligible). The award is $5,000 for 10 weeks. / Due February 1, 2022
Pierre and Patricia Bikai Fellowship

: The Pierre & Patricia Bikai Fellowship will be awarded to assist one graduate student for two months or two students for one month in conducting archaeological research in Jordan. The fellowship will provide room and board at ACOR and a stipend of $600 per month. The fellowship may be combined with another ACOR fellowship that will assist with travel, or the applicant may find travel funds from other sources. This fellowship is not for fieldwork support, but to allow the awardee to continue study or research at ACOR after the field project has concluded and residency at the ACOR center is required. Open to enrolled graduate students of any nationality except Jordanian citizens. / Due February 1, 2022
Mercatus PhD Fellowship

: The Mercatus Ph.D. Fellowship is a competitive, full-time fellowship program for students pursuing a doctoral degree in economics at George Mason University. Ph.D. Fellows take courses in market process economics, public choice, and institutional analysis and work on projects that use these lenses to understand global prosperity and social change. The total award of up to $200,000 (over five years) includes a monthly stipend, full tuition support (nine credits per semester), and experience as a research assistant working closely with Mercatus-affiliated Mason faculty. Acceptance into the fellowship program is dependent on acceptance into the Ph.D. program in economics at George Mason University. / Due February 1, 2022
New America Fellows

: New America's Fellows Program invests in thinkers—academics, journalists, independent scholars, and public policy analysts—who offer fresh and often unconventional perspectives on the major challenges facing our society. Fellows advance big ideas through research, reporting, analysis, and/or storytelling. Fellows benefit from a financial stipend, engagement with each other and with New America's various policy programs, and the expanded audience and exposure from New America and its media partners. Precise terms and stipend levels of fellowships vary widely, as some fellows work full-time at New America in pursuit of their research, while many others have other professional commitments during the term of their fellowship. / Due February 1, 2022
Repair the World Fellowship

: Repair the World is an 11-month fellowship in which fellows (age 21-26) work with 1 to 3 non-profits addressing issues in hunger or education, and serve as a capacity builder through volunteering and recruiting the Jewish community and others to volunteer as well. Fellows receive training in a variety of skills including group facilitation, data analysis, public speaking, and community engagement while learning about Jewish approaches to social justice. Fellowships are available in Detroit, Miami, New York, Philadelphia, or Pittsburgh and include housing, health insurance, and a stipend of $600 a month. Priority deadline in January.  After the Second priority deadline applications will be reviewed on a rolling basis according to spaces remaining in the Fellowship. / Due February 1, 2022
CEU Doctoral Scholarships

: To draw outstanding talent to the university, Central European University offers generous financial aid to Ph.D. students. Candidates who apply by the financial aid deadline are automatically considered for the CEU Doctoral Scholarship. The CEU Doctoral Scholarship covers the full cost of tuition and health insurance, complete with a monthly stipend of HUF 242,000 (approx. EUR 780) to assist with housing and living costs. Students can choose to rent private accommodation or book a room at the CEU Residence Center. The CEU Doctoral Scholarship is awarded for a period of 36 months in total. The degree is taught in English. / Due February 1, 2022
Summer Undergraduate Research Fellowship (SURF)

: The Summer Undergraduate Research Fellowship (SURF) is a fully funded, eight-week summer residential program that brings approximately 20 talented, motivated, and bright undergraduate students from across the U.S. and provides them with an immersive research experience. Fellows will participate in a robust graduate school preparation program including a GRE study course, excursions around the Bay Area, community-building activities, participation in a research poster symposium, and a strong mentorship component. SURF provides students with housing, a meal plan, a travel stipend, and a stipend upon completion of the program. / Due February 1, 2022
PhRMA Research Starter Grants

: The PhRMA Foundation Research Starter Grants provides a research grant of $100,000 for one year to individuals beginning independent research careers at the faculty level in the fields of Health Outcomes Research, Drug Delivery Research, Drug Discovery Research, and Translational Medicine. The "starter" aspect of the program strives to assist individuals who are establishing careers as independent investigators. The program is not offered as a means to augment an ongoing research effort. Funds must be used to conduct the proposed research. / Due February 1, 2022
Botstiber Institute for Austrian-American Studies

: The Botstiber Institute for Austrian-American Studies (BIAAS) seeks to grant proposals for events aimed at promoting an understanding of the historic relationship between the United States and Austria. Eligible fields include, but are not limited to, history, politics, economics, law, cultural studies, and public history. Grant applications may include support for conferences, symposia, seminars, exhibits, workshops, lectures, and other public events. The maximum funding an applicant may seek is $25,000. / Due February 1, 2022
Doris Duke Conservation Scholars

: The Doris Duke Conservation Scholars Program at the University of California-Santa Cruz (UCSC) is a two-year program for undergraduates. During the first summer, Scholars participate in a field-based course focused on collaborative research in California. Throughout the school year, program staff checks in with Scholars to support their goals. After a winter workshop, Scholars pursue 8-week conservation practice internships with conservation organizations and agencies. Scholars must be enrolled at or accepted as transfer students to four-year colleges or universities in the US with at least two more years of college left. / Due February 1, 2022
Boren Scholarships

: Boren Scholarships provide funding to U.S. undergraduate students to study abroad in areas of the world that are critical to U.S. interests and underrepresented in study abroad. Boren Scholarships support study and research in areas of the world that are critical to U.S. interests, including Africa, Asia, Central & Eastern Europe, Eurasia, Latin America, and the Middle East, with a focus on studying less commonly taught languages. Boren Scholars represent a variety of academic backgrounds, but all are interested in studying less commonly taught languages. Max scholarship awards are $8K for a summer program (special initiative for STEM students only), $12.5K for a semester, and $25K for a full academic year. Boren Scholars commit to working in the federal government for at least 1 year after graduation and receive exclusive opportunities and preferential consideration for government careers. / Due February 2, 2022
Asian Pacific American Institute for Congressional Studies (APAICS) Fellowship

: The APAICS Fellowship program is a 9-month, full-time legislative and public policy fellowship in Washington, D.C. that provides exceptional graduates and young professionals with an opportunity to work on policy issues as full-time staff members of a congressional office. Candidates must have a Bachelor's degree or graduate degree and demonstrated leadership and understanding of Asian American and Pacific Islander issues. Fellows receive a salary, benefits, and complimentary roundtrip airfare. Areas of focus: General Fellowship; Education & Labor; and Financial Services. There is also an American Petroleum Institute (A.P.I.) S.T.E.M. Graduate Fellowship is for individuals pursuing a career in public policy with a background in energy, engineering, and mechanical sciences. / Due February 1, 2022
Looking for graduate funding? Sign up to discover and bookmark more than 1300 professional and academic fellowships in the ProFellow database.
© ProFellow, LLC 2021, all rights reserved.