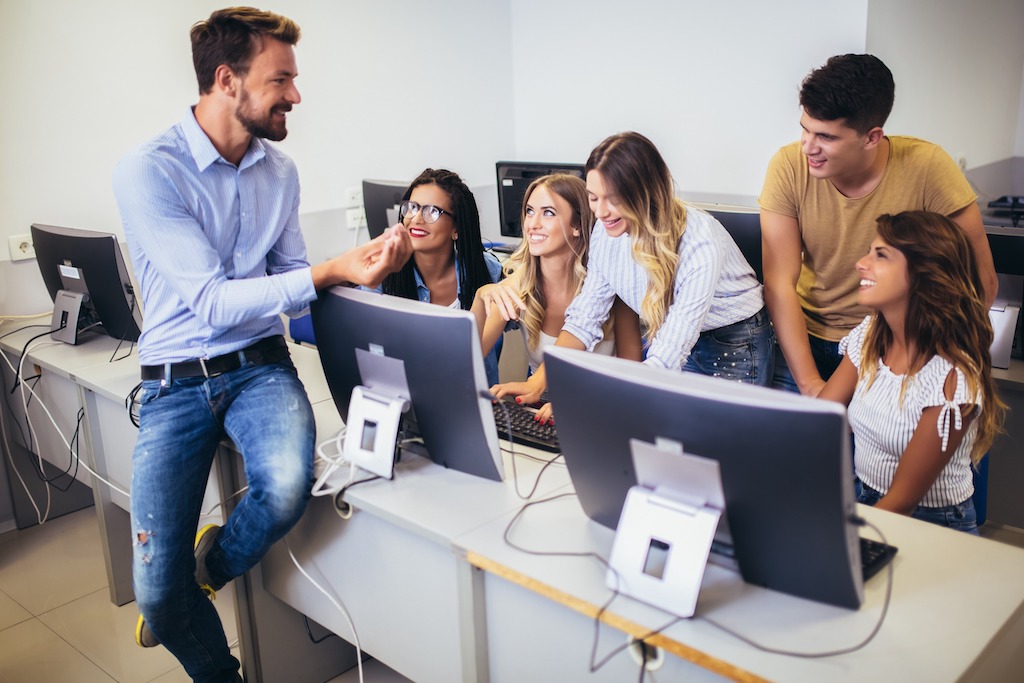 This list of upcoming fellowship deadlines includes programs for higher education, career development, artists, social justice, STEM, and more! Many of the fellowships on this list offer funding for research, travel, and meal stipends.
You've got 8 weeks to apply! Apply now! Not ready to apply this year? Click the links to bookmark these fellowships to your ProFellow account.
Upcoming Fellowship Deadlines: March 26 – April 1, 2023
 

SCUP Fellows Program:

The Society for College and University Planning (SCUP) Fellows Program will give you the opportunity to bring your innovative planning ideas and approaches forward to a broader constituency of higher ed planners who are involved in integrated planning on their campuses. Two fellows are selected each year (mentored by SCUP members) to pursue a higher education planning research project of their choice and present the outcomes of their project. Fellows will receive a one-year membership, complimentary registration to two annual conferences, two-$500 stipends, and registration to SCUP's Planning Institute 1, or Planning Institute 2. / Apply by March 27, 2023
Ignited Summer Fellowship Program

: Ignited (formerly IISME) offers research and industry-based professional development opportunities for K-16 teachers in Alameda, Contra Costa, Marin, San Francisco, San Mateo, Santa Clara, Santa Cruz, and Solano Counties. The program places eligible K-16 teachers of all subjects into high-performance work sites for the summer. Teachers work full-time for 8 weeks, complete a project for their sponsors, and are paid $9,000. Teachers also spend approximately 10% of their paid time focusing on how they will transfer their Fellowship experience back to their students. Applications are accepted until all positions are filled but it is highly recommended that you apply before March. / Apply by March 31, 2023
Creative Capital Awards

: Creative Capital is the only national grantmaking organization with an open application process that supports individual artists across all disciplines. Creative Capital makes a multi-year commitment to its grantees, providing them with tailored financial and advisory support to enable their project's success while building their capacity to sustain their careers. Our grants are valued at up to $90,000. For each project, we offer up to $50,000 in award monies (direct funding) and an additional suite of career development services valued at $40,000. Applicants must be over 25 years old and have at least 5 years of work experience. / Apply by March 31, 2023
Advanced Leadership Initiative

: Through the Advanced Leadership Initiative, Harvard is seeking to tap the experience of a socially conscious generation of leaders and help redirect and broaden their skills to fill critical leadership gaps in solving major social issues. Each year, a select group of Fellows from diverse sectors with a track record of achievement and accomplishment comes to Harvard to transition from their primary income-earning careers and prepare for their next phase plan as change agents for society. ALI provides support commensurate with ALI Fellows' status and stage of life, including shared office suite space, provision for a spouse or partner to enroll in the ALI Partner Program, and special invitations to join other Harvard events. There are four deadlines for expression of interest each year. / Apply by March 31, 2023
Australia to USA Fellowship Program

: The Association awards Fellowships at the graduate (Masters, PhD, or post-doctoral) level of up to US$40,000 each year. Fellowships are available for Australians who will benefit from doing advanced research or study in the fields of business, science, technology, medicine, engineering, and sustainable development in the United States. Applicants must make their own arrangements for university affiliation and have a confirmed placement by the time the Fellowship is awarded. Applicants must be Australian citizens or permanent residents of Australia doing research or studying at the graduate level – Masters, PhD or post-doctoral. Applicants may already be in the U.S. at the time of application. / Apply by March 31, 2023
SREB-State Doctoral Scholars Program

: The program's goal is to produce more minority Ph.D students who seek careers as faculty on college campuses. The Doctoral Scholars Program provides multiple layers of support including financial assistance, academic/research funding, career counseling, and job postings, scholar counseling, and advocacy, a scholar directory for networking and recruiting, an invitation to the annual Institute on Teaching and Mentoring, and continued early career support. The fellowship is open to minorities pursuing a Ph.D. who is a U.S. Citizens or have permanent U.S. residency. / Apply by March 31, 2023
McGraw Fellowship for Business Journalism

: The McGraw Fellowship provides editorial and financial support to journalists who need the time and resources to produce a significant story or series that provides fresh insight into an important business or economic topic. Awards are $5,000 a month for 1-3 months; in exceptional cases, longer grants are provided based upon specific proposals. Applicants have a proven ability to report and execute a complex project in their proposed medium and a strong background or reporting expertise on the subject of their piece. Applications are accepted twice a year. / Apply by March 31, 2023
Postdoctoral Research Scholars Program in Bioethics

: This 1-2 year program prepares scholars with the knowledge and skills necessary to become leaders in the field of bioethics. Research scholars will be fully integrated into the community of faculty and students at the Center for Bioethics, with access to the resources of Harvard Medical School and Harvard University. There will also be opportunities to collaborate with the scholars at the Hastings Center. Research scholars will receive an annual stipend, benefits, and an allotment for academic expenses and travel. Applications may be considered throughout the year under special circumstances. / Apply by March 31, 2023
Gandhi Fellowship Program

: The Gandhi Fellowship Program is a two-year Fellowship program for talented youngsters from India's top colleges. As a catalyst for school change, each fellow brings a change in 5 schools by being a resource person for the school principals and by potentially impacting the lives of 1,000 children. Fellows assist teachers and identify when and where Headmasters (Principals) need extra support. You shall be entitled to an all-inclusive monthly grant of Rs. 14,000, a fixed monthly phone allowance of Rs. 600, and rent-free accommodation and other allowances as applicable. / Apply by March 31, 2023
Young Professionals Programme for Legal Empowerment (YPPLE)

: The Young Professionals Program for Legal Empowerment (YPPLE) aims to equip young legal professionals to become powerful change agents. The program teaches fellows to develop a holistic understanding of how grassroots legal empowerment plays a catalytic role in bringing social change. The 2-year fellowship is open to young law graduates/legal professionals in India who wish to pursue a career in the field of human rights as lawyers, practitioners, researchers, or academics. Fellows will engage in field-based research and contribute to the advocacy work of their assigned organization. A monthly stipend of Rs. 30,000 is provided. YPPLE starts accepting applications in March. / Apply by March 31, 2023
Zuckerman Israeli Postdoctoral STEM Scholars Program

: The Zuckerman Israeli Postdoctoral Scholars Program provides additional support for up to two years to Israeli PhD graduates who have been accepted to a postdoctoral program with a stipend at an American university. Israeli Postdoctoral scholars receive a stipend of $20,000 per academic year, plus a $5,000 travel allowance to return to Israel once per academic year during their postdoctoral appointment. More information and how to apply can be found on the Zuckerman Scholars website. / Apply by March 31, 2023
Bullitt Environmental Fellowship

: The Bullitt Environmental Fellowship is a two-year, $50,000/year fellowship for graduate students attending universities in communities under-represented in the environmental movement who are interested in pursuing leadership positions within the environmental field. Applicants must be graduate students at universities physically located within the Foundation's areas of focus: Washington, Oregon, Idaho, western Montana, southern Alaska, and British Columbia. The Foundation encourages applications from a broad diversity of students, with a particular emphasis on students of color and others who have overcome significant hardships. / Apply by April 1, 2023
American Library in Paris Visiting Fellowship

: The Visiting Fellowship offers writers and researchers an opportunity to pursue a creative project in Paris for a month or longer while participating actively in the life of the American Library. Fellowship applicants should be working on a book project, fiction or non-fiction, or a feature-length documentary film. The fellowship includes a stipend of $5,000 to cover travel, accommodation, and other expenses. The Library offers networking opportunities and the fellowship is open to English speakers of any nationality. / Apply by April 1, 2023
NEA Foundation Global Learning Fellowship

: The NEA Foundation Global Learning Fellowship offers educators 12 months of professional development opportunities to support educators as they cultivate global competence skills and build global lesson plans that are shared with educators around the world. Over the course of one year, Fellows participate in online coursework, a fall professional development workshop, and a 9-day summer field study excursion. The NEA Foundation covers all costs for meals, lodging, travel, and professional development activities. Active NEA members who are current K-12 classroom teachers and have at least 3 years of teaching experience are eligible. / Apply by April 1, 2023
Carman International Fellowship at Mosaic

: This is a year-long, paid fellowship that provides recent graduates interested in disability and international development an opportunity to work full-time with Mosaic's local partner at the grassroots level in Moshi, Tanzania. Fellows are provided a monthly stipend, housing allowance, and round-trip travel to Tanzania. The fellowship is seeking candidates with a Bachelor's degree in International Studies, International Relations, Global or Public Health, or a related field and previous field experience in an international setting. / Apply by April 1, 2023
Interpretive Fellowships at Art Museums

: The program is intended to encourage students to explore interpretive careers in art museums. Six Kress Interpretive Fellowships are awarded each year to American art museums for 9-12 month professional development opportunities. The application must be made by the art museum proposing to host a Fellow. These Interpretive Fellowships are intended as an opportunity for individuals who have completed a degree (B.A., M.A., or Ph.D.) in art history, art education, studio art, or museum studies and who are pursuing or contemplating graduate study or professional placement in these or related fields. The Fellowship award is $30,000. / Apply by April 1, 2023
ASF Fellowships for Advanced Study or Research in the USA

: The American-Scandinavian Foundation (ASF) offers over $500,000 in funding to Scandinavians to undertake study or research programs at the graduate and post-graduate level in the United States for up to one year. Candidates for awards from Iceland, Finland, Norway, and Sweden are recommended to ASF by our cooperating organizations. ASF accepts applications directly from Danish students who wish to study or conduct research in the United States. Awards are made in all fields. / Apply by April 1, 2023
University of Memphis Fully Funded Master's in French and Spanish

: The University of Memphis, based in Memphis, Tennessee offers a fully funded Master's in French and Spanish. The Department of Foreign Languages and Literatures offers a program leading to the Master of Arts degree in Romance Languages with a concentration in either French or Spanish. Graduate assistantships are available on a competitive basis. The current stipend is approximately $10,000 per academic year plus a tuition waiver. Graduate students who obtain a graduate assistantship are usually supported for two academic years provided their academic and teaching performance are satisfactory. / Apply by April 1, 2023
University of Texas at San Antonio Fully Funded Master's in Civil Engineering

: The University of Texas at San Antonio offers a fully funded Master's in Civil Engineering. The Master of Science degree in Civil Engineering (MSCE) is designed to provide civil engineering professionals with the opportunity to prepare for careers concerned with the critical problems of a multifaceted society. Civil engineering education and research activities focus on projects that are typically large and costly, with potentially profound environmental, social, and financial impacts. Research Assistantships and Teaching Assistantships are available on a competitive basis to full-time students carrying out research. Typical amounts are $22.5k and $25.5k per year for MSCE and Ph.D. students. / Apply by April 1, 2023
Sidney B. Williams, Jr. Scholar Program

: The Sidney B. Williams, Jr. Scholar Program assists STEM-educated individuals from underrepresented racial and ethnic groups seeking to attend an ABA-Accredited law school to explore a career in patent law in the U.S. The Scholar Program Offers selected scholars a $30,000 law school tuition grant and provides financial and non-financial assistance to scholars during the law school admissions process and throughout law school. / Apply by April 1, 2023
German Historical Institute Doctoral and Postdoctoral Fellowships

: The GHI awards short-term fellowships of 1-5 months to European and North American doctoral students as well as postdoctoral scholars to pursue research projects that draw upon primary sources located in the United States. We are particularly interested in research projects that fit into the following fields: German and European history; The history of German-American relations; The role of Germany and the USA in international relations; American history (European doctoral and postdoctoral scholars only). The fellowship is open to both doctoral and postdoctoral scholars based in North America and Europe. The monthly stipend is €2,000 for doctoral students and €3,400 for postdoctoral scholars. / Apply by April 1, 2023
Looking for graduate funding? Sign up to discover and bookmark more than 2,400 professional and academic fellowships in the ProFellow database.
© ProFellow, LLC 2023, all rights reserved.